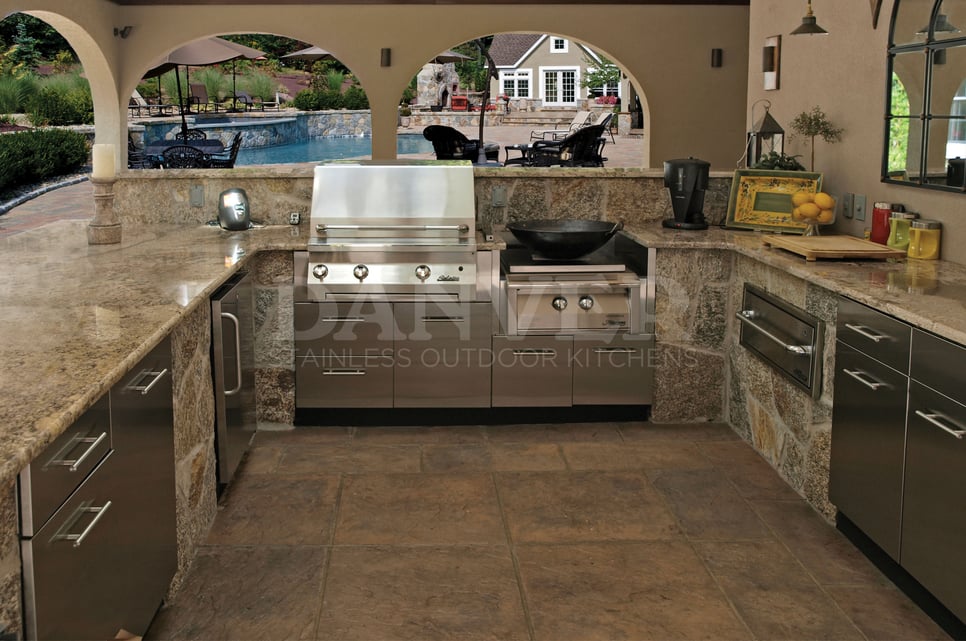 Photo Credit to Danver Cabinets
There are many important factors to consider when it comes to deciding on high-end features of an outdoor living space. One such factor that is sometimes overlooked is what kind of maintenance is required to keep that high-end feature looking and performing its best. Fortunately, if you've chosen stainless steel cabinetry, there are some easy tips for maintaining those outdoor cabinets. These maintenance tips are both general advice and specific to problems presented by the Washington, DC, climate.
Consider the Material
By virtue of choosing stainless steel outdoor cabinets, you've significantly cut down on certain kinds of maintenance and precautions that afflict most exterior accessories. Choosing a material that structurally sound means that even if exposed to extreme temperature shifts and weather-related phenomena, it's still going to perfectly hold its shape. No special maintenance or treatment is required to achieve that.
This becomes especially important in Washington, D.C., where extreme seasons are the norm. Stainless steel can go from extreme cold and snow to 100-plus degrees and direct sunlight, and it still won't be subject to warping, bulging, expanding, or contracting. This is also something you can count on long term, as many stainless steel cabinets (depending on the manufacturer) come with lifetime warranties.
Consider What Finish You Want
Stainless steel cabinets can either be plain stainless steel or powder coated stainless steel. The powder coating adds another level of protection to the stainless steel and makes the cabinets (virtually) maintenance free.
If you're specifically looking to find ways to reduce the maintenance associated with stainless steel - or especially reducing visible fingerprints - consider powder coating.
Powder coating is also a practical and effective way to cut down on glare and heat that can sometimes be a problem with unfinished stainless steel. This is something to consider in the DC area, which can experience hot, sunny weather quite frequently. It's also something to keep in mind if you know your outdoor kitchen is going to be subject to a lot of direct sunlight.
Consider the Color of Finish
If you do choose to powder coat your stainless steel cabinets but opt for a color like white, it's going to be more likely to show dirt. Just like a white car might show dirt and mud more than another color, the same holds true for cabinets. This isn't necessarily going to damage the stainless steel, but it might necessitate wiping the cabinet doors down more consistently.
Consider the Design Features
To maximize the utility of stainless steel cabinets and minimize upkeep and maintenance, edges or lips can be incorporated into the countertops. This keeps some of the rain off the cabinets, which aren't 100 percent waterproof.
Consider What to Avoid
While stainless steel does resist rust, there are conditions upon which it can rust, and these should be avoided if possible.
These are scratches from steel pads of wire brushes that can eventually make the stainless steel susceptible to rust. When wiping down, use a soft cloth or plastic scrub brushes.
Especially if you have hard water, this can leave deposits when left to stand on stainless steel for too long. Make sure to wipe down stainless steel countertops and cabinets to avoid pooling water.
Whether from salt or household cleaners, chlorides are contained in many everyday items. For the best cleaning results, just wipe stainless steel down with water and then wipe dry.