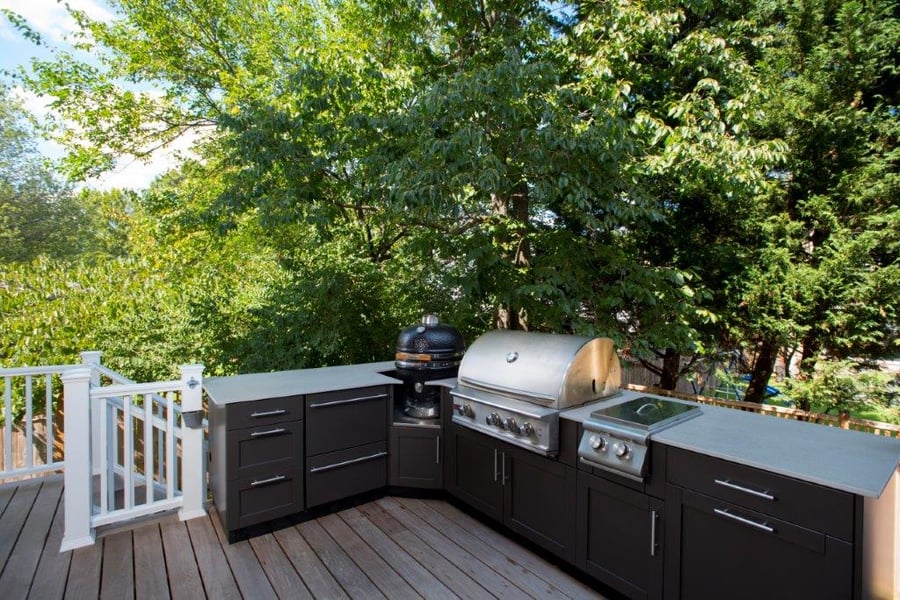 What Are the Best Outdoor Kitchen Cabinets for Your Deck?
Within the last ten to twenty years, there has been a huge shift in the mentality about outdoor living spaces. While people used to think materials, craftsmanship, and quality were limited for decks or screen porches, there is now the idea that all outdoor spaces can be as elegant, beautiful, and high-end as any interior space. This mindset extends to all facets of the outdoor space, including outdoor cabinets.
What's the Best Material for High-End Outdoor Cabinets?
If you want the best of the best for your deck's cabinets, stainless steel is the way to go. Products made with the material not only approximate the quality and beauty of interior kitchen storage, they match it. Danver Stainless Outdoor Kitchens are the primary provider of stainless steel cabinets in the D.C. area.
What Are the Benefits of Stainless Steel Cabinets?
Stainless steel is considered the benchmark for quality in the outdoor cabinetry industry. Some of its benefits include:
· Durability and Weather Resistance
Stainless steel is one of the only materials guaranteed to not rust, ever. It is also virtually impervious to warping, splintering, or becoming distorted in these applications, even in inclement weather. Because stainless steel cabinets are so hardy, many come backed with a lifetime warranty. Contact your local Danver outdoor cabinets installer for more information on warranties and extended coverage on their products.
· Low-Maintenance
Other materials, such as vinyl and hardwood, are viable alternatives to Danver outdoor cabinets or a Danver outdoor kitchen. However, they require infinitely more upkeep and maintenance than their upscale metal counterparts, and will need eventual replacing.
These factors necessitate time and money not demanded by stainless steel outdoor cabinets, as stainless steel ages the most gracefully and with the least amount of required upkeep. For additional protection, powdercoated cabinets look superb and last forever.
· Ease and Convenience of Installation
If you choose stone or tile for your cabinet system, you are committing to a very labor-intensive project. This could mean having a crew working on your space for upwards of three weeks. There is also a siginificant amount of grit and dust generated by cutting stone and tile, which is a hassle to clean up. If unaddressed, this dust can cause damage to furniture, electronics, and other unassuming objects in the immediate area of the job site.
Stainless steel, on the other hand, usually takes about one day to install without the associated mess. This means a space can be reclaimed quicker and more quietly by comparison.
· Compatibility with Amenities
Outdoor stainless steel cabinets can be outfitted with all of the features seen on indoor cabinets. You can find drawers for a trash pull, grill, wine fridge, full fridge, warming drawer, and more. Because everything is made to order, customers are assured their needs will be met. Design Builders recommends stainless steel Danver cabinets because of the positive feedback we've received from customers and the ease of installing them.
· Beauty
With all the benefits of stainless steel, people sometimes lose sight of one of its biggest selling points: its beauty. Stainless steel Danver cabinets are extremely sleek, modern, and attractive. With the ability to powdercoat, you also have the ability to special order colors to match any outdoor living space.