Entertain in Tight Spaces with Danver's Cosmopolitan Table Collection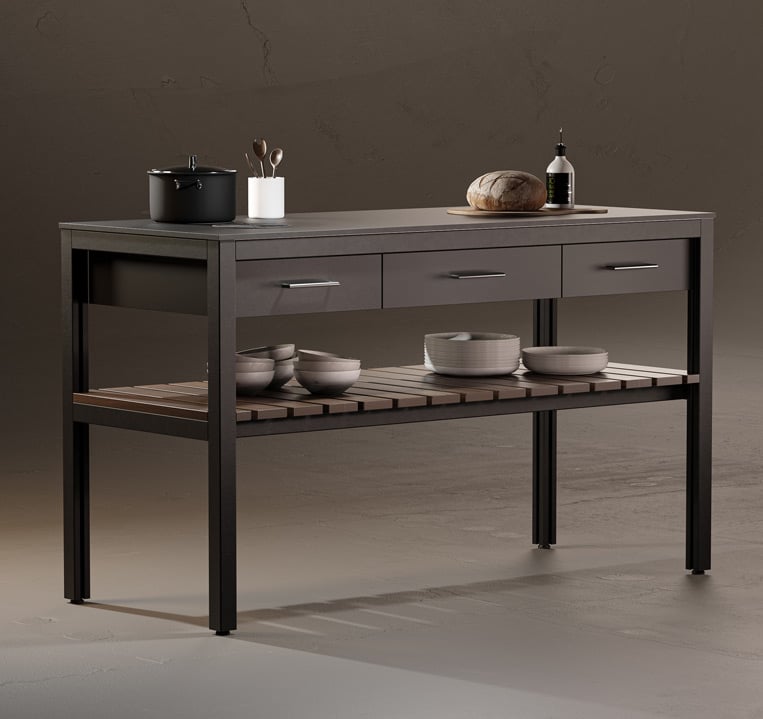 You love to cook. You live to entertain. But you don't have a sprawling backyard with room for all your friends, relatives, and loved ones. Are you destined to live an existence without outdoor cooking and delectable hors d'oeuvres? Maybe not. With the Danver Cosmopolitan outdoor kitchen table, outdoor entertaining just got a lot easier. Even with limited space.
What Is Danver's Cosmopolitan Table Collection?
The Cosmopolitan Table Collection from Danver is an outdoor cooking table. It's an innovative product that blends the aesthetics of furniture with the durability and functionality of the company's stainless steel cabinetry.
The table, which measures 58" long, 24" deep, and 36" high, is made with powder coated stainless steel. While this gives it the appearance of black wood, the material can withstand the elements and is designed for external use.
The table comes in four versions:
Food prep space

Serving station

Dining table

Warming station or cooking surface
For those looking to fully maximize space usage, the version with three drawers offers extra storage opportunities.
The version of the table with an integrated cooking surface uses Invisacook technology.
If you're not familiar with induction cooking, check out these top Invisacook FAQs to learn more.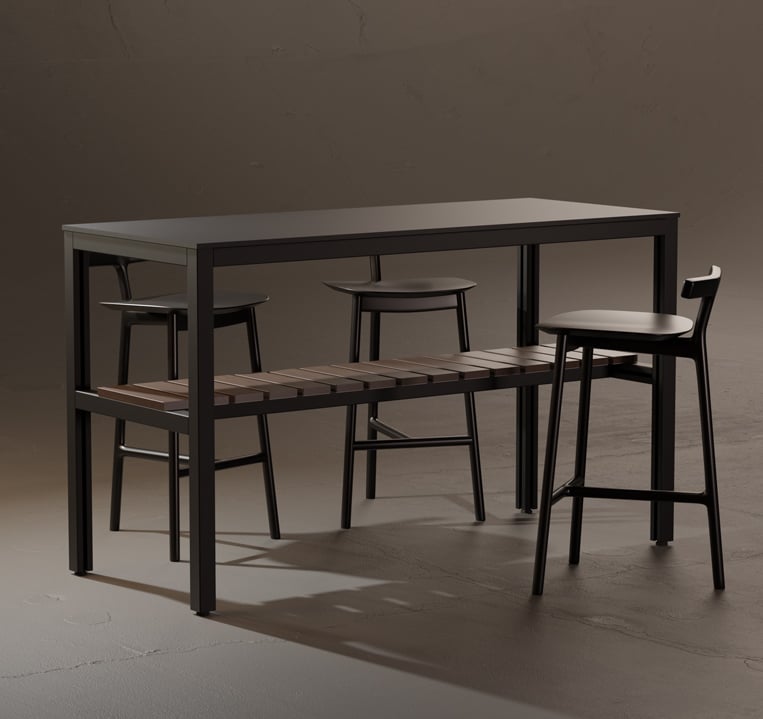 Who Can Benefit from the Cosmopolitan Outdoor Cooking Table?
The short answer is anyone who loves to entertain, but here's who can really make use of this table:
Apartment dwellers

Condo residents

Anyone with a small backyard or limited property
If you don't have the space to fit an entire outdoor kitchen or a full outdoor living space, Danver's Cosmopolitan collection could be the space-efficient solution you need to host parties or to entertain loved ones.
If you're really pressed on space, don't forget to opt for the version with extra drawer storage. This can help eliminate much of the clutter of kitchen utensils and accessories.
Where Can You Use the Cosmopolitan Table Collection?
These outdoor kitchen tables can be used in either interior or exterior living spaces. They are fully designed for and compatible with outdoor use.
They can go on:
Balconies

Patios

Decks

Any corner where a buffet table would fit and make sense
The units with induction cooking can go anywhere with an available outlet. While plugging into a 220-volt outlet will help the induction burners work more efficiently, a 110-volt outlet will work as well.
Invisacook systems can also be hardwired.
This dual compatibility is just one of the Invisacook benefits users enjoy.
Learn More about Danver's Outdoor Kitchen Tables in Your Northern Virginia or Maryland Home
If you love to entertain but live in a space without a yard or other outdoor area, you know how difficult hosting gatherings can be.
If you want to know more about the Danver Cosmopolitan Table Collection and how it would work in your Northern Virginia or Maryland home, contact us today.
We're Design Builders, a custom design and build firm, and we're happy to answer any questions you have about creating your ideal outdoor living space.