Everything to Know about the Cosmopolitan Outdoor Cooking Table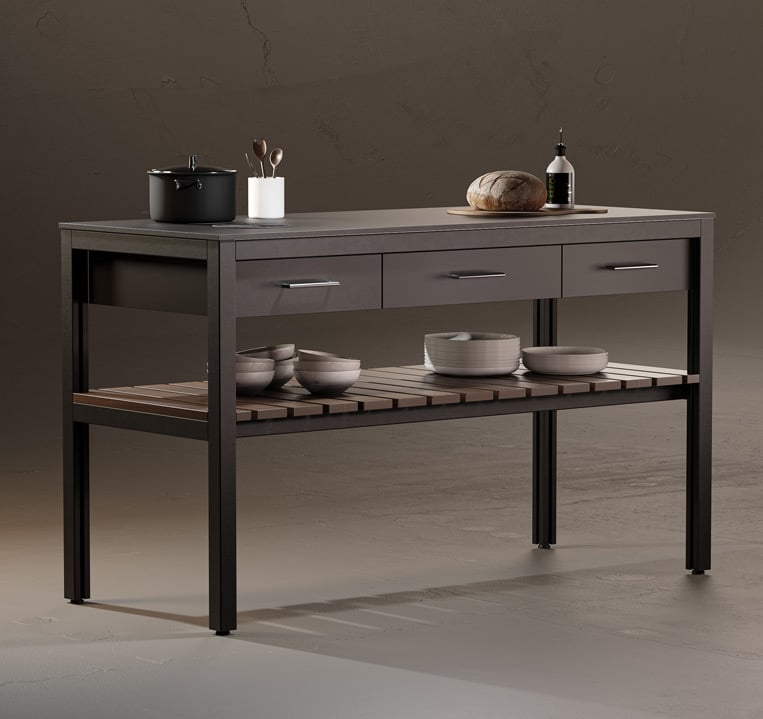 No space for a grill? No problem. Whether you're looking for a backyard cooking table or a better way to cook on your balcony, the Cosmopolitan Table Collection from Danver Outdoor Kitchens could be the answer you're looking for. Discover what it is, the available models, and the best uses for this innovative outdoor cooking solution.
What Is the Cosmopolitan Table Collection from Danver?
The Cosmopolitan Table Collection comes from Danver Outdoor Kitchens. It's an outdoor cooking table designed to look less industrial and more like furniture. This design touch can be seen with its tall, thin legs.
Like Danver's stainless steel outdoor cabinetry, these outdoor kitchen tables are also made with stainless steel. However, to retain that furniture-like look, every model is powder coated to give it the appearance of black wood.
Depending on the model you choose, the table serves as a food prep space, a serving station, a dining table, a warming station, or a cooking surface. The model can come with three storage drawers or no drawers.
It's intended for use in a variety of exterior settings where space or logistics do not easily allow for a grill or other cooking surface. It's also designed to be a fast, easy installation process.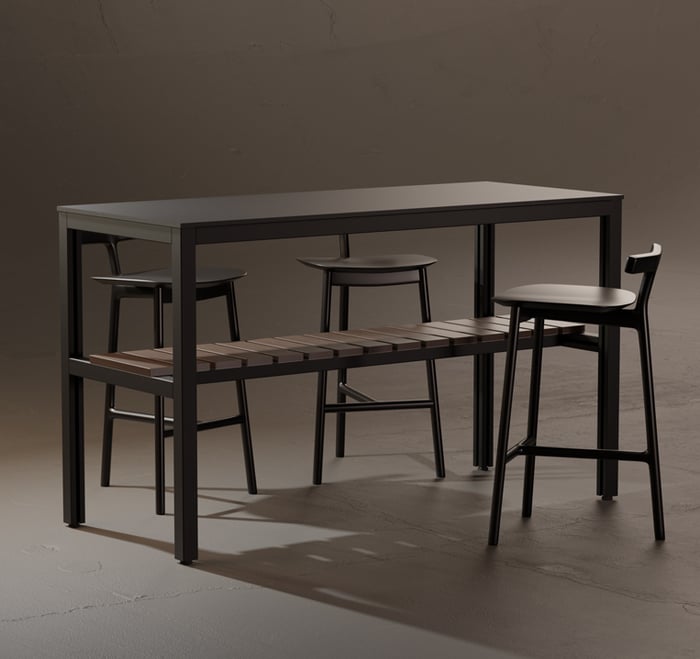 4 Configurations of the Cosmopolitan Table
Designed with an eye toward versatility, this collection includes four potential product options:
Food prep table, including three storage drawers

Food prep table, excluding storage

Dining table

Cooking table, utilizing

Invisacook technology
Whichever model you select, the table can become an integral part of your outdoor entertainment space.
All about Invisacook Induction Cooking and Portable Induction Burners
Invisacook technology uses induction cooking. This allows you to cook directly on the kitchen countertop surface. The induction burner is safe and rated for outdoor use.
This feature can be used to actually cook meals, or it can be used simply to keep hors d'oeuvres warm.
Induction burners, which operate by creating a magnetic field between the burner coils and the cooking pot, do require ferromagnetic pots and pans. This means the bottom surface of the pan either contains iron or has a magnetic layer.
Cooking materials that work with induction burners:
Cast iron

Enameled cast iron

Most stainless steels (too high of a nickel content can block the magnetic field)
Cooking materials that don't work with induction burners:
Want more information? Take a deep dive into the best cookware for induction cooktops.
The Danver tables work with either 220 or 110 voltage. If you're using 110, you can use the surface to cook, but it will take much longer than with 220. If you're only looking to keep food warm, 110 will do the trick.
What Are the Dimensions of the Cosmopolitan Table
The table has the following dimensions:
58" in length
24" in depth
36" in height
This puts the table at standard countertop height, meaning most standard bar stools will fit the table. It will also be a comfortable and natural height for dining or serving.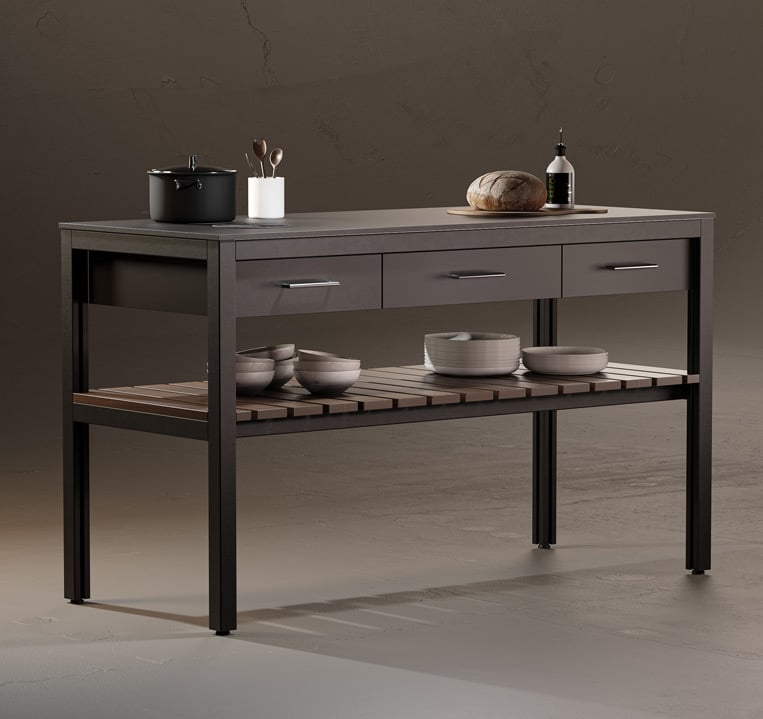 Where Can I Use the Cosmopolitan Outdoor Kitchen Table?
This table is ideal for anyone who wants the convenience of outdoor cooking and entertaining but doesn't have the space or ability to have a traditional grill, cooking station, or full outdoor kitchen.
The most popular applications include balconies and backyards, where it can be set up like a serving table or buffet.
Questions about Danver Outdoor Kitchen Tables?
Interested in learning more about these prep, dining, and cooking tables? Curious if one is right for your Northern Virginia or Maryland home? Contact us today to discuss.
We're Design Builders, a custom design and build firm specializing in high-end outdoor living spaces, and we're always happy to answer whatever questions you have!