Want to Maximize Screen Porch ROI? Avoid These 7 Common Add-Ons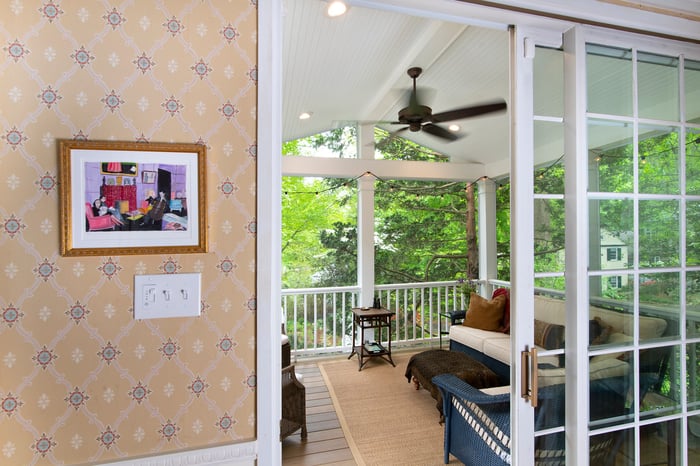 Do you want to add a beautiful, functional, practical screen porch to your Northern Virginia or Maryland home? Do you also want to maximize screen porch ROI as much as possible? If you're building a new screen porch with a tight initial budget or with the specific aim of resale, here are the seven design choices you should avoid.
7 Screen Porch Design Choices That Kill ROI
Fixed or Retractable TVs
Yes, TVs are hugely popular in custom screen porches right now. Do they make sense in terms of ROI, though? It depends.
Will the television increase your enjoyment of the space? Will it encourage you or loved ones to use that outdoor living space more? If the answer isn't an enthusiastic "yes," it's best to avoid this add-on.
If you're keeping your eye on budget, be especially wary of pricy features, such as televisions that retract and nest within privacy walls. Very impressive but very expensive.
If you're looking for wow factor, and it's within budget, go for it. If you're trying to create something as functional and economical as possible, pass.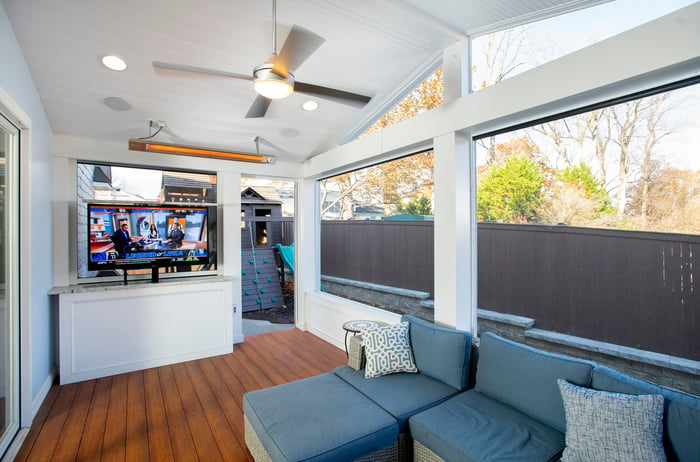 Over-the-Top Electrics
Electrical elements within your screen porch quickly start to increase the price tag.
Some common electrical elements include any of the following:
Televisions

Speaker or audio systems

Retractable screens

Snow-melt systems

Exterior heaters

Ceiling fans

Outdoor cooking and kitchen appliances

Outlets

Multiple lighting elements (recessed, sconce, flood, disc)
When choosing which electrical items you want, prioritize what increases the usability, comfort, or functionality of the space. Infratech heaters, for example, can convert an outdoor addition into a year-round space. These often increase screen porch ROI.
Something like retractable screens are wonderful if they're within budget, but they can drive up price more than the resale value they bring.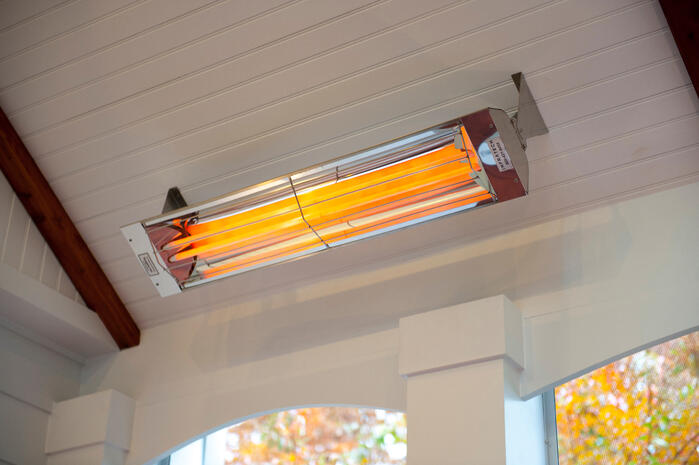 Fireplace or Firepits
The idea of adding warmth to your screen porch is great for ROI. It means you can use the space at least three (potentially even four) seasons out of the year. Fireplaces and firepits, however, are very polarizing.
Some people love the look, sound, and smell of a real fire. They enjoy the entire process—from making it to using it.
Other people can think of nothing worse than chopping wood, splitting kindling, trying to nurse a small flame into a roaring fire, and cleaning up ashes.
Add on the up-front cost of putting in a fire feature, and often the ROI simply isn't there. For the most convenient and economical way to beat the cold, many opt instead for outdoor heaters.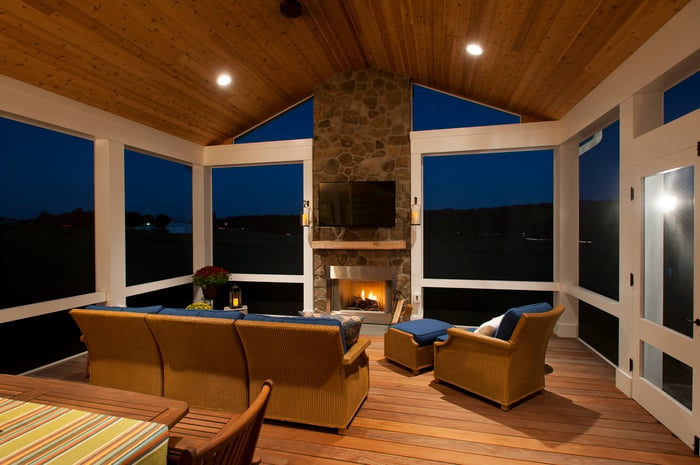 Any Product with Movable Parts
In the construction world, there's a saying. Moving parts are breaking parts.
If you want to keep your return on investment high, opt for a clean, simple design. This minimizes the hassle (and expense) of contractor callbacks as items wear down and break over time.
Not sure how to create a design like that? Talk to a local design and build firm. They can offer suggestions, answer questions, and walk you through that process.
Any Product with Maintenance Requirements
Maintenance equals two things: time and money.
Take decking. Pressure-treated lumber is almost always less expensive initially than composite decking…with one important caveat. It requires yearly maintenance. Sanding. Staining. Painting. Replacing warped, chipped, or rotten boards.
People love the convenience of maintenance-free products. This means they increase the perceived value of that space. (Read: better ROI.)
Maintenance-free products can also pay off over time. Every year you have composite decking is another year you're not shelling out for the tools, equipment, and supplies necessary for repairs and upkeep.
Bottom line: maintenance free pays off in the short term and the long term.
Extravagant Lighting
When it comes to ROI, remember that modest lighting can be a net positive. Why? Lighting allows you to use your screen porch into all hours of the day and night. It also makes it usable in the winter months when it starts to get dark early. You get more functionality and usable days of the year with it.
What doesn't always pan out for return on investment is opulent, complicated, bigger-ticket lighting.
Keep the lighting to a minimum. Keep it simple. Keep ROI high.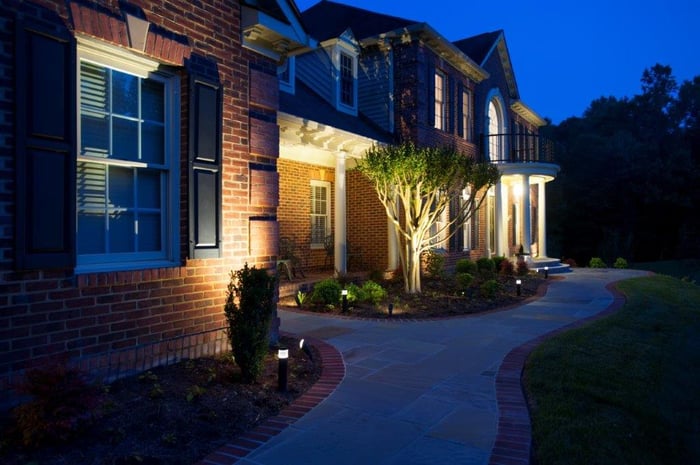 Top-of-the-Line Decking
There's no getting around it. Decking is expensive. If your budget is very limited, pressure-treated wood can be one way to keep your costs down. When costs are kept low, return on investment is more likely.
If you have a bit more in the initial budget, though, composite decking can represent great value. Just remember to keep your selection on the economical end of the composite spectrum. Something like Trex Enhance, for example, can give you composite advantages with a price point closer to natural wood.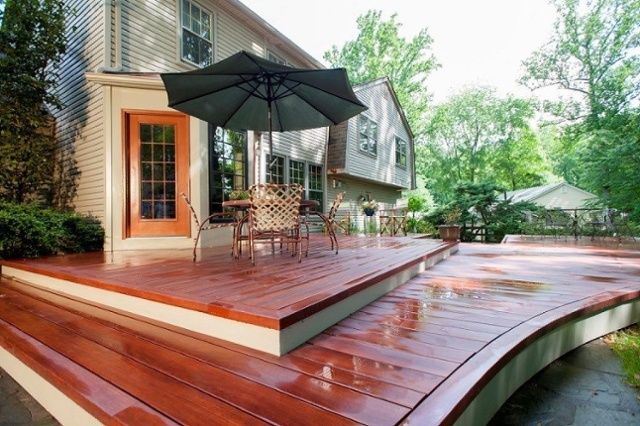 Something like Zuri decking is a premium option. It offers lots of aesthetic and quality benefits, but the return on investment isn't often as high.
Interested in Adding a Cost-Effective Screen Porch to Your Northern Virginia or Maryland Home?
If you live in Northern Virginia or Maryland and you're interested in adding an outdoor living space to your home, reach out today.
We're Design Builders, a custom design and build firm specializing in high-end screen porches, outdoor kitchens, patios, and decks.
If you're building with budget or resale value in mind, we know all the ways to balance aesthetics and luxury with price and ROI. Request a free quote now to get the process started.