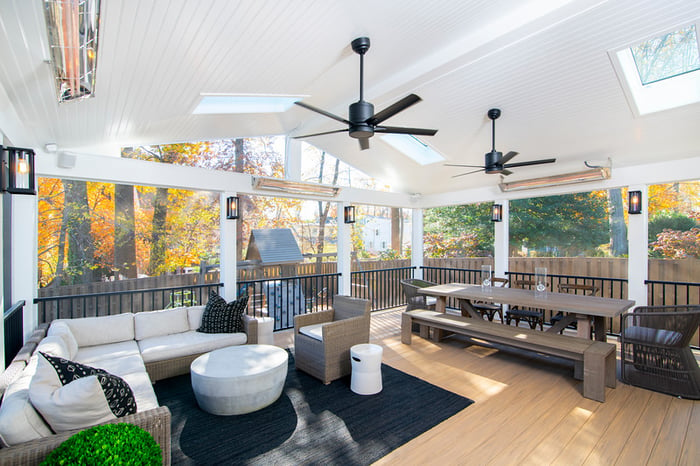 7 Screened Porch Benefits Every Homeowner Needs to See
If you're on the fence about whether you should add an outdoor living space to your Northern Virginia or Maryland home, know there are numerous benefits of a screened porch. From practical advantages to financial reasons, adding a screened-in porch to your home can make a lot of sense. Here are the top seven reasons it could be right for your home.
Top Screen Porch Benefits
Key Advantages of a Screen Porch
Walk the Line between Inside and Out with Your Outdoor Living Space
Screen porches are unique outdoor living spaces because they truly offer the best of both worlds: the comforts, luxury, and design appeal of indoor living and the fresh air, health, and fun of the outdoors.
Screened-in porches provide a nice halfway point between a fully enclosed space and an open-air experience.
Especially with all the features and add-ons available for screen porches today, including motorized retractable screens, you can simply push a button and transform your space from a screened area to a fully open-air experience.
Screen Porches Let You Enjoy Bug-Free Living
Depending on where you live in the world, bugs can make the summer months nearly unbearable! In Northern Virginia and Maryland, homeowners are routinely battling everything from mosquitoes to wasps to flies.
A screen porch can help you enjoy the outdoors…without that nuisance.
Even if they have open-air outdoor living spaces, such as decks or pergolas, many homeowners find they avoid them in the summer because of this bug issue. A screen porch helps you eliminate this problem altogether.
When choosing your screen porch screens, make sure to take their level of bug protection into account.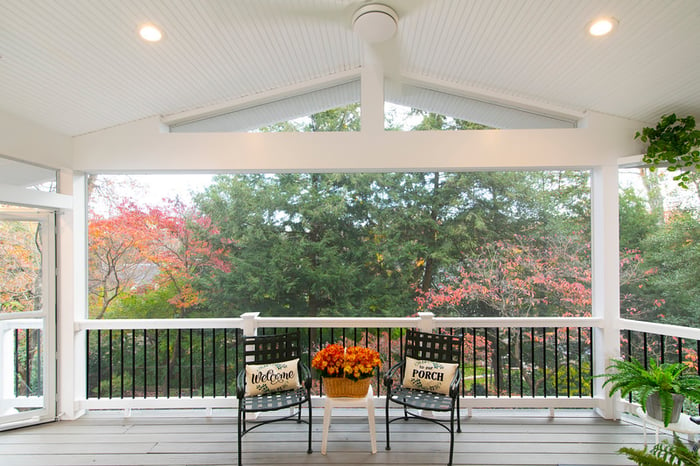 Screened-In Porches Provide Year-Round Weather Protection
If you live in Maryland or Northern Virginia, you've come to expect four distinct and dramatically different seasons throughout the year.
A screen porch provides practical protection against anything the weather (or time of year) can throw at you:
Rain
Wind
Hail
Pollen
Snow
Extreme sun and heat
Remember, when it comes to dealing with very cold temperatures, a heating feature can help convert your area into a true four-season space.
Screen Porches Are Fully Customizable
If you work with a design and build firm, you can get a screen porch built to your exact specifications. This includes all the following:
Custom size
Flooring Material
Ceiling Material
Lighting
Electronics
Finishings and furnishings to rival any interior space
Whether you're looking for an opulent aesthetic or something more rustic and laid back, screen porches can accommodate.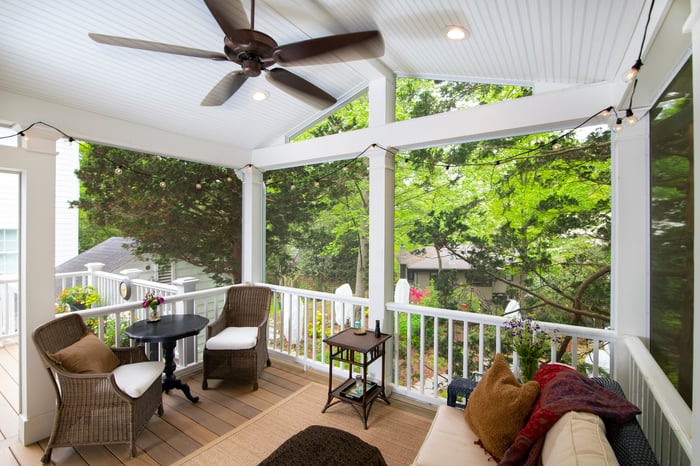 Up the Square Footage of Your Home
Screen porches represent finished additional square footage for your house. Given the pandemic, this is more important than ever to homeowners.
That extra space can be used for any of the following:
Home office
Place to entertain guests
Space for children to study or to play
Workout area
Increasing the footprint of your home means you get to better utilize your entire property and get even more enjoyment out of the space.
Enjoy a Safe Gathering Place for Friends, Family, and Loved Ones
Screened-in porches are especially unique in today's landscape. They offer a space to gather that's protected from weather and insects, but with their inherent air ventilation, they also provide extra peace of mind about health and safety.
For those who aren't comfortable gathering indoors with friends and loved ones, screen porches are highly popular as the new entertainment centers of residential homes.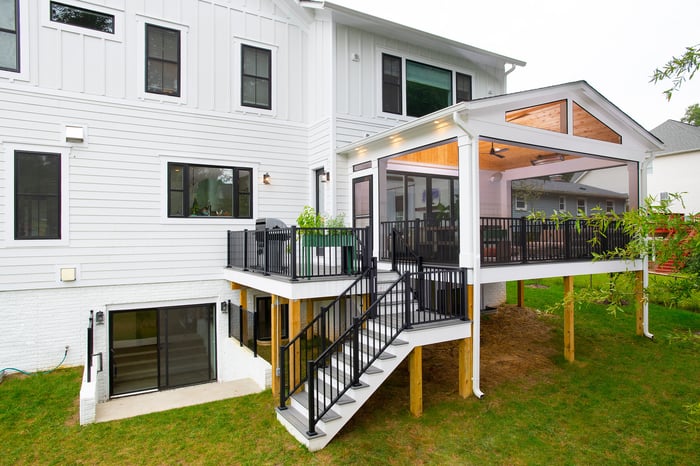 Increase the Resale Value of Your Home with a Screen Porch
Outdoor living spaces are hugely popular and in demand right now. Homeowners not only want the beauty of a modern, custom screen porch, but they also want the additional space and the safe outdoor place to gather.
That's to say nothing of the dramatic and positive affect a beautiful screen porch can have on your curb appeal. As a prominent feature, a screen porch can help create that immediate wow factor. This is especially important given that one survey of 1,000 home buyers found 43.1 percent had made the decision to make an offer or not within the first five minutes of seeing a property.
All these benefits taken together mean that a screen porch can increase the dollars-and-cents value of your home. When it comes time to list your house on the market, a screen porch could be the thing that ups an offer or sways a potential home buyer to choose your home over another.
Learn More about Adding a Screen Porch to Your Northern Virginia or Maryland Home
Curious about what a screen porch costs? What the design and build process looks like? Whether a screen porch is right for you and your family?
Reach out and get a free, no-obligation screen porch quote today.
If you still have questions or want to move forward, simply contact us today. We're always happy to help!