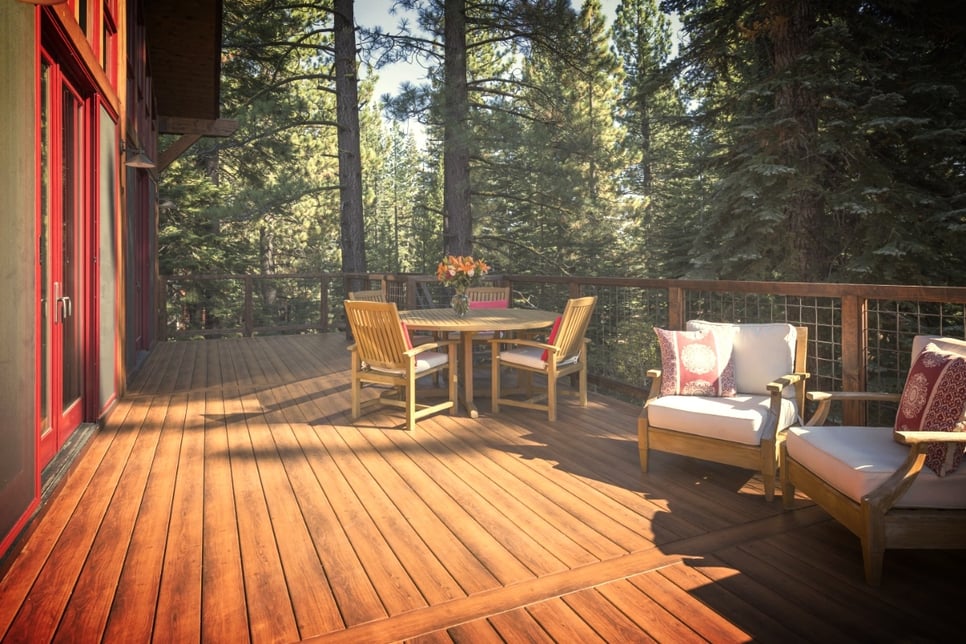 How Zuri Premium Decking by Royal came to be, and why the Zuri brand means something
How did a relatively new, low-maintenance PVC deck board become one of the leading names in premium decking market? From quality to testing methods to experience in the industry, Zuri Decking by Royal has firmly established itself at the forefront of the high-end premium decking in a relatively short period of time. Keep reading to learn about how Zuri's roots and maturation speak to its quality as a beautiful low maintenance deck material.
Royal Building Products
Royal Building Products is the parent company that produces Zuri Premium Decking, and Royal has been in the PVC business for around forty years. While a number of companies claim to produce high-quality decking (with mixed results), Royal differentiates itself by specializing in PVC decking products. They understand how it works as a material, as well as how PVC-based products work as separate entities.
Zuri is the result of years of research by Royal decking specialists to create a strong, durable PVC material that is robust enough to have a 25-year color-fastness and structural performance warranty, yet beautiful enough to maintain its natural wood look for over 40 years.
Start-Ups and Solvency
Many start-up companies dabble in PVC products, but it's an industry that requires a high level of understanding of the material to achieve success. With its many years in the business, Royal sets itself apart from start-ups with its experience and years of successfully running, growing, and developing a competitive company.
Given its positive industry standing, Royal Building Products is simply positioned to be more solvent and reliable than one just starting out because they have the reputation and resources to respond to its network of Zuri decking contractors quickly. Choosing Zuri PVC decking is an investment in Royal's heritage and its commitment to serving homeowners as much as it is in the Zuri decking boards themselves.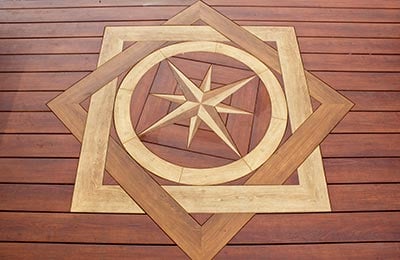 Zuri contractors can install custom decking patterns for new decks and screened porches.
Testing and Durability
While Royal has been around for multiple decades, the oldest Zuri decks are approximately six-years-old. And if you've previously wondered where to buy Zuri in Maryland or premium Zuri decking in Virginia, it's only been available in the Washington, D.C. area for three years. However, low maintenance Zuri decking is guaranteed to last for decades, as proven in extensive materials testing.
One common concern with any decking material (natural wood, composite, or PVC-based) is if the deck boards are going to scratch and how easily scratching can occur. This worry is justified because the last thing you want on your Zuri trim are visual dings, dents, or scratches from simply moving chairs around or performing other normal daily deck activities.
Zuri boards undergo extreme abrasion tests to assess this very factor. The scratch test is concluded when the sandpaper breaks through to the substrate. For the coated composite decking, it took 200 cycles. Premium interior flooring (with a fifty-year warranty) took between 600 and 900 cycles, and Zuri decking took 1,000 to 1,500 cycles before test failure.
Zuri installed beta products from Cape Cod to Miami in order to simulate some of the harshest environments. Waves crashed on top of them, and they were exposed continually to sun and salt. The team went back to check on these decks every six months, and they looked the same as the day they were installed.
Lab tests involving direct UV light confirmed these findings. Even after 17,000 hours of exposure, the boards didn't experience enough of a color change to register to the naked eye. Moreover, the natural wood Zuri texture remained intact.
What the Tests Mean
Even though there aren't any real-world examples of Zuri decking installers that have been around for twenty-five to thirty years, the volume and duration of intensive testing ensures Zuri decks in Maryland and Zuri porches in Virginia will hold up for much longer than that. In many ways, the testing Zuri deck boards undergo is more rigorous than what most installations will experience in real-world situations.
For more information about where to buy Zuri Premium Decking or Royal Building Products, reach out to your local deck builder today.
Original Zuri decking photos in this article provided by Zuri Premium Decking