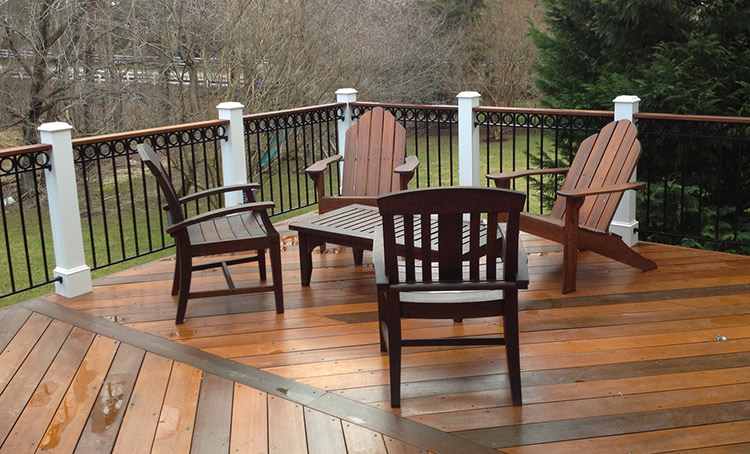 Just about any material you choose for your deck in Bethesda, Maryland or others parts of the United States will come with some kind of warranty. However, the fine print with many of those products will tell you the coverage isn't as comprehensive at it sounds.
Pressure treated wood, for example, looks amazing when it's first installed, and the proud owner of a new wood deck might not even think to ask about the warranty. Unfortunately, pressure treated wood can start to fade, rot, warp, and decay after one year, and this type of damage usually isn't under warranty because it's considered part of "an act of nature."
Zuri Decking 25 Year Warranty
Zuri Decking, on the other hand, has an impressive 25-year warranty that protects against all those types of damages. The reason that Zuri's manufacturer, Royal Building Products, is able to offer this extensive warranty is because it's not going to become damaged in the same way as traditional wood decking. With a Zuri screened-in porch, you don't have to worry about termites, warping from freeze/thaw cycles, fading, moisture absorption, scratches, or stains. The best part is that Zuri requires very little upkeep from you. All you'll need to do to keep your low maintenance Zuri decking looking great for years and years is occasionally wash it with soap and water.
Don't Let Other Warranties Fool You
Warranties for other decking materials aren't always as great as they sound. If you see that a certain product has a "lifetime warranty," it's important to understand that this doesn't necessarily mean your lifetime, but the lifetime of the product on the market. If that particular product is no longer being sold after a few years, you may be out of luck.
There are also many "limited warranties" that are easily invalidated. For example, if your dog runs across your new wood deck and scratches it up, the material manufacturer may claim that this was "intentional damage" and that you can't get your money back.
Zuri's warranty isn't like that. It uses plain language to explain exactly what is and what isn't covered. And, as stated above, just about everything you can think of is covered. Some of the only things that would invalidate the warranty are natural disasters and improper installation – which is why it's important that you work with a skilled Zuri Decking contractor who knows how to install Zuri Decking.
If you're looking for a contractor who has experience installing Zuri Decking in Bethesda, Maryland who fully understands their warranty, contact Design Builders MD.