Design Builders is entering a new period of growth, and as part of that endeavor, we're pleased to announce the promotion of Carmelo Cordon to the position of project manager. Carmelo has been with us for two years, and we're excited to introduce him to our entire network of prospective and existing clients.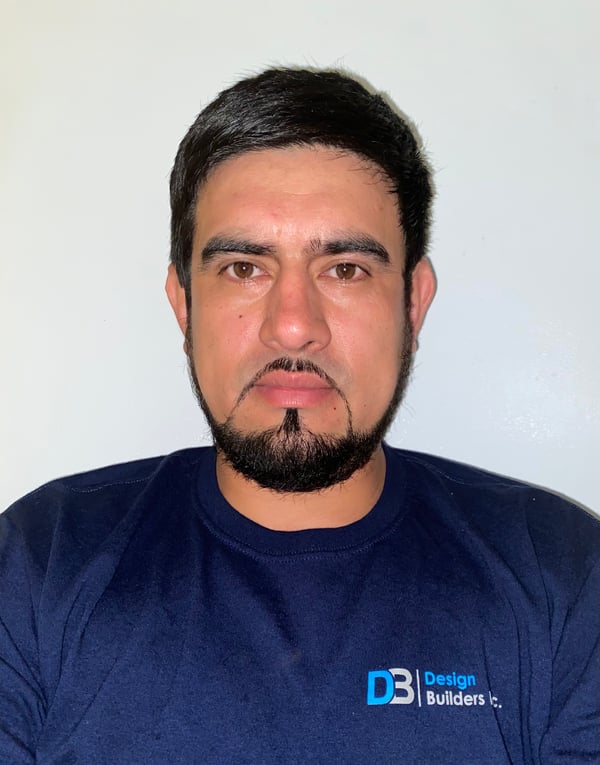 About Carmelo
Carmelo is originally from Guatemala, and he and his wife have a ten-year-old daughter. He came to the United States 18 years ago and began working with Design Builders at that time.
Carmelo is a jack-of-all-trades, seeking out information about many different topics. From taking computer classes in Guatemala to learning construction on the job, Carmelo is as inquisitive as he is hard working.
"I'm not an expert, but I do know a little bit of everything," says Carmelo. "I'm always willing to learn new stuff."
That spirit of curiosity and adaptability translates perfectly to his new position within Design Builders. His interpersonal skills were also key to his rise within the company.
"I always try to be polite and to treat people with respect," says Carmelo. "Even if we have customers who are difficult, I work with them. I explain what's happening and why. In the end, even if they started out hard, they're usually on our side."
Day-to-Day Duties
Carmelo came to Design Builders two years ago through a recommendation of one of our carpenters, and from the minute he joined the team, we knew he was an asset.
As the new project manager, Carmelo primarily works in materials and as a coordinator ensuring all builders in the field have what they need. He's also tasked with dealing with logistical issues as they arise throughout projects. This makes his own time in the field invaluable.
"For two years, I was in the field," says Carmelo, "so I know pretty much what the crews need."
His position also entails coordinating across crews, ensuring the collective knowledge of our talented build team translates to best practices across the board.
"Sometimes one crew will have a good idea, and part of my job is sharing that idea with everyone else," says Carmelo.
Working during a Pandemic: The Good and the Bad
Carmelo's promotion came in the middle of a pandemic, which posed obstacles but also provided the opportunity to see the entire crew rise to the challenge.
"We were closed down for a few months, and after we came back, nothing was like it was before. We had to use masks. We couldn't touch door handles. It was frustrating but necessary," says Carmelo. "The pandemic makes it harder, but the entire crew just does whatever they need to do."
Even with any global uncertainty, Carmelo is optimistic about the future.
"Design Builders is a great company, and I think it's going to get bigger because the relationship is good between the employers and the employees," says Carmelo. "They personally treat me really well, and they worry about their workers. Especially during the pandemic. James [Moylan] took care of everyone. We weren't working every day, but he supported us and talked to us every day."
A Period of Growth for Design Builders
Looking back on 2020, Design Builders was incredibly fortunate. Our industry saw a tremendous influx of interest and activity, and this gave us the opportunity to restructure in a thoughtful, effective, successful way. Carmelo is an integral part of that, and we're so pleased he'll be involved with every job in this project management capacity.
Interested in learning more about what Design Builders does? Check out our portfolio, or contact us if you're ready to get your project started.