Considerations for Screening in Decks & Patios in Maryland & Virginia
When approaching unique outdoor living spaces, there are multiple paths one can take to arrive at a successful design resolution. It's easier when there's not an existing structure like an elevated deck or flagstone patio, but old spaces can be reimagined and rejuvenated with things like new Zuri decking, outdoor kitchen cabinets, and even brand new walls. It doesn't take a teardown to convert a patio in Maryland or deck in Virginia into a screen room without compromising on beauty or structural integrity.
Over or Under the Base Structure?
How to best tackle a deck-to-screened-in porch conversion comes down to how the preexisting deck or patio is constructed. The initial and most important consideration is whether there's space underneath the donor structure.
If a contractor can access the under-deck space, then a build crew can add beams in strategic locations and follow the outside frame of an open-air deck. In this way, the structure can be shored up from underneath, and additional beams can be built outside. The deck boards are also best off consisting of low-maintenance decking material in most cases as with most screened porches.
If the underside of the deck isn't exposed or accessible, a new beam can be built all the way around the entire deck. New beams can then be attached to the existing deck, and the crew can build directly on these. Everything then just needs to be trimmed together. Once trim has been placed on the outside, the new screened in area is good to go. This tends to be the best approach if underneath the deck is not readily available. It's preferential, for example, to building on top of the existing deck, where everything lining up is a constant concern.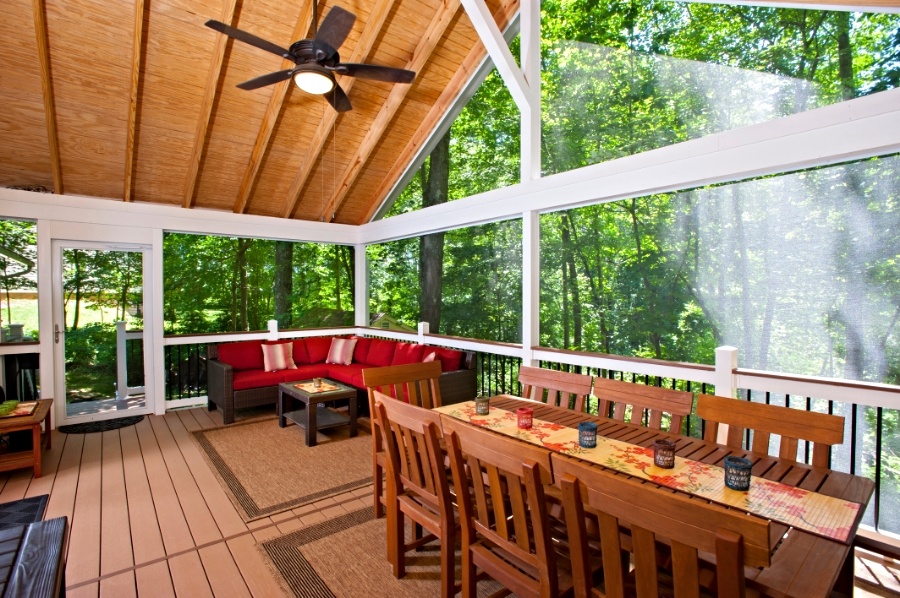 Complementing Design Features
When an existing deck is converted into a screened-in porch, design features and color schemes become especially important. Whereas a new feature just needs to match the home, a converted screen porch will need to match both the existing deck and the main home. Hopefully the deck and house were already built with similar design concepts in place, but if they are disparate, you'll have to get creative about what features will make everything work together.
If you feel overwhelmed by this prospect or just want a professional opinion, talk to your design team. Having worked on many projects, the team members should be able to provide guidance about what's best, both in terms of your preferences and what will look aesthetically most pleasing.
Why Convert a Deck into a Screened Porch?
Many people with decks find they simply don't use them during certain times of the year. That can be for a variety of reasons: bugs, heat, wind, rain, or cold. If you want to get more mileage out of your outdoor space and ensure its use through a number of seasons, converting into a screened-in area is one way to make that outdoor living space as functional as possible.
Screening in the Patio or Deck
Design Builders recommends using a Screeneze screening system for standard screened-in porches: as far as deck screens go, their systems are affordable, reliable, and quick to install. However, more grandiose screen room additions can boast retractable porch screens, which come as both manual and motorized retractable screens. For the latter, we've encountered tremendous success with Phantom retractable screens.
Following through with screening in a deck in Maryland or converting a patio into a screened-in porch in Virginia is as easy as obtaining permitted plans where required and choosing porch screens. Contact Design Builders for information on Phantom Screens or Screeneze pricing.