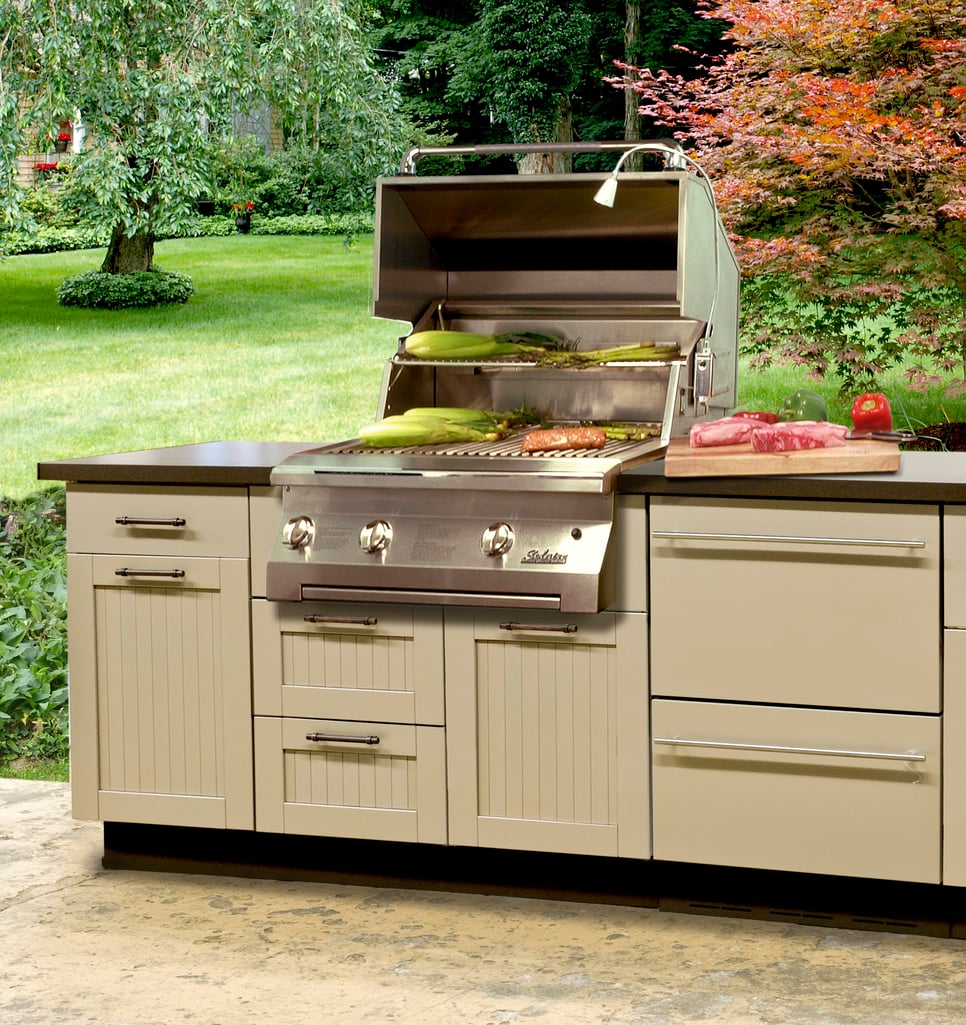 Outdoor living spaces, be they decks in Maryland or screened porches in Virginia, can oftentimes be a challenge to upgrade once they're built. That's because there are simply more roadblocks and issues to overcome in terms of what can be installed and where with an existing structure in place. This is true for outdoor ceiling fans, outdoor televisions, outdoor patio heaters, and even outdoor furniture, but especially for bulkier items like powder coated stainless steel outdoor kitchen cabinets.
Upgrading porches and elevated decks with a backyard kitchen with outdoor kitchen appliances can come with their own sets of challenges. It's important to recognize what those are before seriously considering high quality outdoor cabinets for your home renovation.
A Common Upgrade
New Danver outdoor kitchens and Brown Jordan outdoor kitchen cabinetry (both companies provide different iterations of Danver stainless outdoor cabinetry) can radically upgrade the look and feel of your outdoor living area or grilling area. In this way, new stainless or powder coated cabinets are an easy way to modernize and otherwise spruce up a space that might be starting to look run down or dated. For that reason, Danver cabinets are a common addition to already existing spaces, so your design and/or build team is likely familiar with the installation process and the roadblocks of fitting new outdoor cabinetry.
Level Space for Decks Compared to Porches
By and large, installing Danver cabinets in Maryland for existing backyard spaces is not going to be a problem. However, the one area that could pose issues concerns level space.
Decks are generally built to be level, so you're not likely to run into issues there. Patios, however, tend to be tilted slightly to allow water to run off. Because this means the base isn't level, the cabinet doors can't operate functionally or properly.
Danver stainless cabinets can certainly be added to patios, but it means an extra step: building an entirely level base for the cabinets. This allows the doors to swing open freely as designed.
Installation Process
After a level base has been verified or created, the installation process for bare or powder coated Danver cabinets in Virginia (even into an existing area) is largely unintrusive and straightforward. It takes about thirty minutes to put together one cabinet because they simply bolt together. Considering people typically order anywhere from four to ten cabinets, design teams usually allot a half day to just shy of a full day to put all the cabinets together. After the cabinets are assembled, it's just a matter of putting the countertop on to finish the installation.
Unlike the installation process with cinder blocks or stone, putting up Danver and Brown Jordan outdoor cabinets doesn't create dust from cutting or trimming. It's a much cleaner, dust-free, and quick install, which means you get your new cabinets faster and with less disruption to your life.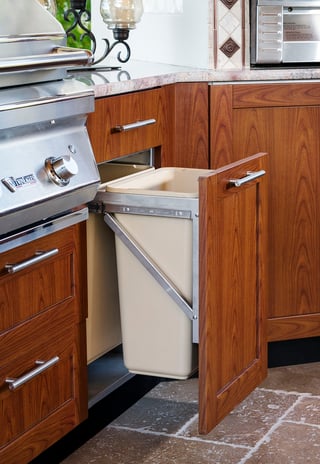 Matching the Existing Décor and Accessories
Another potential issue with adding cabinets after the fact is that you have to work around what you already have. This means trying to fit items into already created spaces, but it also means working with whatever color and design scheme has already been established. Danver stainless steel cabinets, however, come in a wide variety of colors and door styles, so it becomes much easier to match that existing décor in a stylish way.
Many of the Danver units are also fitted for liquid propane, so you can store a propane tank in one of the cabinets and run your existing grill, side burner, or other propane-fueled cooking systems. A standard twenty-pound tank (rated to run approximately nine hours) can fit easily in one of the cabinets, so this leaves no unsightly, exposed tanks.
Popular high-end outdoor kitchen appliances are then already accommodated for by your painted kitchen cabinets, such as Green Egg Smokers and Blaze Grills.
Mobile Danver Cabinet Units
If you don't want your cabinetry to be installed in a more permanent way, the easiest way to still experience Danver is with a mobile unit. Not exceeding six feet, these mobile units are unobtrusive and can simply be rolled away in winter or whenever extra space is required.
If you're interested in more information about upgrading your existing outdoor space in general or installing Danver stainless steel cabinets specifically, please contact a representative of Danver cabinet dealer Design Builders, Inc. for inquiries in Maryland, Virginia, Washington, D.C., and even out-of-state.
Images in the article courtesy of Danver Cabinets