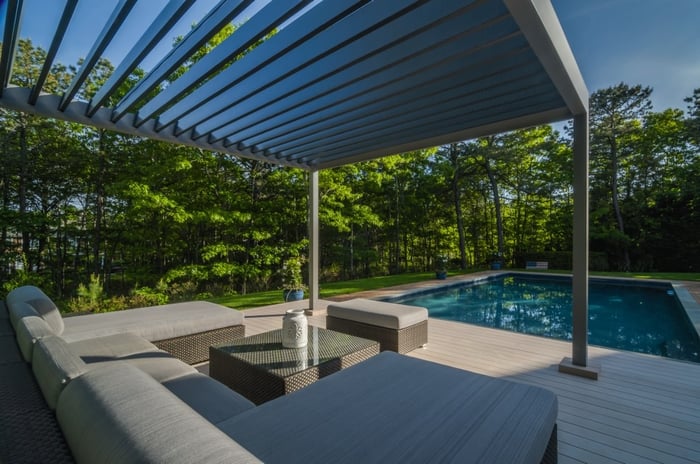 (Photos courtesy of Renson.)
If you've been thinking about adding a pergola to your outdoor living space or a series of pergolas to your commercial entity, here are the relative advantages of Renson aluminum pergolas.
10 Reasons to Include an Aluminum Pergola from Renson in Your Outdoor Living Space
Customization Options
Renson aluminum pergolas are fully customizable. You can choose from one hundred textured coating colors, ensuring you get any color you want. This means you're able to match or to complement existing design schemes and color palettes. This is great for private homeowners looking to maintain a particular aesthetic, but it's also beneficial for commercial spaces who are looking to keep brand consistency.
Renson pergolas are custom made and can be created to your specifications down to the last inch. They are also customizable in terms of accessories you can add. To create the outdoor living space that suits your lifestyle, you can include any or all of the following: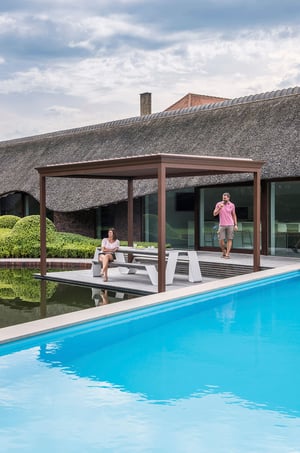 Retractable roof
Retractable shades
Fans
Lighting
Audio
Misting system
More
Generous Warranty
A Renson pergola comes with a ten-year warranty. Coupled with the product's intent to be designed to last, this gives any purchaser (residential or commercial) great peace of mind.
High-Quality Materials
Renson pergolas are made from aluminum. This is a light but highly sturdy material. This offers several benefits:
Durability
Especially with something like a commercial space (restaurant, café, bar, hotel, or others), a pergola is a great alternative to investing in temporary tents or other outdoor dining options that simply won't last through a winter. An aluminum pergola is incredibly sturdy, which means you never have to worry about the structure's integrity.
Inclement Weather
A Renson aluminum pergola is rated for ice storms, as well as high winds. Whatever the weather conditions, you can rest easy knowing this type of pergola structure can withstand them.
Better Return on Your Investment
Even temporary structures like tents can represent a significant investment for restaurants and other commercial ventures. Depending on size and scope, a restaurant might have to spend upwards of $25,000 on a setup that's not even going to last a year. When choosing a structure for this purpose, you want to make sure it's a good overall investment.
Aesthetics
Whether you're installing a pergola in your private residence or a commercial space, one massive advantage of a Renson structure is the aesthetics. The posts are minimal, sleek, and streamlined, meaning nothing looks bulky or unattractive. There are no distracting, obtrusive horizontal bars.
For something like a restaurant, a temporary tent for outdoor dining looks inherently unappealing. A Renson pergola is a much more polished, inviting structure.
In the age of outdoor dining and social distancing, check out the top 15 reasons restaurants should opt for aluminum pergolas.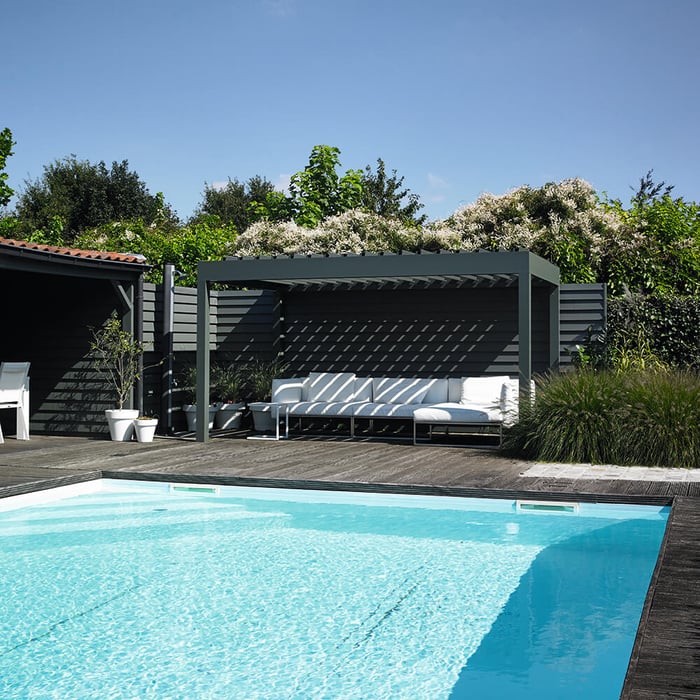 Bug-Proof Structures
Bugs are a big issue with outdoor living spaces—especially in places like Northern Virginia and Maryland. (In humid climates, protection from mosquitoes is essential!) When properly installed, a Renson pergola can be 100 percent bug proof.
When closed, the blades of the louvered ceiling form a water-resistant, bug-proof roof. The material used for screens is also very tightly woven, meaning no bugs can find their way in.
Minimal Maintenance
A Renson pergola does not require a lot of extensive, timely, or costly maintenance. You'll just need to periodically remove any dirt, debris, or grease residue that builds up on the structure. Unlike wood, which requires involved maintenance, aluminum is a much more user-friendly material, even when exposed to exterior conditions.
The structure is also designed to avoid any bolts or other unsightly items sticking out anywhere. This creates a clean, seamless look, but it also means all elements of the structure are less likely to rip, snag, tear, or break. This even further reduces your maintenance burden.
Ease of Installation
Renson pergolas are designed to be installed quickly and easily. While you want a qualified contractor handling the project, you can expect one system to take about one day of installation. This minimizes the disruption to your life and schedule and gets you closer to your dream space faster.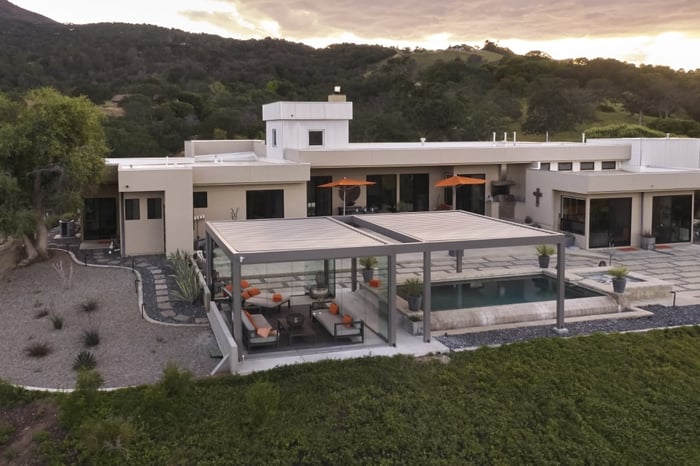 Compatible with Any Build
It doesn't matter if you're renovating an existing property, retrofitting a space, or building something from new. Wherever you are in the building process, a Renson aluminum pergola can be added.
In the current landscape, this is great news. With the housing market exploding—check out the statistics yourself—many families are opting to renovate rather than to relocate. That has caused a big surge in the home construction market. If that's the situation you find yourself, you can rest easy knowing that adding a Renson pergola will pose no issues.
Convenience
Pergolas today have a lot more functionality than just a bit of sun protection. With all the added accessories and options, it's important to have ease of use and a convenient means of operating the pergola.
With a Renson, the louvered roof system is entirely operatable by remote control. With the touch of a button, this allows the blades to rotate, enabling you to get the exact amount of sun protection, rain protection, and ventilation required.
Safely Transform an Outdoor Living Space
Given everything that's happened since 2020, it's little surprise that creating safe social spaces is important to people. A Renson pergola can transform an exterior space into somewhere suitable for everything from relaxing to entertaining.
If you're looking to renovate your backyard and think you might be interested in incorporating a pergola, reach out with any questions. Design Builders is a custom design and build firm operating in Northern Virginia and Maryland, and we're happy to discuss your next project!