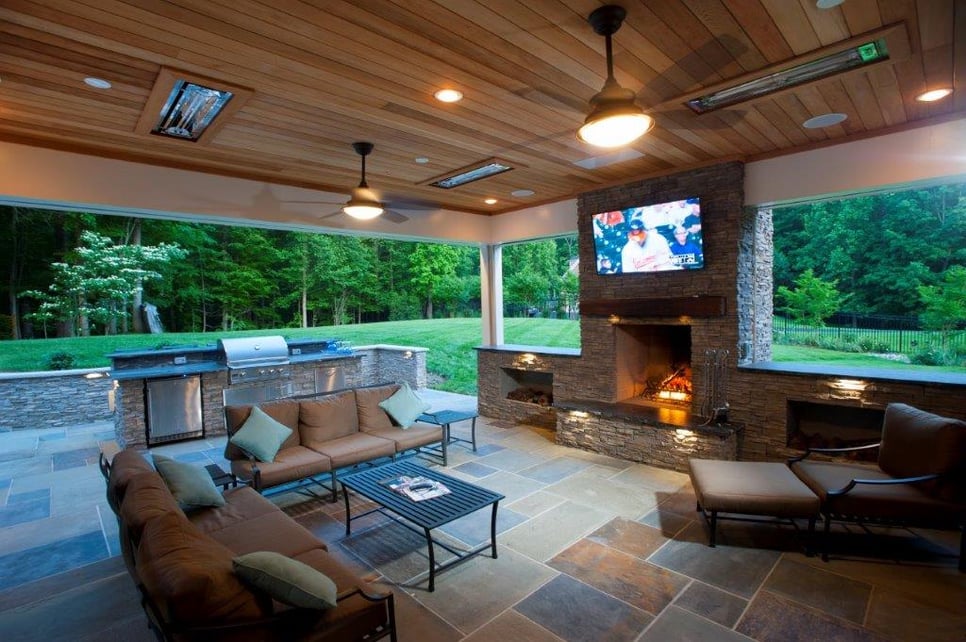 Long-Term Costs of Operating an Outdoor Fire Feature in Bethesda, Maryland
Nothing provides quite the same blend of ambiance and function as an outdoor fire feature, but many people wonder about price. With so many fire features to choose from, which one is going to provide all the aesthetic beauty and functional warmth without breaking the bank?
This article compares three of the most common fire feature types: natural wood-burning fireplaces, biofuel fireplaces, and natural gas fires. For the sake of comparison, electric heaters are also included below. While not a traditional fire feature, they are a common alternative for those looking to heat their outdoor spaces.
Outdoor Fire Features: Influencing Cost Factors and What to Expect to Pay Over Time
The operating cost of any fire feature is always going to vary from person to person. Note as well, the following price comparison is for operation only. This does not take into account cost of installation or maintenance of your chosen fire feature.
Natural Wood-Burning Fireplace
---
The main expense associated with an outdoor wood-burning fireplace is the wood itself. The price of wood varies from region to region, but in and around the Northwest DC region, expect to pay the following prices for wood:
¼ Cord (4' x 6' x 16", or 32 cubic feet): $85–$150

½ Cord (4' x 4' x 4', or 64 cubic feet): $129–$250

1 Cord (4' x 4' x 8', or 128 cubic feet): $239–$450
As can be seen, prices vary dramatically according not only to how much wood you need but what company provides that wood and the quality of the firewood. Other potential expenses to keep in mind include delivery fees for the wood and even stacking fees, if necessary. You'll also need an area to store the actual firewood and keep it dry through Maryland's diverse seasonal weather for a stone fireplace.
As with any backyard fire feature, the usage of outdoor fireplace designs will have a huge impact on operating costs. If you're looking to sit by your fire a few times a week, a ¼ cord could last you the entire season (or ½ cord to be safe). In that case, using $150 as an estimate for this amount of wood, you're looking at about $5 per day to operate a wood-burning fireplace in Maryland or Virginia.

Biofuel Fireplace Feature, Including EcoSmart Fireplaces
---
EcoSmart Fire fireplaces run on e-NRG bioethanol. The bioethanol burners can be purchased in varying amounts, with a four-gallon jug costing around $92 online, or about about $5.75 per quart. As with just about any product, you'll get a slight discount for buying in bulk, so expect that per-gallon price to go down a bit if you're buying in large quantities.
While the burn rate depends on the specific bioethanol burner you're using, as well as ambient conditions, e-NRG fuel generally burns at 1 qt. (approximately 1 L) every one to two hours in EcoSmart fireboxes.
If you use your bioethanol fireplace every night for four hours, expect to pay somewhere in the range of $10 to $20 per day. If you're going to be a more casual user (say, twice a week for two hours each time), you're looking at $10 to $20 per week.
Natural Gas Fireplace
---
In the Washington-Baltimore area in December 2016, 1 therm (100,000 British thermal units, or BTUs) cost $1.109. Say your natural gas fireplace runs at 34,000 BTU per hour; That gives you an operating cost of $0.377 per hour.
As seen below, natural gas fireplace inserts and electric heaters are quite comparable in price. However, other price factors associated with a natural gas outdoor fireplace include general upkeep and maintenance over the years, as well as the initial cost of purchase and installation, which can be high.
Electric Heaters, Including Infratech Heaters
---
The cost of operation for outdoor electric heaters is going to be dependent on your local rate per kilowatt-hour (kWh). The average in December 2016 for the Washington-Baltimore area was $0.128 per kilowatt-hour. Check your last utility statement for a more accurate idea of what your rates would be.
If you ran a 3,000 watt Infratech heater at full capacity, it would cost $0.384 per hour; If you had three Infratech outdoor heaters running at two hours a night, you'd be looking at about $2.50 per night.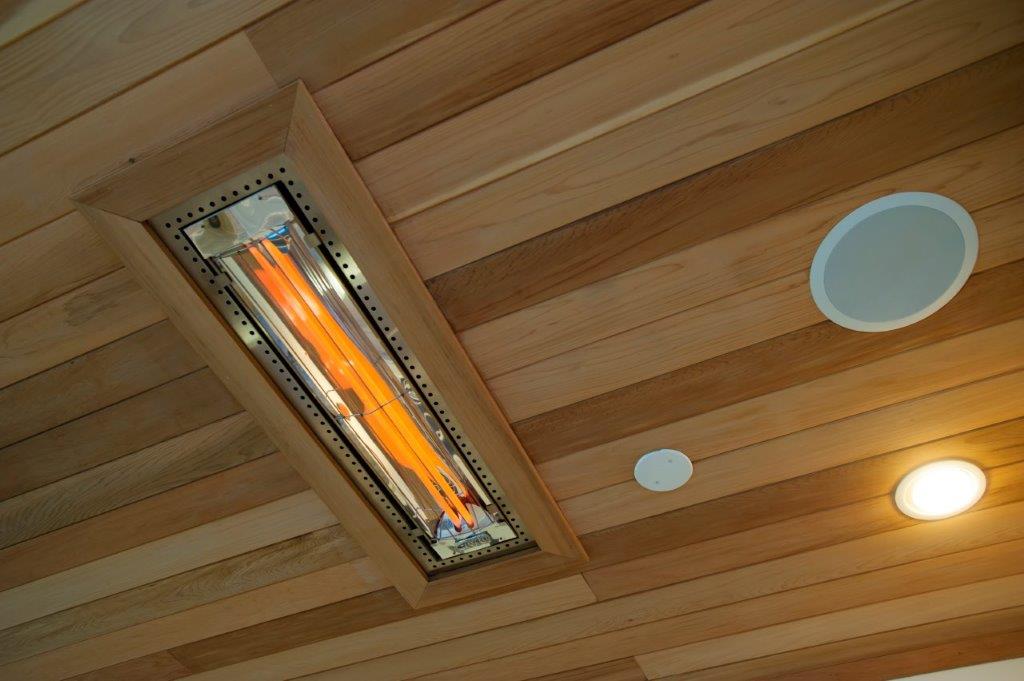 Infratech infrared heaters installed in a tongue-and-groove porch ceiling in Clifton, Virginia


Breaking Down the Costs of Heating an Outdoor Space in Maryland or Virginia
---
Acknowledging again that many factors play into the price, here's a highly generalized breakdown of fire feature operating costs in the Washington, DC, area:
Natural gas fireplaces:

moderate usage: roughly $1 per day
Electric heaters: moderate usage: roughly $1.50 per day
Biofuel fireplace: moderate usage: roughly $3 per day
Natural wood-burning fireplace: moderate usage: roughly $5 per day
---
Related Topics:
---