You've thought of it for years. A gorgeous deck or porch you can comfortably use year round. There are many decisions to make, but 2 major choices stand out: choosing a screening system (whether it's retractable or not ) and climate control. With climate control, outdoor ceiling fans may work well for warm weather, but you won't be able to enjoy the fall or winter months without a heating unit to keep you warm. There are 2 options you can choose from: outdoor fireplaces and electric outdoor heaters. If you would like to learn more about electric outdoor heaters, we have that information right here. In this blog, Design Builders discusses the ins-and-outs of outdoor fireplaces for screened porches, screened-in decks, and covered patios.

What Kind of Fireplace Can You Build Outdoors?
There are essentially two kinds of fireplaces - wood or natural burning and gas - and two kinds of screened porches in Virginia - ground level and raised.
Natural burning fireplace
If you have your heart set on a natural burning fireplace, you'll need to have a ground level screened-in porch. Why? Because building a natural burning fireplace off the ground can be prohibitively expensive.
If you have a raised screened-in porch and want to add a natural burning fireplace, it would have to start on the ground and go up into and through your raised porch. Not ideal, and it may be difficult to find a contractor who will do it without charging a huge premium.
Ground-based natural burning fireplaces are better, but they have issues as well. The top of the flue also has to be at least three feet above the roofline, so you'll have a tower sticking out of your porch. Additionally, masonry blocks have to go all the way up on the inside, and you'll need to have an outside veneer. You'll also have to get a fireplace inspection for the stonework.
Because of all of this, it generally costs at least $15,000 to $20,000 to put a natural burning fireplace into a screened room. Still, some people may find it worth it because there are some beautiful things that talented masons can do with stonework. This may be the only way to get the unique look you want.
Chimney height....three stories if you want it at the end of your patio walkout. Nope!
Gas fireplace
If you're on a budget or you have a raised screened-in porch, a gas fireplace insert is probably the better option. Depending on how much you spend on decorative stonework, you're probably going to be spending somewhere from $12,000 to $15,000.
That doesn't include the cost of getting a mechanical permit for the fireplace, but you're still likely to come out ahead. Again, gas is really your only option if you have a raised screened-in porch. It's just a more flexible option.
Expect to pay $7,000 before you can even start building something. The plumber and electrician are likely about $1,000 each, and you'll be paying $5,000 for a unit. You can minimize the amount of trim and stonework, but it will ultimately be more expensive if you try to make it look like it is. You can save money if you try to minimize it.
Why does it cost so much? The plumber must move the gas line, the electrician must run it out there, and several other factors contribute.
What Should You Ask Your Builder about Putting in a Fireplace?
Obviously you'll want to know about their experience in putting in either kind of fireplace and be able to see some samples of past work, but there are also a couple of specific questions that are good to ask, depending on which kind of fireplace you're considering.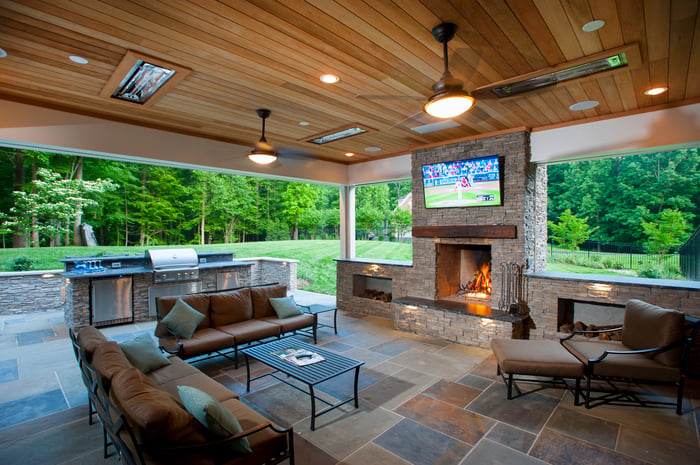 For a gas fireplace, make sure they have good plumber. Ask who they work with, what their experience, training, and credentials are, and try to talk to people who have worked with them in the past.
For a natural burning fireplace, make sure they work with good mason. If you're going to notice anything about your fireplace, it's going to be the masonry – and if something is wrong with the construction, that's likely going to be due to the masonry as well. Using someone who knows what they're doing will make all the difference.
For ANY fireplace, do your research - whether it's into the deck contractor building your fireplace, or the individual unit you're purchasing from - into the quality, durability, and functionality of the product!
But before you ask those questions or even start looking into builders, there's one that you should ask yourself: what do you want from fireplace – heat or decoration?