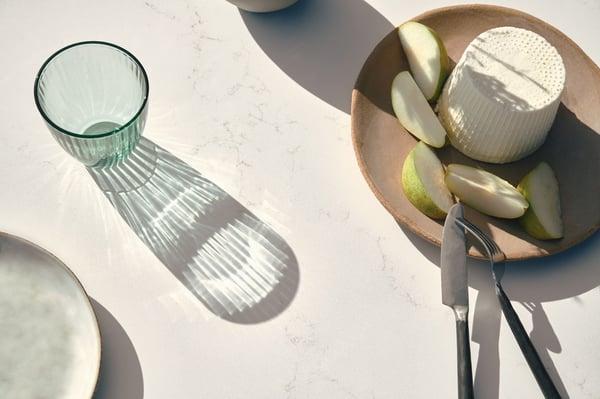 Caesarstone, one of the biggest names in quartz surfaces, made a big announcement recently with the release of their Solaris outdoor collection. This line features quartz surfaces specifically designed for and tested against harsh weather conditions, including rain, sun, and intense temperature swings.
As a homeowner, though, you might be wondering, What are the best ways to use these outdoor quartz surfaces? We've got the answer here!
4 Applications for Exterior Quartz Surfaces
Outdoor Kitchen Countertops
The Solaris line is ideal for use as countertops. This application is how they were intended to be used, making these counters the perfect addition to any outdoor kitchen.
Are you currently on the fence about quartz for your exterior countertop surface? Discover 10 advantages you get when you opt for this material.
Like what you see? Learn more about the current selection of color options available through the Solaris line.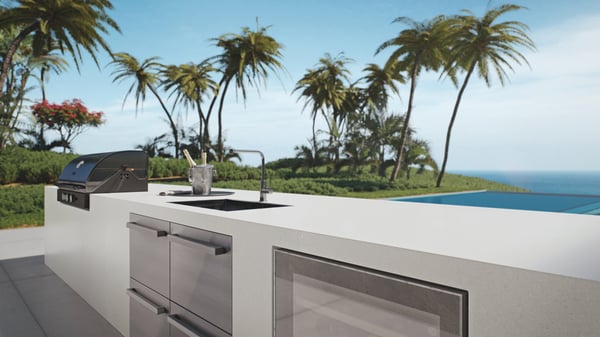 Poolside Bar Tops
Exterior quartz surfaces are ideal for poolside bar tops because they're designed to withstand wet environments. Quartz is a nonporous material, meaning it's resistant to mold, mildew, and bacteria, as well as staining. Considering all these things, quartz is a durable, aesthetically superior choice to complement any pool area.
Outdoor Patio Dining Tables
For those who love to cook and to entertain in their outdoor living spaces, patio dining tables are a must. It's a great place for everyone to gather, and it doesn't leave the cook isolated from the group while preparing the meal. For the ultimate luxury, style, and peace of mind, quartz is a great option for a dining surface. With its stain resistance, you never have to worry about a knocked over glass of wine or dripped marina, and with its durability, you can use and love your patio table for years without showing noticeable wear and tear.
Because of its durability and unmatched aesthetics, quartz has become a particular favorite of commercial entities. You'll see quartz most often in the exterior communal dining and social spaces within the hospitality industry.
Interior Vanities
Interior vanity tops are a nontraditional but possible use of products within the Solaris line. Quartz is a beautiful material that's simultaneously modern and classic. It would add immediate luxury and value to any bathroom.
For most homeowners, however, the Solaris line would probably be overkill in any interior setting. The Solaris line went through extensive testing to ensure it could withstand even the harshest exterior conditions. It would likely be more cost-effective to choose an interior-specific type of quartz surface for your bathroom vanities, if that material is ideal for your situation.
How Not to Use Solaris Quartz Surfaces
Caesarstone does not recommend using their Solaris line for either flooring or wall cladding. If it's imperative you have the same material on your exterior countertops as your wall cladding, you'll need to consider another brand or material type other than Caesarstone's Solaris countertops.
Design Builders works exclusively in the Northern Virginia; Washington, DC; and Maryland regions. Given our inclement weather and variable seasons, we're big proponents of quartz surfaces for outdoor projects. If you're interested in how you can incorporate quartz into your living space, drop us a line. You can also leave a comment below.