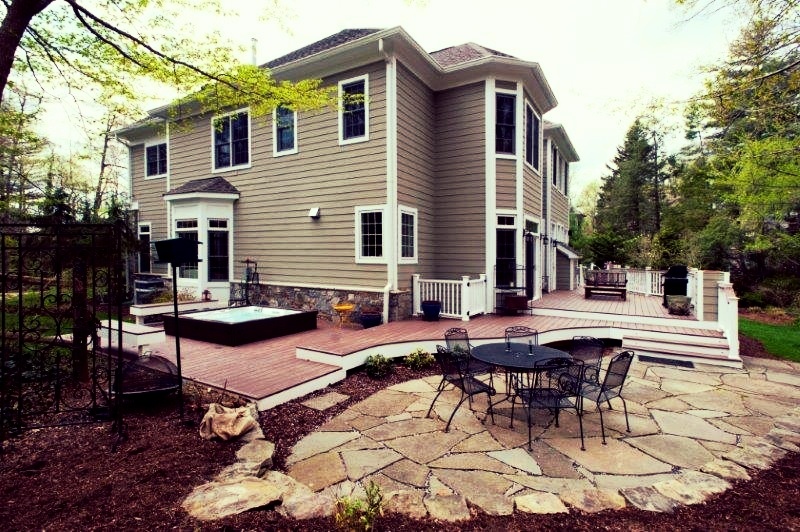 What fun features can separate your deck from the crowd?
Trex lighting packages, Danver stainless outdoor kitchens, and integrated deck benches are a few examples of the many high-end decking options available to deck owners in the DMV. However, characterizing a quality deck goes beyond the cool deck add-ons and patio accessories that make new deck designs in Virginia and Maryland unique.
Structure Matters
Any hardwood deck's structure is considered pivotal to its design, and freestanding decks are among the most commonly built. Unless there is something prohibitive about your existing home, the surrounding landscape, or your particular deck design layout, a high-quality contractor will likely suggest a freestanding foundation. Freestanding decks can be attached to homes by beams as opposed to ledgers. This offers much more support, as a ledger can come free from the home and cause the deck to fall.
Not All Materials Are Created Equal
Quality means a lot of things in relation to a deck. It speaks to the visual appeal of the work, the functionality of the space, and the durability of the structure. You want a deck replacement that addresses all three of those issues, and the best way to do that is by using the materials that are best suited for your particular situation.
If available, use steel framing, beams, and joists. Steel is virtually uncontested quality-wise as it offers superior durability with a clean, contemporary look.
If you opt for natural wood decking, hardwoods such as mahogany and Ipe are beautiful and durable. The other decking material option is a capstock composite or PVC-based material.
Hide or Mask Unsightly Features
Some logistical elements of building a deck are inevitable, and they can detract from an installation's beauty. Nails and fasteners for example are unsightly and interrupt smooth, flowing decking profiles while local building codes call for mandatory safety features that must be adhered to in order for plans and permits to be approved. Fortunately, a quality deck contractor will be versed in the important structural work and hardware rules, enough to meet IRC codes in Northern Virginia but in the most visually appealing way.
These help hide exposed nail or screw heads. Higher quality composite deck boards like Zuri decking are as seamless as any interior hardwood floor.
High-end decks typically contain a decorative border around the entire perimeter. This is often one deck board that defines the deck's edge. This is also sometimes referred to as a picture frame.
Whether your deck framing uses steel or pressure treated wood, both can be unsightly. You want to trim out these area and hide the undercarriage of the deck. Another option is a decorative stone or brick pier around columns to create that finished look.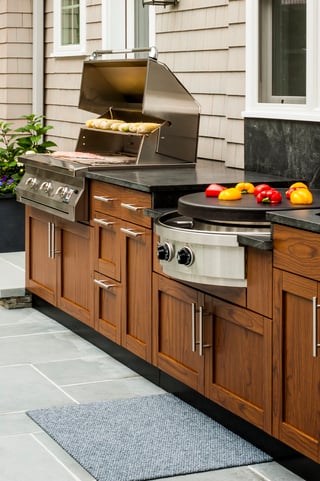 Consider Your Surroundings
A design built deck is never something generic. Every detail and design element is a conscious choice to reflect the deck owner's lifestyle and preferences. In this way a deck designer should always consider the larger surrounding landscape.
If, for example, you have water views from the deck, you might want to incorporate glass sheets around stainless steel posts for the handrail system. That will give you a sleek, contemporary look, but it will also avoid obstructing your views.
Lighting is another element that plays into surroundings. Where the deck is positioned and how the owner intends to use the deck both affect how much lighting is necessary. If the deck is intended to be used at all hours of the day, lighting can be recessed into the deck boards themselves, under the railings, on the caps of rail posts, in stair risers, and more. It depends on the deck owner and how much light is desired.
Outdoor Kitchens
One element that many open-air decks incorporate is an outdoor kitchen. This often includes a built-in grill (as opposed to a mobile one) and stainless steel exterior cabinets. These cabinets allow for custom color powder coating, and they provide function as storage. Certified deck contractors in the DMV are experienced in bringing these types of projects to fruition.