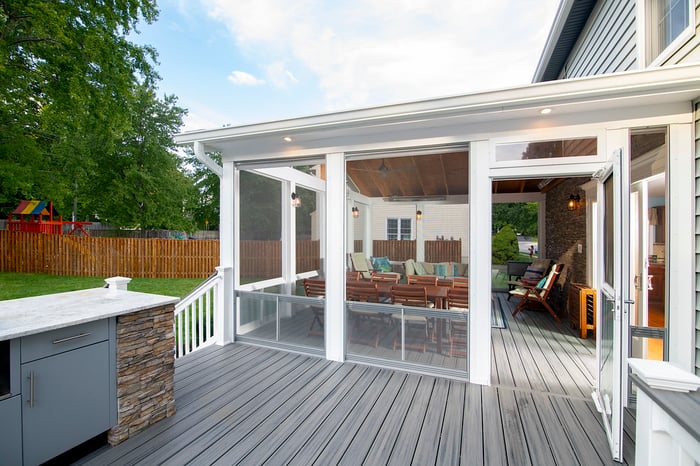 Should You Use Financing to Pay for That New Outdoor Living Space?
You need extra space in your home, but you don't want to sell. You've done the research. You've looked at your options. You've determined a new outdoor living space will give you all the advantages you want. Now there's just one question left. Should you finance your home renovation or pay with cash?
5 Questions to Determine If Home Renovation Financing Is Necessary
How Expensive Is This Home Renovation Project?
Before you can determine if you need home renovation financing, you must know how much that home renovation project is going to cost. Until you have that number, you won't be able to assess whether the project is an out-of-pocket cash expense or something that requires a loan, line of credit, or other financing option.
You might not get a down-to-the-dollar number until you're further along in the planning process, but a ballpark estimate can provide a great starting point.
Not sure if your dream outdoor living space is $30,000 or $130,000? Get a quote today.
What Are My Monthly Expenses?
When you use a home renovation financing option, it usually means taking on an additional recurring expense. This can range from a monthly loan repayment to a monthly bill as you pull from your home equity line of credit.
In many cases, you'll be paying the principal amount, as well as interest.
As you're considering whether to finance your outdoor living space, always talk to a financial expert. They can give you the exact amount of your monthly financial burden for each type of financing option.
From there, you can assess whether that expense is doable.
Not sure if investing in a screen porch, outdoor kitchen, or patio is worth it? Check out these five reasons to use financing to build an outdoor living space.
Do I Have Other Upcoming Expenses?
An outdoor home renovation can be expensive, but the good thing is there are many ways to pay for a home renovation.
From specific home improvement loans that offer favorable terms to home equity loans that let you pull from your home's accrued value, these programs are designed to make home improvements possible.
Know you have a large upcoming financial expense that you want to pay for in cash? It could make sense to reserve your savings for that expenditure and then capitalize on a loan option that's specifically designed for home improvements.
This could save you from costly credit card balances or unfavorable personal loan terms.
Will the Outdoor Living Space Add Value to My Home?
Whether this house is your forever home or you're looking to sell a few years down the line, you want to make sure any home renovation you make actually adds value to that home.
Fortunately, in recent years, outdoor living spaces have become increasingly in demand. This means the return on investment for screen porches, patios, decks, and outdoor kitchens is higher than it's ever been.
As a general rule of thumb, expect your screen porch ROI to be around 75 percent.
When you're doing your calculations to see if financing makes sense, don't forget to account for the dollars-and-cents return you'll see on the improvement.
What Are My Contractor's Payment Terms?
Knowing your contractor's exact payment terms helps you determine how much cash you need and when. If the project is ongoing over months, you could be making regular payment installments. In that case, you might not need financing. You could responsibly take on these smaller monthly payments.
If, however, you need to put down a significant deposit or your project payments are broken into a few large lump sums, then you might need a loan to fulfill those terms.
How your contractor structures the payment system varies. Make sure to discuss this with your design and build firm prior to signing on the dotted line.
Want to know how we operate at Design Builders? Reach out today to discuss our availability and contract terms and to get your no-obligation project estimate.
Ready to Take the Next Step with Your Northern Virginia or Maryland Outdoor Living Space?
Live in Northern Virginia or Maryland? Ready to update or add a new deck, screen porch, outdoor kitchen, or other outdoor enclosure? Get all your questions answered about this process.
We're Design Builders, a custom high-end design and build firm specializing in outdoor living spaces. We're always happy to answer your questions or walk you through our process.