Outdoor projects are among the best investments you can make in your home to improve its resale value, so it should be no surprise that most homeowners are able to get around a 75% return on investment in a screened-in porch.
In fact, it's considered one of the best improvements you can make to your home for return on investment. What are some ways that you can ensure you get the best ROI from your screened-in porch project?
7 Tips for Best ROI for Your Screened-In Porch
1. Undertake an economical project.
If you build a standard pressure-treated porch for around $35,000, you're likely to see close to that 75% figure, but if you invest in a high-end model with fancier materials and features at the same size for $50,000, then you may see an ROI of 50% or even lower.
A typical DB customer...This is okay
2. Consider size first.
What matters most is the total new useable outdoor space you're adding to the home, not the total finished look. When deciding between making a larger porch or opting for a fancier finishing, in most cases, the extra space is a better investment than the special feature.
3. Consider your location.
If you live in an area where screened-in porches are typical and can be enjoyed during several times of the year, then adding one to a home that doesn't have one can be a great investment. But if you live in an area with year-round cold weather, where you're unlikely to get much use of the porch, it's probably not right for you.
4. Skip electrical.
If your goal is to get the maximum return on investment for the project, then features like recessed lights, low voltage lighting, and sconce lighting will just drive up the cost of your porch but not the resale value of your home.
5. Opt for pressure-treated wood.
High-end materials, such as Zuri decking, can help you get the most out of your porch over the next 20 to 30 years, reducing maintenance and extending the lifespan of the porch. But if you plan to sell soon, you'll simply be paying to benefit the next homeowner, who will have fewer maintenance costs. Pressure treated wood projects can be just as useful and just as beautiful, and you'll save money upfront.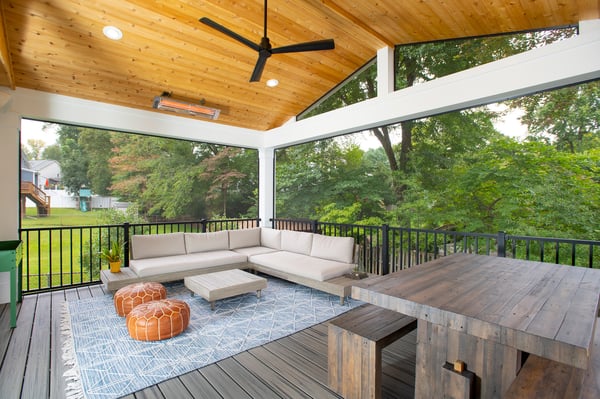 6. Consider regional concerns.
In the Maryland and Virginia area, one of the primary reasons that people want a screened-in porch over an open deck is protection from bugs. If that's the case in your area, you want to ensure that your porch is bug-free. For instance, you want to ensure your screen is too small for bugs to enter and that the floorboards are also protected from letting critters in. The best way to determine what people are looking for in a porch for your area is to ask a real estate agent or your contractor.
7. Don't worry about the view.
If you have a beautiful backyard or live near a lake, forest, or other spectacular view, you may be concerned with how the screen itself will impact your enjoyment of the scenery – and also the value of your home. New screen proch screens are nearly invisible, so you'll still be able to see the outdoors just as well. But now you'll be able to sit outside and enjoy it more often. And that can actually increase the value of that beautiful view as well.
A screened-in porch is a good bet as a homeowner, but so are most other outdoor remodeling projects that add usable space to your home, such as a deck or a porch that's not screened in. Screened-in porches are good for areas where bugs, privacy, and rainy weather are concerns. Consider your own needs and what type of outdoor project will give you the most use out of your backyard throughout the year.