Choosing the Right Deck Boards for Your Hot Tub Deck Project This Year
When winter descends on the District, many homeowners stack up their deck chairs and retreat into the warmth of their house. Many decks in Maryland and Virginia are neglected as a result during cold spells.
This is not the case for hot tub owners because hey, the best part of being cold is getting warm again! Between fire pits and Infratech outdoor heaters, decks in Maryland and Virginia are capable of being winter-friendly. However, unlike these porch add-ons, standard and recessed hot tubs require special decking accommodations.

Accommodating a Hot Tub with the Proper Low-Maintenance Deck Boards
Building a deck design with a hot tub requires careful planning and involves a different approach than building a traditional deck would. One of the most important initial tasks is deciding what type of decking material to use.
Since the decking around a hot tub will be exposed to excessive moisture and chemicals, it is important to choose a type of decking that is moisture, mold, and mildew resistant. You want to ensure there is plenty of breathability beneath the tub to allow air to flow freely so you don't create a damp, dark space that collects moisture. Not accounting for the unique factors of a recessed hot tub can be especially catastrophic and costly if the incorrect deck boards are used.
The durability and water-resistance of PVC material make this type of decking an ideal choice for hot tub deck projects. In particular, Wolf ASA decking is a solid consideration, as are Zuri deck boards.
Wolf ASA decking is made with a durable ASA capstock resin, which is resistant to water, sun damage, and harsh chemicals that could spill from the hot tub. ASA decking looks remarkably like natural wood, and requires minimal upkeep—just light washing with soap and water every now and then.
While composite or wood decking materials may be cheaper, these types of decking are porous in nature and will attract moisture, mildew, and rot if used around a hot tub. ASA and other types of PVC decking will likely cost more up front but are the best option for keeping your hot tub deck structurally sound and visually preserved.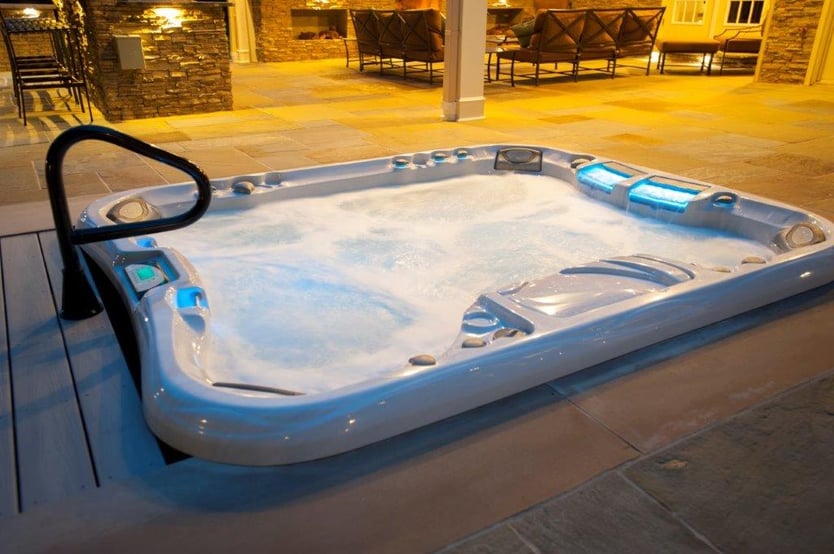 Decking may not be the answer at all. Other options include Mbrico tile decks, flagstone as seen above, or a combination of materials!
Additional Tips
Plan for extra weight. If your deck is elevated, you will need additional beams as a support system beneath the hot tub. Hot tubs are heavy when empty, but their weight is substantial when water and people are added to the equation
Sit the deck on concrete. It is important to keep your deck sitting on a concrete slab, rather than the moist ground or decking itself
Keep your hot tub close to the deck level. The hot tub should be level with the surface of the deck or between 16 to 18 inches higher to allow users to hop in and hop out easily. This will also hide the tub's pump and bulky, plastic mechanical pieces with decking and preserve your view of your yard and surrounding scenery
Fit it snugly. When built properly, a hot tub deck should fit snugly around the frame of the tub. This ensures that feet and fallen objects don't get trapped in the gap between the it and your decking
Leave a trap door. Any credible contractor will integrate a trap door around the tub's motor to allow quick and easy access for repairs and maintenance