Fireplaces are popular features of outdoor living spaces in the DMV because they offer an array benefits for being a single accessory. They're aesthetically exciting, they provide physical warmth and boast multi-season appeal, and contribute to the ambiance of design-built decks in Virginia and the best outdoor kitchens in Maryland. With the efforts of companies like EcoSmart Fire, who develpos portable alternatives to the familiar stone and brick behemouth fireboxes, they're becoming more affordable and cleaner to own as well. But does that mean an EcoSmart Fireplace is right for your home?
EcoSmart Fireplaces were conceived by The Fire Company, an Australian-based firm that has been in operation since 2002 (you can read more about their impressive growth here). Their product offersings include designer fireplaces with bioethanol burners, stainless steel fireplace inserts (stainless steel wall-mounted fireplaces), outdoor fireplaces, custom fireplaces, and fireplace grates that promise warmth they supply ambiance at any given time. That being said, not every fireplace is a good match for every outdoor living area. If convenience, for example, is your primary target, a natural wood-burning fireplace might not be the best solution for you. For people who are seeking a clean burning and more versatile option, EcoSmart fireplaces are the next thing to watch for in outdoor fire units.

Powered by Bioethanol Fuel
The most prominent and distinguishing feature of an EcoSmart Fire fireplace installation is that it runs on bioethanol. This biofuel fuel is alternately known as:
Ethanol
Denatured alcohol
Methylated spirits
It's a clean-burning and renewable energy source that results from the fermentation of sugar and starch plant byproducts. Because bioethanol is entirely composed of biological elements, the only emissions are heat, steam, and carbon dioxide. That is to say, it is a carbon-neutral fuel.
If you're interested in devising ways to minimize your own ecological footprint, these kinds of renewable fuel products are one way to contribute—without sacrificing the ambiance, heat, or beauty that a fireplace can offer an outdoor living space.
Types of Fireplaces Available
EcoSmart offers a wide variety of fireplace styles, so no matter what you're looking for in terms of design aesthetic or functionality, you're likely to find something that suits your outdoor area.
Their lines include: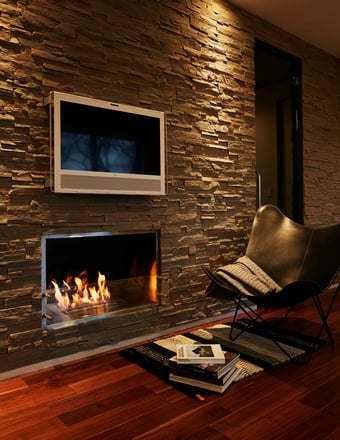 Bioethanol burners
Designer fireplaces
Fireplace inserts
Custom fireplaces
Outdoor fireplaces
Fireplace grates
Because these various styles all run on the bioethanol fuel, an operational chimney isn't required. The fuel burns without smoke or any potentially dangerous gases, so you can do away with traditional logistical difficulties such as chimneys and flues.
Maintenance Issues
Clean-burning fuel doesn't emit the soot, carbon residue, embers, or smoke that you can find with other fireplace alternatives. Because these devices lack those emissions, many of the traditional maintenance and cleaning issues do not apply to EcoSmart. You'll never have to clean up ashes or embers or keep a flue clear. EcoSmart units can just be wiped down as necessary with a damp cloth.
The units are also crafted from stainless steel, so you don't have to worry about rust or general deterioration of the body.
Installation Considerations
While installation of traditional fireplaces can require stonemasonry and a lengthy, disruptive install process, EcoSmart serves as an alternative to that. In addition to bypassing any flue or chimney, these designs also don't require gas or electricity connection
This gives a large amount of flexibility and freedom in terms of where these units can be safely installed. When you have the ability to custom fit your fireplace into smaller, narrower, and generally more diverse spaces, it opens up design options and allows you the luxury of the fireplace without having to allow that one feature to dominate an entire outdoor space.
Also keep in mind that EcoSmart units can be installed both indoors and outdoors.
For more information about EcoSmart Fire, how the units operate, or how one might work in your outdoor living space, please feel free to contact a representative of Design Builders, Inc.