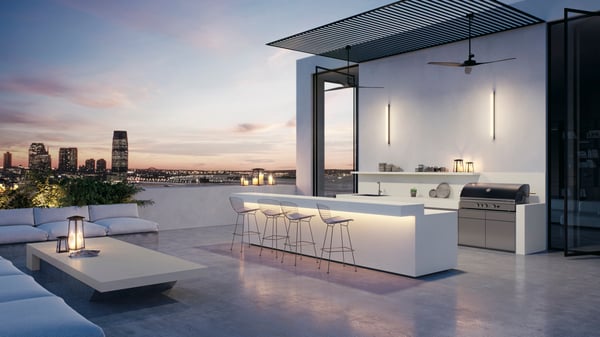 If it had been a few years ago, we would have said no. Don't use quartz countertops outside. With recent advancements in quartz surfaces, though, the answer today is…absolutely! Certain quartz countertops are perfectly safe to use outdoors.
Not All Quartz Is Created for the Outside
As you're designing your outdoor kitchen or other exterior living space, you might be thinking through your options for exterior countertops. You want something durable that can withstand the elements—especially the harsh seasons of the Washington, DC; Virginia; and Maryland regions—but you also want something elegant and beautiful. These requirements lead a lot of people to quartz.
Quartz has been a hugely popular selection in interior kitchens over the last few years, usurping the once-dominant granite. When it came to putting it outside, though, you ran the risk of it yellowing or color fading. That led most manufacturers and installers to advise against exterior use.
Caesarstone, one of the best-known names in interior quartz surfaces, knew there had to be a way to get all the benefits of quartz but without the risk of UV damage. They set to work designing and testing out solutions and eventually released their Solaris outdoor collection. Designed specifically for the outside, this line of exterior quartz surfaces is changing the countertop game.
(Still deciding what outdoor countertop material is right for you? Check out this breakdown of the most popular options.)
Don't Confuse Interior and Exterior Quartz Surfaces
The most important thing to remember is that some quartz countertops are designed exclusively for interior use. These should not be used outdoors. Because they haven't been designed to resist the intense UV rays of the sun, the material can yellow or color fade over time.
Only consider quartz surfaces designed for the outside, such as the Solaris collection.
Are There Downsides to Outdoor Quartz Countertops?
All the benefits of quartz without the fear of discoloration? Outdoor quartz sounds almost too good to be true! What cons should homeowners be aware of?
First and foremost, outdoor quartz, just like interior quartz, is not the cheapest solution. A material like concrete is more economical—albeit with its own slew of drawbacks. (At Design Builders, we don't recommend or install concrete countertops in our outdoor projects.)
Beyond the price point, you'll also need to be aware of applying heat directly to the surface. Appliances like Crock-Pots should be placed on a trivet, not used directly on the quartz. The seams are also somewhat more noticeable than in certain other countertop materials. (In this regard, it's about comparable to granite.)
Interested in adding an outdoor kitchen to your Virginia; Maryland; or Washington, DC, home? Looking for outdoor countertop options? If you'd scratched quartz from your list of possibilities, recent advancements mean you can now add it back. Still have questions? Give us a call at 301-875-2781, drop a comment below, or shoot us a quick email.