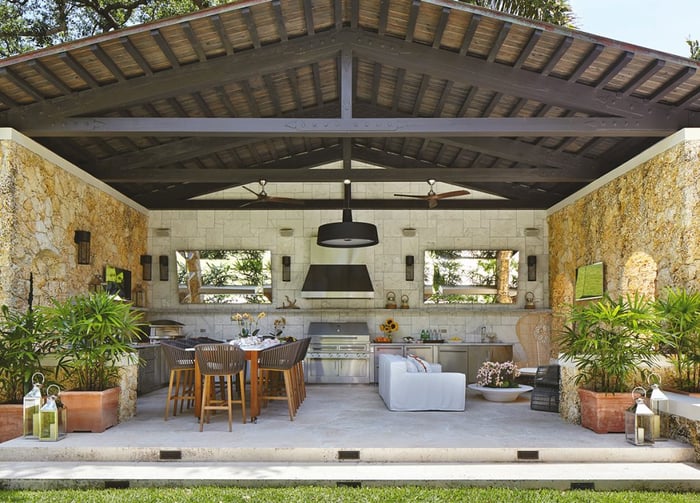 If you're thinking about adding an outdoor kitchen to your Washington, DC; Virginia; or Maryland home, you're certainly not alone. Check out these stats showing how complex, sophisticated, and elaborate outdoor kitchens are becoming! If you're in the design phase, consider opting for one brand throughout your space. It could end up saving you in hassle, stress, and money!
3 Advantages to Building Your Outdoor Kitchen with One Brand
Remove the Guesswork
When you're trying to design an outdoor kitchen, there are so many design details you need to consider. Even within one category—countertops, for example—you can go with everything from concrete to granite to quartz. (Interested in thinking through your options for outdoor countertops specifically? Read all about the four most popular options here.)
When you decide to do an entire outdoor kitchen in the same brand, you significantly reduce the time, effort, and stress of selecting these options.
Take Blaze, for example. You might know them for their grills, but they actually produce an entire line of outdoor kitchen products. That includes the following: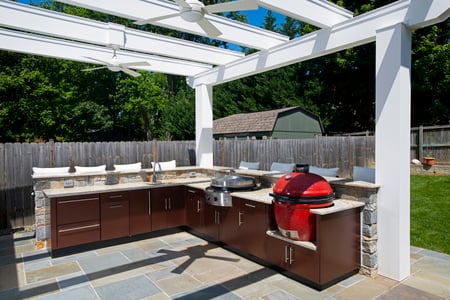 Built-in gas grills
Charcoal grills
Electric grills
Gas griddles
Freestanding gas grills
Outdoor kitchen storage
Outdoor refrigeration
Side burners
BBQ islands
Bar centers and ice bins
For the true foodie, they also have numerous accessories, including everything from ceramic pizza stones to rotisserie kits to stainless steel smoker boxes.
Help Ensure Design Continuity
One of the biggest design-related challenges with any space, be it interior or exterior, is getting everything to perfectly match or complement each other. With so many different colors, shades, textures, and materials, that's no small feat.
Especially if you have eclectic taste, it's easy to end up with an ultra-modern set of appliances and more retro-inspired cabinetry. Maybe you love each piece individually, but you have to think about how everything is going to work together as well.
Opting for one brand eliminates the majority of that challenge. Within a company, product lines are often designed and created to go together. Even if you pick and choose from several different lines, chances are there's still going to be a pleasing thread of continuity that will run throughout the entire kitchen.
Limit Logistical and Design Issues
There's nothing worse than falling in love with several components of an outdoor kitchen only to find that grill isn't compatible with that cabinetry or that refrigerator is a half inch too wide for the given space. In the construction world, these small details matter. A lot. Even an inch off here or there can pose a big logistical problem.
Working with one brand limits how much hassle you're going to endure getting everything to match, both from a design and build perspective. It can even potentially save you on installation and labor costs because everything will go together faster and with fewer hiccups than a disparate collection of brands.
Feeling stuck designing your Washington, DC; Virginia; or Maryland outdoor kitchen? For a bit of inspiration, feel free to check out our collection of the best 2020 trends. Ready to talk through your options with a professional design and build firm? Give us a shout, or leave a comment below. We'd love to help bring your dream kitchen to life!