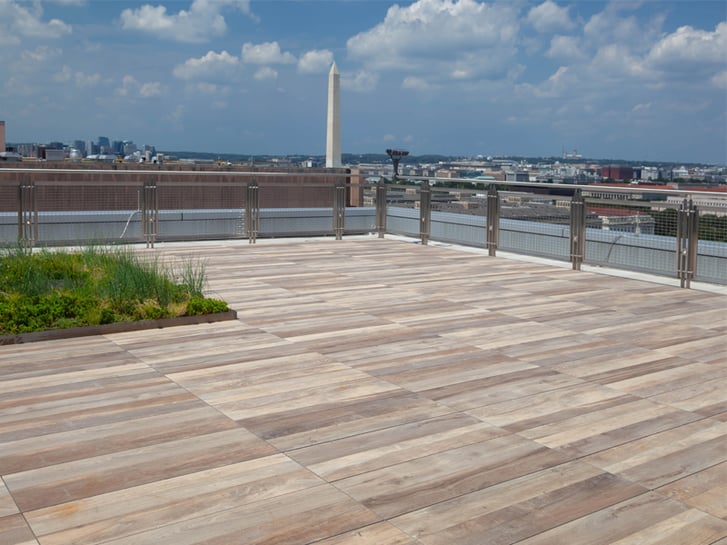 If you're familiar with the Archatrak brand, you most likely know them for their elegant and versatile porcelain pavers. The brand, however, has a lot of exciting products and innovative applications that will be available in the New Year. Here's a quick look at some of what Archatrak will offer in 2020.
Thicker, More Durable Pavers
Currently, the standard thickness on an Archatrak porcelain paver tile is ¾", or 2 cm. Recently, though, the company has started offering a 3 cm paver. The primary application for this thicker paver is on-grade driveways or other areas that will be exposed to vehicular traffic. While the standard ¾" paver can be used for these jobs (and have been utilized in that way), the thicker pavers offer extra peace of mind when they're exposed to something as heavy as cars.
These thicker pavers are also ideal for commercial installs. For one, commercial jobs are typically subject to greater traffic, and there's also an increased risk of heavier items dropping onto those pavers. For example, if a full bottle of wine were to fall directly onto a ¾" paver, there's a chance—albeit small—it could crack. This wouldn't be cause for concern with the thicker paver. Again, in commercial jobs where the risk of these kinds of incidents is increased, the higher static load capacity of the thicker pavers is appealing.
Porcelain Cobblestone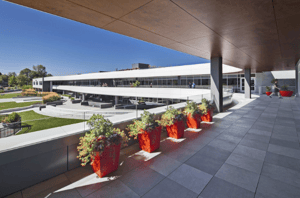 Cobblestone has been used to pave roads throughout Europe for thousands of years, and the look of that stone material is practically synonymous now with Old World charm. This is precisely why Archatrak recently utilized modern manufacturing techniques to get the classic look of cobblestone but with all the benefits offered by porcelain.
Natural stone is notoriously difficult to lay, and concrete can't rival the appearance, durability, frost resistance, or general technical performance of porcelain, so Archatrak's porcelain cobblestones are truly the best of both worlds.
Porcelain Furniture
Porcelain is a unique and versatile material for exterior projects, and in 2020, Archatrak will continue to capitalize on that by offering not just pavers but a line of porcelain furniture as well. Known as the NOVA collection, this coordinated line will include planters, cube seats, benches, and tables. All these products are crafted from the same handmade ¾" Italian-imported porcelain pavers Archatrak currently uses for exterior coverage projects.
The handmade Italian furniture is mitered on all corners and edges and has the same impeccable attention to detail Archatrak customers have come to expect from their pavers. With thirty-nine color options ranging from wood or metal to stone or cement, there's sure to be an aesthetic match for your home.
Because of the unique qualities of porcelain, you also won't have many of the concerns you'd typically battle with outdoor furniture. Being nonporous, the porcelain provides an exceptionally clean product. You'll never have to deal with mold or germs, and there's no risk leaving it out in any weather conditions, even freezing temperatures.
Because planters tend to accompany many rooftop decks, the porcelain planters in this NOVA line look to be one of the most popular options in the New Year.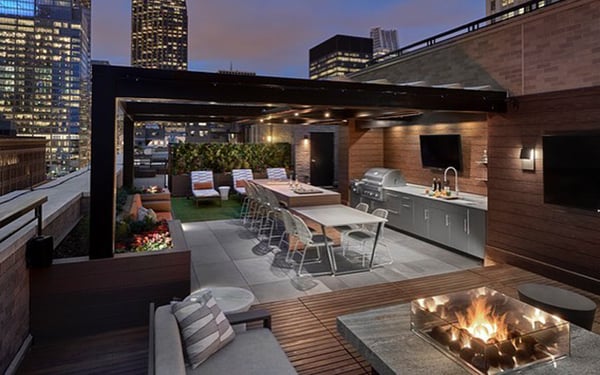 StreetDeck Modular Deck System ("Parklet")
Another innovation for Archatrak in 2020 is their modular deck system, which converts any sidewalk, roadway, or hard surface into a self-contained raised deck. This system is sometimes known as a "parklet."
Parklets are a relatively new addition to the urban landscape—the first was said to pop up in San Francisco in 2005—but the majority of them are constructed with big chunky wood. In places that experience extreme seasons, such as Chicago and New York, these parklets have to be removed seasonally and stored in order to preserve the material. Every time a structure like this is assembled or disassembled and the bolts are removed or put back in, there's a great deal of wear and tear and degradation to the system. This means the average life-span of a parklet is about two years.
An Archatrak version, however, uses a galvanized steel perimeter and porcelain pavers or wood tiles for the deck surface. These pavers are assembled on an adjustable-height pedestal system, allowing for a level surface no matter the slope of the substrate. Optional additions include features like Archatrak planters to attach to the frame
Available in 2'x2' modules, these parklets can be made to just about any size desired, and because of the exterior-compatible materials used, they are extremely durable and long lasting. Unlike a wood option, your modular deck won't be dead after a few seasons.
Since bursting onto the scene, Archatrak has cultivated a reputation of quality, attention to detail, aesthetic excellence, and durability, and looking at their lineup for 2020, it looks as if the company doesn't have any plans of slowing down!