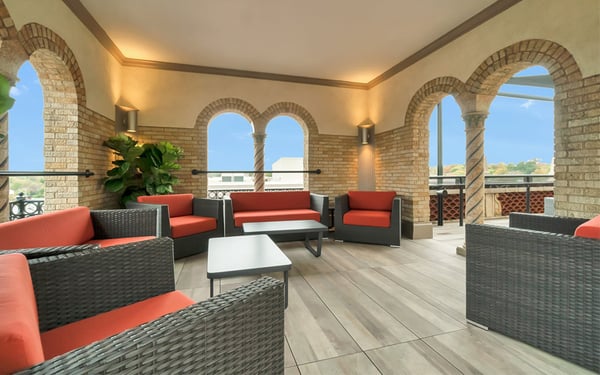 If you've looked into the advantages and benefits of porcelain pavers, it's a good bet you've come across the name "Archatrak." As one of the leaders in the industry, this brand comes across the radars of many homeowner and those in the commercial sector looking to install porcelain in their outdoor environments (rooftop decks, patios, terraces, courtyards, plazas, and more). Archatrak, however, has gone through several iterations, and with that in mind, here's a quick overview of the brand's evolution.
The Beginning: HandyDeck Inc.
In 2001, Archatrak (then operating under the name HandyDeck Inc.) was one of the first businesses to introduce interlocking deck tiles into the US market. HandyDeck Inc. focused on resurfacing backyard patios, turning concrete slabs into beautiful outdoor spaces, and converting flat rooftops into usable exterior areas.
For over a decade, HandyDeck Inc. saw the most interest and success with their 12"x12" interlocking snap-together tiles. They were particularly popular with homeowners looking for a do-it-yourself solution and light-traffic commercial applications.
Beginning with hard, dense ipe wood tiles (under the name "SwiftDeck"), HandyDeck soon saw their line of interlocking tiles expand to include slate, granite, ceramic, stone, and composite wood.
The Introduction of Porcelain Pavers
In 2011, after more than ten years in the industry, HandyDeck became a key player in introducing ¾" Italian-made porcelain pavers into the US market. These pavers were used throughout Europe and were lauded for being an innovative and versatile material for surfacing exterior spaces, but their benefits weren't yet widely known in the US construction and architectural communities.
Expanding the Porcelain Paver Market
Just two short years later, it became clear porcelain pavers were growing in popularity throughout the United States, and HandyDeck focused now on developing relevant applications for those pavers. Widely promoting their use in landscape paving, as well as elevated decks, HandyDeck expanded into one of the largest US-based suppliers of porcelain pavers. Their in-stock options grew to thirty unique styles and colors.
As rooftop deck applications became increasingly prevalent (in both the commercial and residential sectors), HandyDeck began importing Eterno, a range of Italian-made adjustable-height pedestals. They also developed a range of fixed-head rubber support pads, which were ideal for low-height applications and conversions of existing concrete slabs into elegant porcelain paver patios.
The following year, 2014, HandyDeck responded to the demand for traditional wood deck material in rooftop and elevated decking structures by adding structural ipe wood tiles to their product lineup. These tiles were also compatible with the pedestal installation system.
New Name, Same Company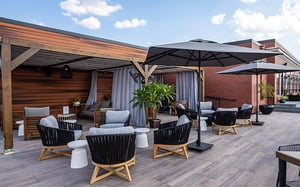 In September 2017, HandyDeck Inc. officially changed its name to Architrex Inc., and in January 2019, they changed again to the current Archatrak Inc. By whatever name you might have learned about the company—HandyDeck, Architrex, or Archatrak—they still provided the same quality of product and industry-leading innovation.
Under the Archatrak name, the company has seen continued expansion into more and more diverse porcelain and wood tile paver styles and applications. Rather than standard 12"x12" tiles, consumers can now get rectangular pavers (16"x48"), plank styles (8"x48" or 12"x48"), and block pavers (8"x8"). Applications range from the traditional rooftop deck or patio covering to modular commercial planters with porcelain sides and even porcelain furniture.
Whether you encountered them as HandyDeck, Architrex, or Archatrak, this company has been at the forefront of the porcelain paver revolution in the United States at every turn. Their vision and innovation has helped transform porcelain from a relatively unknown material for exterior living spaces to one of the most durable, weather-resistant, visually appealing options on the market today.