Rooftop Decks Designs and How Design Builders Creates Them
As 2020 rolls on, rooftop decks are becoming an excellent way to gaining more space in Washington DC. Tight city quarters where building a deck outward might simply not be an option. If you are considering this addition, Design Builders has created a laundry list of things to ponder before taking on this endeavor, and deciding whether this is the right choice.

Residential versus commercial rooftop decks
The very first consideration is whether this deck is going on a single-family residential home or whether it's going on top of a condo, co-op, or other communal space. If the job is the latter, it must be permitted and built as a commercial project. In that case, a lot more red tap comes into play.
If, however, the job is residential, it can be permitted and built as such. Typically these rooftop decks are built in the city, so your build team will need to comply with your DC neighborhood requirements.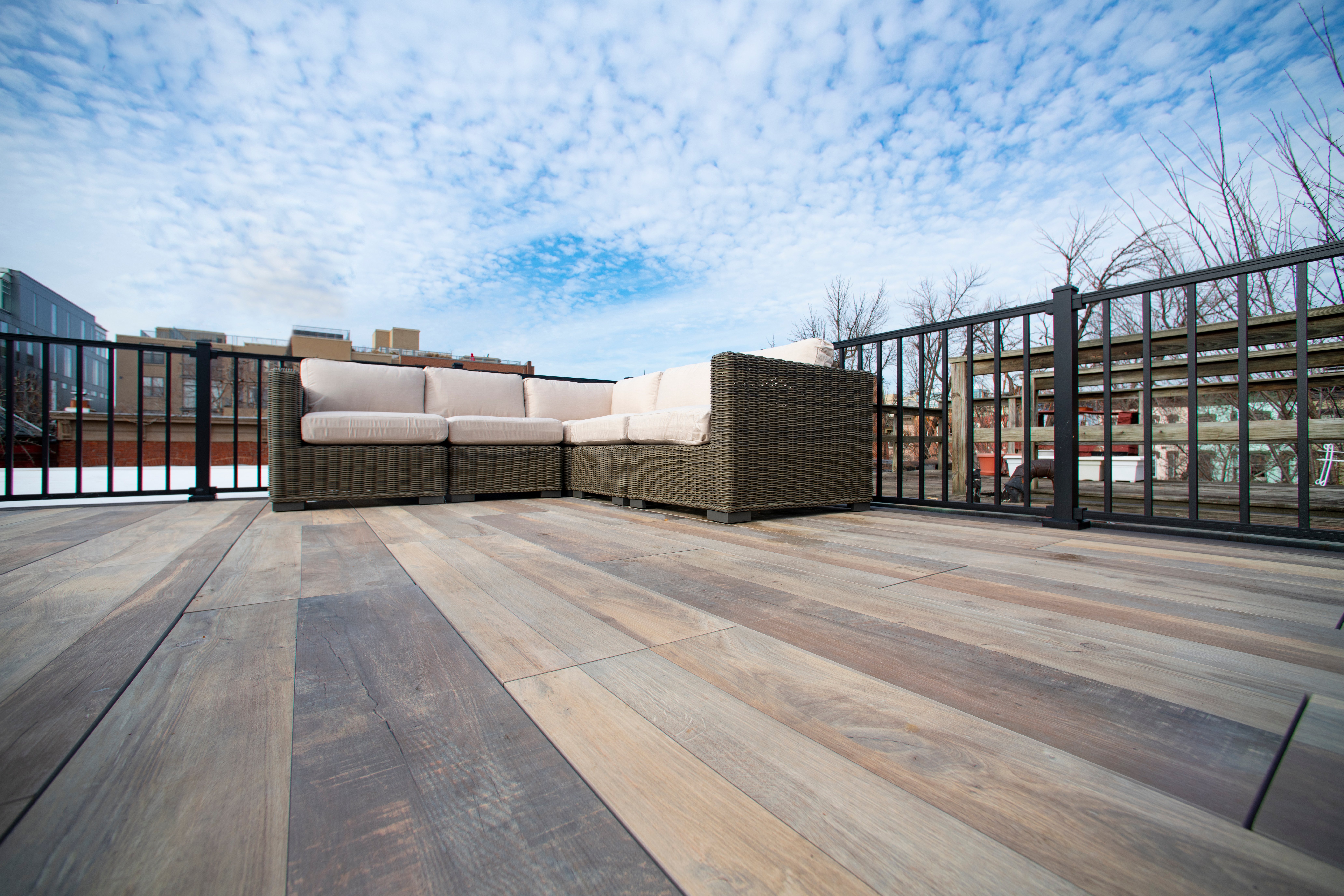 Roof access
You'll also need to consider how your build crew is going to actually gain access to the roof. Are there exterior staircases? Can all necessary construction items be brought up through the interior stairs? Will some external structure need to be built or used to gain this pivotal access?
You'll also need to consider how you'll gain access to the roof once the new deck is finished. Will there be a roof hatch, exterior access, or something else?
Crane considerations
Rooftop jobs do require the use of a crane. That means you'll have to ensure the immediate area is free of trees or powerlines so that the boom of the crane can freely swing. If there isn't this space, your build team will need to think through if this job is possible in that specific location.
If you can navigate the crane safely, you'll need to secure a crane permit as well as a street closure permit to operate it.
Dealing with the generated waste
For all the waste that's created in this process, you'll need to secure a dumpster, which necessitates a special permit in order to place that dumpster on the road.
A trash chute might also be necessary, depending on the height of the building.
What materials and structures are actually being installed?
After these logistical considerations, you'll have to deal with all structural questions. Depending on the size, weight, and specifications of the intended deck, you'll need to assess if the existing roof is in good enough shape to handle a project of that scope.
How best to install the structure you have in mind—and even the feasibility of that project—largely depends on the existing roof and building.
Remember as well that many cities have stipulations that the rooftop structure can't be seen from the road. This will need to be considered and adequately worked into the design plans before any building gets underway.
Materials used throughout the rooftop deck
A rooftop deck can pose some problematic issues when it comes to material choices. PVC, for example, is a very bad idea on a rooftop deck. In the direct sun and extreme weather, it's going to experience a lot of contraction, expansion, and fading—none of which are conducive to a deck with any amount of longevity.
All of those issues, in fact, are going to be amplified for a rooftop structure as opposed to a deck on the ground. Therefore, even capstock composite boards that perform so well on ground-level decks (Zuri, Azek, etc.) are typically not recommended for rooftop jobs.
In general, pressure-treated wood is the most cost-effective and functional material. It can, however, split and dry out due to extreme sun exposure, which means sealer and other maintenance will be frequently necessary to keep it pristine.
A pricier option would be hardwood, but again that would require frequent upkeep and maintenance to nullify the effects of exposure.
Whatever material is chosen, a light color is typically recommended in order to combat any fading issues.
For more information about the potential problems and considerations associated with a rooftop deck, please feel free to contact a representative of Design Builders, Inc., today!