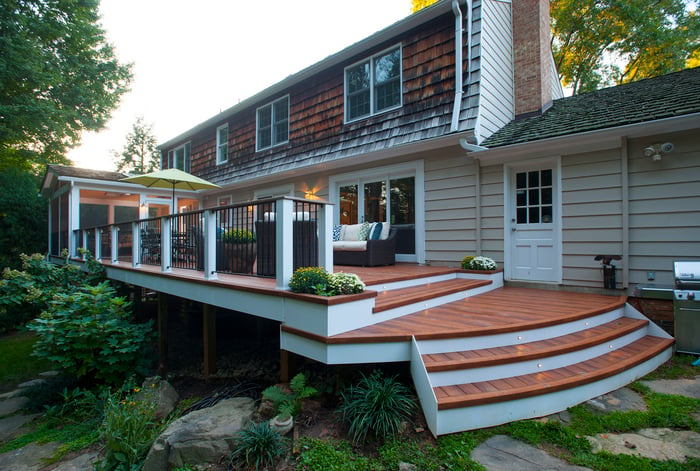 mber of Factors to Consider When Building a Deck and Resale
Looking for another reason to add that deck you've been dreaming of to your backyard? Here's a good one: many homeowners recoup a significant amount of the money they invest in their deck because the deck adds to the resale value of their home.
Home renovations are always a careful balancing act—you want to spend enough money to get a great-looking and functional addition, but you don't want to sink so much money into the project that you end up over-valuing your house and can't get your asking price when it comes time to sell. The nice thing about adding a deck is that it's a relatively low-risk addition. In fact, a survey from Home Remodeling magazine found that composite decks return about 74% of their original cost and wood decks return about 87%, on average.
That means that if you built a 16x20 foot pressure-treated wood deck at the average national cost of $12,000, you could expect to get about $9000 of that back when you sell your home (provided the deck is still in good, safe condition). Not bad for a renovation that you and your family can thoroughly enjoy while you live in your home.
Why Decks Pay Off
There are several major reasons that people find decks appealing. First of all, they give the homeowner another point of egress from the home to the yard, which tends to add value. A deck also increases a home's usable space – but costs only about half of what it would to build a new room in the house. Beyond that, decks are popular gathering places. They give guests more open space to gather, rather than forcing them to hover in the kitchen or living room, and families can get a lot of use out of their deck when the weather is nice.
There may also be a certain amount of "keeping up with the Joneses" when it comes to adding a deck. Wood or low-maintenance material decks are popular and fairly common in many homes, so if everyone else in the neighborhood has a deck but you don't, you may be hurting your resale value slightly. You may also detract from your home's value if you have an older deck that is no longer safe or just looks weathered, so if you have an old deck on your property, it's a good idea to refurbish it before you sell your home.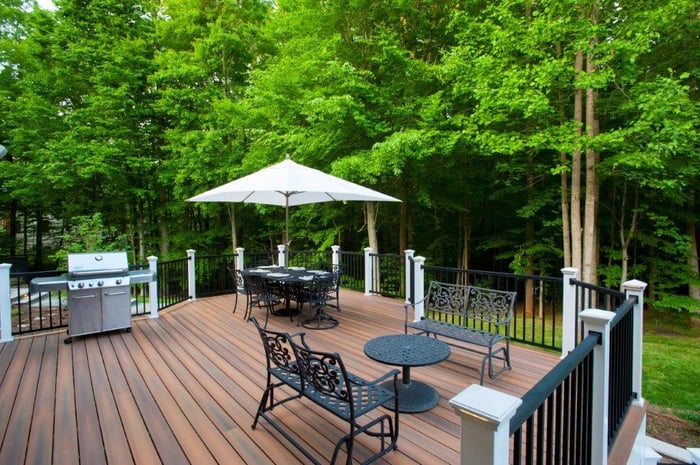 A Few Caveats about the Value of Decks
If you're interested in adding a deck as a way to increase the resale value of your home, keep in mind that the cost to build and the amount that you recoup will vary somewhat depending on where you live. For example, the Pacific Northwest usually has higher building costs, but you can also get a higher resale value when you add a deck thanks to the temperate climate. Homeowners in areas with longer, harsher winters tend to get slightly less bang for their buck when they build an outdoor addition like a deck (homeowners in the Great Lakes states recoup an average of 78% for a wood deck, for example), but many find that it's still worth it in order to be able to enjoy that outdoor space during the pleasant summer months.
You should also be aware that making a huge investment in an extravagant deck won't necessarily pay off when it comes time to sell. For example, if you use a more expensive material like capstock and add all kinds of bells and whistles like built-in furniture, built-in flowerpots, and multiple stairs, you may over-value your home to the point that it's worth significantly more than the houses around it, hurting you when you try to sell. That doesn't mean you shouldn't add features that you think you'll really enjoy—it just means you should be aware that there may be a limit to the amount that you can recoup, depending on where you live.
Even with those caveats, wood decks are consistently rated as one of the best value home improvement projects across the country. If your home doesn't have one, now is a fantastic time to build.