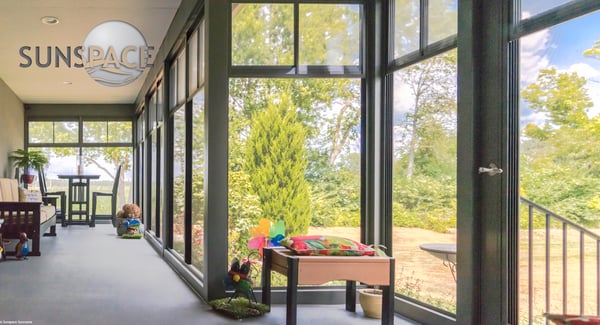 If you haven't heard of Sunspace WeatherMaster windows, they're one of our favorite window solutions for exterior living spaces. Here are twenty high-level reasons we recommend this brand to our Washington, DC; Maryland; and Virginia customers.
Why Choose Sunspace WeatherMaster Windows?
Virtually Maintenance Free
No more constantly cleaning glass to get rid of smudges! This is especially helpful for anyone with kids or pets.
Easy to Install
WeatherMaster windows are lightweight and only contain one working part (a spring clip). For any professional, this makes them easy and intuitive to install. That saves you on installation time and expense.
ViewFlex Vinyl
All WeatherMaster window vents are glazed with ViewFlex vinyl, which means you're getting a product that's safer and more durable than glass. It's also available in different tints to allow for a custom amount of sunlight into your outdoor space. (Read here about all the reasons we love ViewFlex!)
Get up to 75 Percent Ventilation
All WeatherMaster units move effortlessly. You can stack them up, stack them down, or bunch them in the middle. Depending on how you choose to open them, you get up to 75 percent ventilation in your outdoor living area.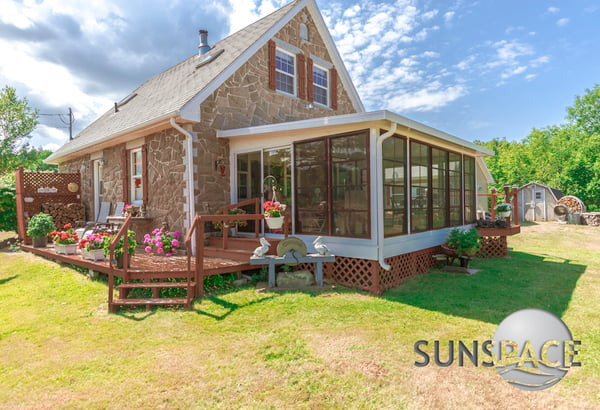 Only One Working Part
A working part is a breaking part! WeatherMaster windows only have one working part—a spring clip. No more worrying about any number of small, complicated window pieces breaking on you or posing a financial liability.
Custom Product
To ensure you get exactly what you need, all windows are custom made, ensuring they fit your openings exactly.
No Metal-on-Metal Construction
With other brands of windows, you get an aluminum frame and a metal track. That leads to some friction and negative effects when opening them over time. Sunspace has an aluminum frame with a PVC plastic track. This helps ensure ease of opening, even years down the line.
All Four Sashes Are the Same Size
With other brands, the window sashes are all different sizes. If they were to get crossed, the homeowner could have a problem getting them back in correctly. This leads to the hassle and potential expense of reaching out to your installer or another third-party.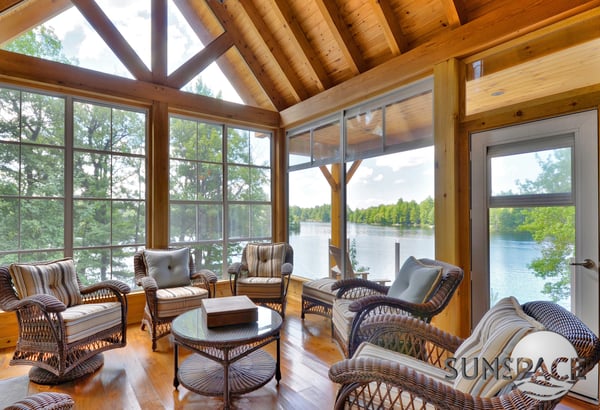 Variety of Options
Sunspace WeatherMaster windows come in both vertical and horizontal window systems. This helps ensure homeowners always get what they want for their outdoor living spaces. Also, these windows are compatible with porches, screen enclosures, or even gazebos.
Added Resale Value to Your Home
Choosing a stylish and well-designed window system for your exterior living space will not only add beauty to the area, but it will also add resale value to your home. This ensures you get the benefit of them while you're still living at the residence, and then they help you see a positive return on that investment, should you decide to sell.
High-Quality Material
Sunspace windows have extruded aluminum frames, stainless steel hardware, and integrated fiber mesh screens. They don't have a lot of plastic working parts that are liable to break or to become brittle in harsh Washington, DC; Virginia; or Maryland winters.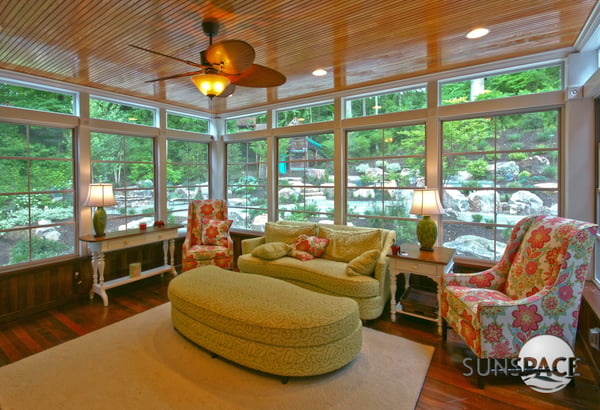 Best of Both Worlds
Adding Sunspace windows gives you the open feel of a screen room—again, you can enjoy up to 75 percent ventilation—with the convenience and comfort of an enclosed porch. In terms of usability and feel, you truly get the best parts of all potential exterior spaces.
Manufacturer Factory Warranty
Get extra peace of mind knowing the company stands behind its product with a manufacturer factory warranty.
Variety of Colors
When selecting your ViewFlex vinyl, there are four tints to select from: clear, smoke, bronze, and dark gray. You can also do any custom combination of these to ensure you allow the optimal amount of sunlight into your space. The aluminum frames come in five colors: white, driftwood, bronze, black, and gray. (Learn more about your color options here.)
Protection from the Elements
Sunspace windows provide protection from all the undesirable elements: the sun's harmful UV rays, rain, wind, pollen, insects, and more.
Great for Retrofits or New Builds
These windows can be added under existing roof applications, or they can be incorporated into brand-new builds.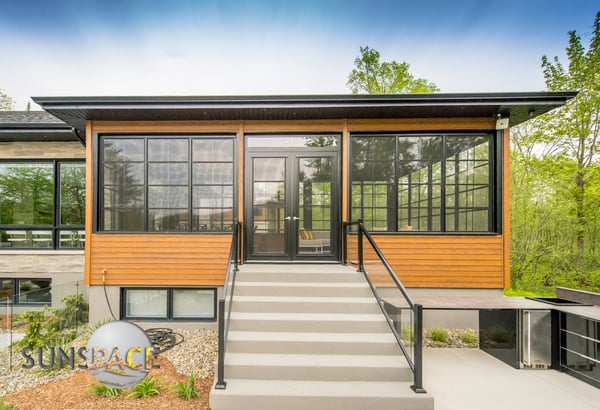 Stylish but Affordable
Sunspace doesn't compromise on design details, but that doesn't mean the product is financially out of reach. Sunspace provides a stylish design with an affordable price tag.
No Gaps for Bugs
A Sunspace screen system covers 100 percent of the window, meaning there are no small gaps for bugs, insects, or other pests to enter your outdoor living space. This is especially important for DC and the surrounding areas, which experience a big influx of mosquitos every summer. (Read more about transforming your outdoor space into a no-bug zone!)
Large Window Span
Sunspace windows have a maximum width of twelve feet and a maximum height of eight feet. That's a generous size for a window. Especially if you're trying to create an unimpeded view, that size can help you accomplish your goals.
Transform Your Space into a Three-Season or Four-Season Room
One way to both increase your enjoyment of your outdoor space and see a better return on investment is by creating an area you can use for more months out of the year. An easy way to extend the usable time of any outdoor space is by adding windows that protect you from the elements.
Thinking of converting an existing area into a four-season room? Want to build something from scratch? Whatever stage you're at, we'd love to help! Give us a call at (301) 875-2781, or drop us a quick message