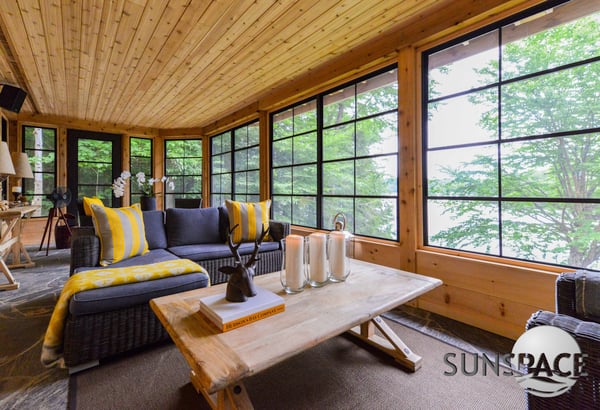 If you live in the Washington, DC; Virginia; or Maryland region, you know one thing about the summer: the bugs can be a nightmare! If you're sick of having flying, biting pests drive you out of your outdoor living space every year, here's an easy solution: Sunspace WeatherMaster windows.
Convert Your Outdoor Space into a Three-Season Room
By adding windows to your outdoor porch, patio enclosure, or sunroom, you are effectively turning that space into a three-season area. That means you can comfortably use the room in spring, summer, and fall.
(Looking to convert your exterior living area into a year-round haven? Consider adding a heating solution for the winter. In this article, we cover six popular options.)
In addition to keeping out the bugs and insects, windows can also help reduce the following:
Pollen
Wind
Rain
Sound

Windows can help block unnatural noise disturbances from road traffic or neighbors, or they can minimize natural noises. (What DC resident hasn't been kept up by cicadas at least once?)

Washington, DC, Needs This Solution More Than Most!
Almost any city experiences some level of insect annoyance, but if you feel particularly beset in the Washington, DC, area, it's for good reason! DC recently came in as number three on Orkin's 2020 Top Mosquito Cities List.
If you live in or around the Washington, DC, area, and you're ready to get some mosquito relief in your outdoor living space, let's connect to discuss your options.
Set on having an open-air space? Don't fret. There's another easy alternative to keep the mosquitos away—even without the addition of windows.
Why Sunspace WeatherMaster Windows?
If your only goal was to keep the bugs out, any window or screen would do the trick. But homeowners don't want any solution; they want the right solution. With so many window options available, though, it can be hard to narrow down your choices.
At Design Builders, we create and construct custom outdoor spaces for a living, and we work exclusively in the Washington, DC; Maryland; and Virginia regions. Here's just a few reasons we're sold on WeatherMaster windows, by Sunspace.
Low-maintenance solution.
Sleek, modern, beautiful design.
Easy to install.
Generous ventilation (50 to 75 percent).
No breakable parts (meaning less expense and hassle for the homeowner).
Are you ready to stop letting bugs and insects drive you from your outdoor living space? Let's chat. We'd love to talk through your outdoor renovation or new construction !