Nothing Beats Stainless Steel Outdoor Cabinets for Commercial Spaces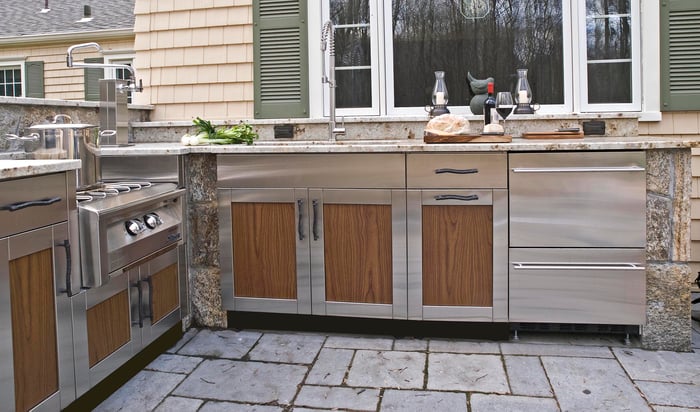 Wood. Stucco. Brick. HDPE/polymer. Stainless steel. The design market is flooded with different outdoor cabinetry options. If you're renovating or adding a communal area to a commercial space, here are 5 key reasons stainless steel outdoor cabinets are going to save you money, time, hassle, and headache.
5 Reasons Stainless Steel Cabinets Belong in Commercial Areas
While there are numerous general benefits of stainless steel outdoor kitchen cabinets, here are the top five reasons stainless steel is a great fit for commercial areas specifically:
Stainless Steel Is Easy to Maintain
As an easy-to-maintain material, stainless steel is an ideal candidate for outdoor living spaces. Because this cabinetry is easy to maintain, commercial spaces don't have to worry about dedicating a lot of time, energy, or money into making them look their best. Without a lot of intervention, they will look great—and stay looking great for years down the line.
Powder coated stainless steel is especially easy to maintain. Most cleaning requires little more than a cloth and water. The powder coating also offers an additional level of protection to the cabinets. It can safeguard against any eventual pitting or rust that might develop over time on untreated stainless steel.
To keep your stainless steel cabinetry looking pristine for the maximum amount of time, simply wipe down any moisture that gets on them (from weather or cleaning) with an absorbent cloth.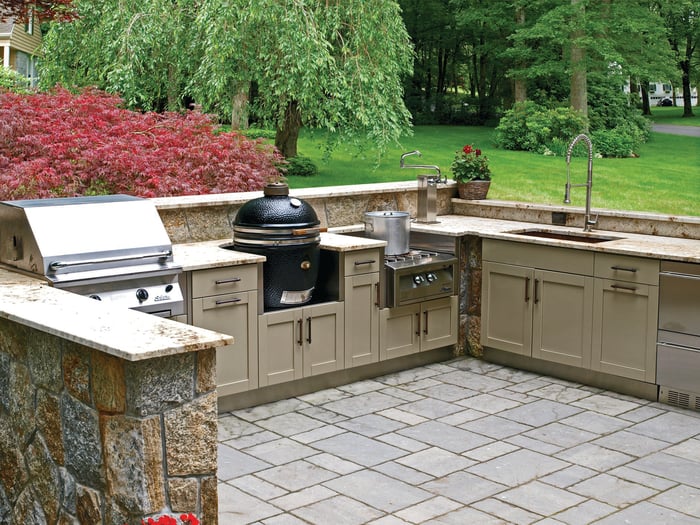 (photos courtesy of Danver)
Stainless Steel Is Long Lasting (Even in the Elements)
Durability is a highly desirable advantage for commercial spaces. Even if stainless steel cabinetry is a bigger initial expense, they can end up representing amazing value over time.
Because you're saving on continual maintenance, repair costs, and the massive expense of replacement, stainless steel outdoor cabinets are a great investment.
Their durability also means they are resistant to the dings, scratches, and unsightly imperfections that often come with frequent daily use. Communal areas in commercial spaces see a lot of traffic, and stainless steel is able to withstand the kind of wear and tear these amenities are put through.
Stainless steel is also well positioned to weather the elements. That includes the following:
Intense sun

Temperature fluctuations

Ice, sleet, and snow

Rain and other moisture

Humidity

Wind and any associated debris
If you're living in a coastal area specifically, you can opt for marine-grade steel to combat the corrosive effects of salt water. This is an option with specific brands, including Danver stainless steel outdoor kitchen cabinetry.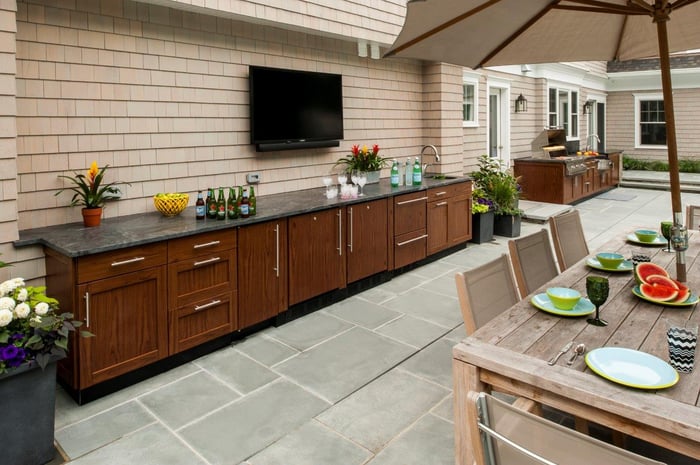 Stainless Steel Is Attractive
Whether it's classic polished silver stainless steel or powder coated, this material offers a sophisticated, high-end aesthetic. Stainless steel is also a timeless design choice. Any commercial space can enjoy the appearance of stainless steel—without worrying about the expense of updates when the look becomes tired or dated.
Because it's also such a durable and robust option, you can rest easy knowing the outdoor cabinetry will look pristine for years to come.
Stainless Steel Can Help Win Over Tenants
In a competitive housing landscape, many apartment complexes and condominiums rely on their amenities to win tenants. An upscale, functional outdoor cooking and entertainment area can be one of those attractive extras.
Along with on-site gyms and pools, shared cooking areas represent a way for housing complexes to differentiate themselves from all the other competitors.
Especially in today's landscape, these spaces provide a safe, well-ventilated area to gather and to entertain. When the actual apartment units are smaller or do not offer any outdoor living spaces, these common areas become even more desirable.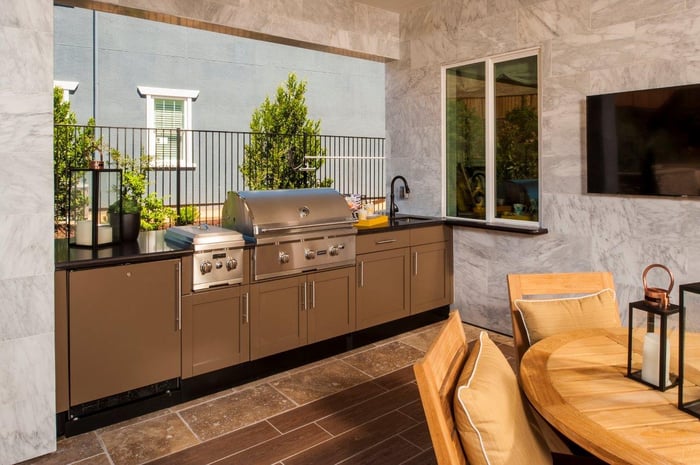 Stainless Steel Offers Customizable Cabinetry
Maybe you want the clean, minimalistic, industrial look of polished silver stainless steel. Maybe you want to match or to complement an existing color palette or surrounding décor. Maybe you even want the appearance of wood grain without all the upkeep, maintenance, and deterioration of actual wood.
In any of these cases, stainless steel or powder coated stainless steel can accommodate. It's a highly customizable and versatile material. This makes it an attractive option for commercial spaces that would benefit from matching branding colors or creating unified looks across multiple locations.
Which Commercial Spaces Are Candidates for Stainless Steel Outdoor Cabinets?
Many businesses and commercial spaces are excellent candidates for stainless steel outdoor kitchen cabinetry and storage.
This includes any of the following:
Apartment complexes

High-rises

Condominiums

Clubhouses

Any shared area within multifamily or single-family residences

Mixed-use housing spaces (apartments, detached homes, and condos)

Communal areas in hospitality spaces (hotels and resorts)
Because of the versatility and durability of stainless steel, it can be used successfully in just about any geographic region. It performs equally well in the snow and ice of the northeast, the intense sun of the southwest, the rain of the northwest, and everywhere between.
Have Any Questions about Stainless Steel Outdoor Cabinets?
Wondering if stainless steel cabinetry is right for your commercial or residential outdoor cooking station? Want to know if Danver or a different brand matches your needs? Reach out with any questions.
We're Design Builders, and we specialize in residential and commercial high-end outdoor living spaces throughout Northern Virginia and Maryland. As a custom design and build firm, we have extensive experience installing this cabinetry in outdoor kitchens, decks, patios, and screen porches, and we're always happy to answer your questions!