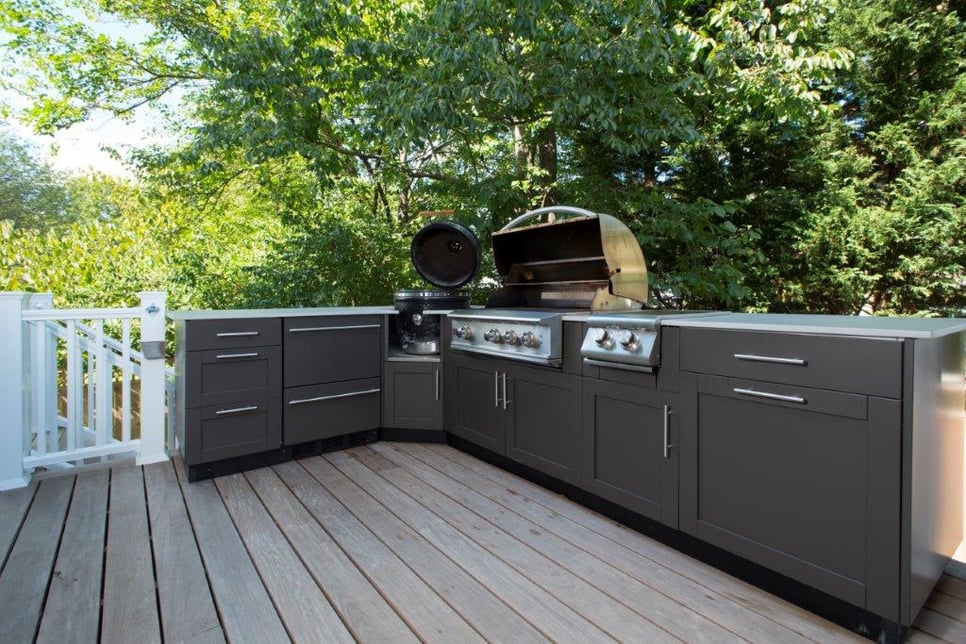 Top Advantages of Stainless Steel Outdoor Kitchen Cabinets
When it comes to outdoor kitchens, so many details go into ensuring the area is as top of the line as possible. This applies to the quality, functionality, and aesthetics of every aspect of the outdoor kitchen. With those qualities in mind, many consumers have settled on stainless steel kitchen cabinets as the high-water mark. What makes them different, though? What are the relative benefits of stainless steel outdoor kitchen cabinets versus other cabinetry offered in outdoor living spaces?
6 Ways Stainless Steel Cabinets Outperform Other Cabinet Material
Peace of Mind
Depending on the manufacturer you use to supply your stainless steel kitchen cabinets, you might receive a lifetime warranty on those cabinets. The structural integrity of 100 percent stainless steel cabinets, combined with a lifetime warranty, gives you total peace of mind. If something should happen to your cabinets, you know you won't be financially liable for repairing or replacing them.
Confidence in Manufacturer and Manufacturing Process
If you choose stainless steel outdoor kitchen cabinets from a company like Danver outdoor kitchens, the products are made entirely in the United States using American materials. This offers yet another level of confidence in the quality of product you're receiving, both in terms of materials used within the cabinets and the craftsmanship of the cabinets themselves.
Finish Options
While people often think of stainless steel cabinets as polished silver, many finishes are actually available through powder coating. Powder coating allows you to choose a color that matches or complements your existing design palette, and it even offers a variety of finishes, including a look that replicates natural wood.
Whichever powder coating option is selected, this treatment vastly minimizes the maintenance required for your stainless steel cabinets. Rather than always wiping down visible fingerprints, the cabinets just need to be periodically wiped down with a cloth and water. The powder coating also protects the stainless steel itself and wards off potential long-term problems, such as pitting or the development of rust.
Durability
One of the biggest benefits of stainless steel cabinets is their durability. Stainless steel is structurally strong enough that normal day-to-day use isn't going to harm it. Even when exposed to extreme swings in temperature throughout the seasons, stainless steel still retains its shape. It doesn't warp, bulge, contract, or expand in the way other cabinet material might when exposed to extreme heat, extreme cold, or other elements of inclement weather.
Ease of Install
Some cabinetry work requires a stone mason. This makes for a long, dusty, disruptive installation process. Stainless steel cabinets, however, can typically be installed in one day. This drastically cuts down on the inconvenience for the homeowner.
Eco-Friendly Option
Stainless steel is not just a durable, beautiful, and resilient material. It is also an eco-conscious choice. Stainless steel is entirely recyclable, and with its extreme strength, you won't have to be frequently redoing or replacing your cabinets to keep them looking pristine. This is good for the environment, and it's good for your finances. This means stainless steel is a great long-term investment in more than just the financial sense.
Questions about Adding Stainless Steel Cabinets to Your Northern Virginia or Maryland Home?
Interested in adding stainless steel cabinets to a new or existing outdoor kitchen in your Northern Virginia or Maryland home? Reach out today.
We're Design Builders, a custom high-end design and build firm specializing in outdoor living spaces. Whether we work together or not, we're always happy to answer your questions!