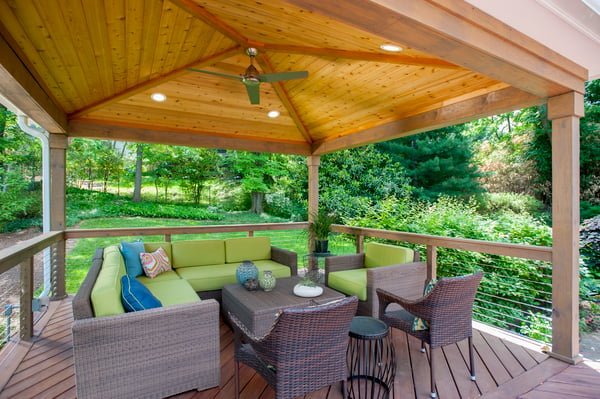 Why modern materials and contemporary designs cost more than traditional decks
Designing outdoor spaces anywhere, let alone decks in Maryland, Virginia, and Washington DC., is a careful balancing act between achieving a homeowner's desired look, and their promised budget. When the term " modern" is brought into the equation, however, chances are a design concept will cost at least a little bit more than a traditional deck plan would. Its at this point that you'll have to decide is what makes the most financial sense: a fully modernized deck, a classic high-end deck, or something in-between. Design Builders can help explain.
Materials
Modern materials are one of the single most influential factors in the cost of a contemporary deck design. They tend to be the nicest and the most expensive. Stainless steel, for example, is a very common fixture in new decks because it offers clean lines, a monochromatic metal palette, and high-quality durability. Stainless steel cables are not overly expensive, and they can lend a deck that modern flourish. However, if stainless steel posts are desired for a more overtly modern look (as opposed to also-compatible wood posts), they can cost as much as $300 per linear foot.
Glass is another common fixture in modern decks, but it can come with a similarly high price tag. Depending on where and how the glass is being used and fitted, it can cost $200 per linear foot.
The decking can expensive as well, though upscale products are used for both ends of the new deck design spectrum. Zuri decking actually looks like natural wood but doesn't require any staining or heavy maintenance. Because of its hassle-free maintenance, visual appeal, and durability, Zuri is a common choice for modern decks, though it can be pricey.
Materials such as vinyl that often show up in more traditional decks tend to be more cost-effective at the cost of a contemporary look.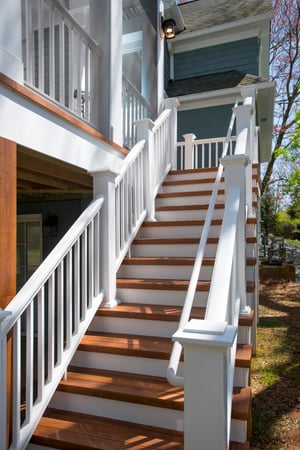 Workmanship
Beyond the materials, certain workmanship issues also create a more expensive project. Often if stainless steel is used in the framing, it requires a bit of welding. That specialty job means either hiring someone with the expertise and know-how or simply paying for the extra hours of labor that process will require.
Modern high-end decks are also often not shy in terms of new, bold, unique shapes and design elements. A modern deck can really make your outdoor project stand out because the creative element is virtually unlimited.
Odd shapes, sizes and imaginative cantilevers are abundant in contemporary deck designs, but these unique features take extra time and skiller labor to craft and install. While they look great, know how committing to them can inflate your final bill. Heavier materials such as steel beams and other bulky products can even necessitate cranes, additional workers, or specialty construction techniques that the homeowner ultimately has to pay for.
Are traditional decks always cheaper?
Not necessarily. Every project is different and incorporates unique materials and design concepts. That's what sets high-end decks in Northern Virginia apart from cookie-cutter, prefabricated projects: While modern decks are generally pricier, it is possible for a traditional deck to cost even more. If you're struggling between design and budget, talk to your design build team about your options.