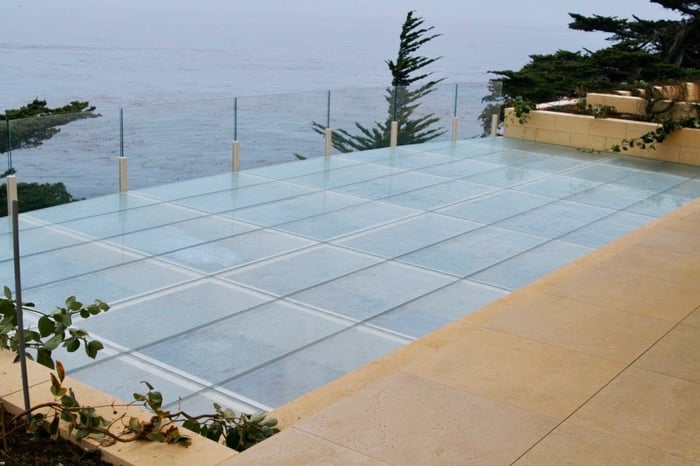 Every Virginia or Maryland homeowner looking to create a beautiful, unique outdoor living space needs to ask themselves several questions. Does the project match my taste and aesthetic preferences? Does it promote the lifestyle I want? Is it safe? This last question causes some people to pause when thinking about adding glass to their exterior renovations. Read below to learn everything you need to know about your anti-slip glass floor options.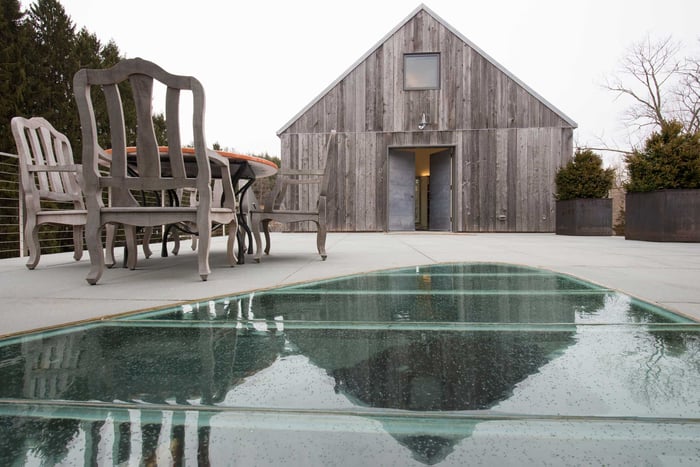 Key Facts about Anti-Slip Glass Floors
Is Glass Flooring Slippery in the Rain?
With the proper anti-slip treatment, exterior glass is safe, even in rainy weather. No flooring is 100 percent safe once you introduce water, but glass presents no more problems or dangers than any other flooring material.
With the rain Northern Virginia and Maryland experience, this is an important fact to consider about outdoor glass flooring, walkable skylights, or glass stair treads.
What Standards Are in Place for Anti-Slip Glass Flooring?
If you want to confirm the glass flooring you're installing is safe, ask about what industry standards the anti-slip product complies with or exceeds. This can include the following:
-Underwriters Laboratory (UL)
-National Floor Safety Institute (NFSI) slip, trip, and fall prevention standards
-Region- or country-specific standards (United States, United Kingdom, European Union, Australia)
-American Society for Testing and Materials (ASTM) anti-slip standards
What Are Some Anti-Slip Options?
Every glass manufacturer will have slightly different processes and systems for creating anti-slip glass.
If you choose to go with a company like Jockimo, which specializes in decorative architectural glass products, you'll have four anti-slip options: GlassGrit™, GlassFrit™, GlassEtch™, and GlassSculpt™.
The methods vary from kiln-adhered glass aggregate to a process that mimics silk-screening to customizable pattern etching.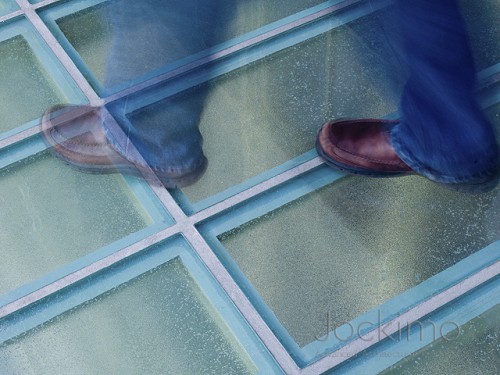 Is There a Warranty on the Anti-Slip Feature?
As a homeowner, it's incredibly unlikely you're going to find any company that offers a warranty on glass breakage. However, warranties on glass lamination and anti-slip treatments are much more common and can routinely be found in the industry.
For extra peace of mind, go with a company that offers this kind of guarantee and backing of their workmanship.
Other Safety Features to Consider with Custom Exterior Glass
Whether you're looking to create a beautiful walkable skylight; to incorporate sleek, modern glass stair treads; or to highlight your outdoor living space with glass flooring, the number one issue must be safety.
Like any building material, if glass is created, designed, or installed incorrectly, it could present serious safety concerns. Make sure you're comfortable with the experience and expertise not only of the manufacturer and designer of your custom glass products but the installer as well.
Make sure they have taken glass thickness, failure redundancy (wherein the other panels can hold the structural load if one panel breaks), and structural design into account.
Interested in adding glass to your outdoor living space? Check out three big reasons glass is the perfect choice for customer exterior renovations.
Thinking about glass bar tops specifically? Read our breakdown of the top ten benefits of outdoor glass countertops.
Design with Us!
Are you in the early stages of dreaming up your perfect backyard oasis? Or do you have it sketched out detail by detail in your mind? Whatever stage you're at, feel free to reach out with questions. We love to talk design and are happy to walk you through your idea with you!