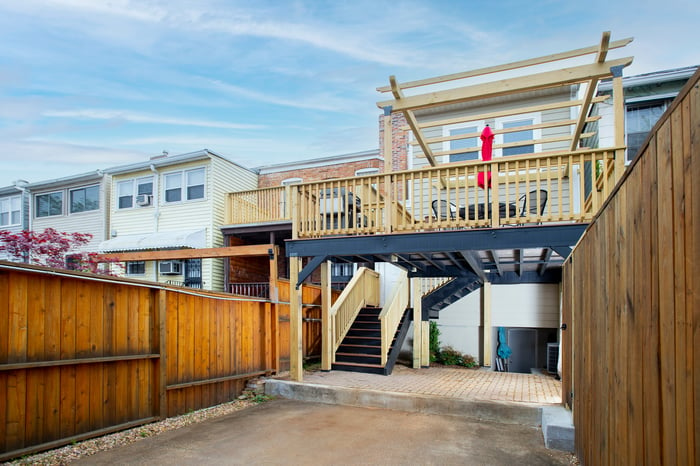 If you're thinking about building a deck in your Virginia or Maryland home in 2021, you might have heard a thing or two about steel deck framing. Especially with the lumber shortage and price increase, people are actively looking for alternatives to building with wood. If you opt for a steel deck frame from a company like Fortress Building Products, what can you expect to pay versus a traditional pressure-treated system?
What's the Price Difference between Steel Deck Framing and Pressure-Treated Deck Framing?
The price of a deck varies significantly based on the specifications of the project, but for a 300-square-foot deck with steps, expect a roughly $2,500 to $5,000 price difference between steel and pressure-treated wood. (In that scenario, steel is the more expensive material.)
However, with the high cost of pressure-treated wood right now, steel deck framing and pressure-treated lumber have never been closer in price.
Pressure-treated wood is still a more economical up-front choice, but there are considerations over the life of the product. This includes maintenance, repair, and replacement costs. Given those, it's easy to imagine steel would come out about the same (or even cheaper) after several decades of use.
Before undertaking any project, always take your personal situation into account. If you're looking to sell your home soon (and cash in on the insane Virginia and Maryland real estate market!), then pressure-treated wood might be the way go. If you're in your forever home, steel framing might make more sense, if it's compatible with your up-front budget.
Advantages of Steel Decking Framing over Pressure-Treated Wood
Warranty
The warranty with Fortress steel deck framing is twenty-five years (limited manufacturer warranty). As a homeowner, this gives you peace of mind that you won't be financially liable for any defects or issues with your steel framing.
Decking Boards Won't Outlast Frame
It doesn't make a lot of sense to put durable, weather-resistant, rot-resistant composite decking boards on a frame that's not going to last. With steel deck framing, you know your substructure will hold up as long as your decking boards.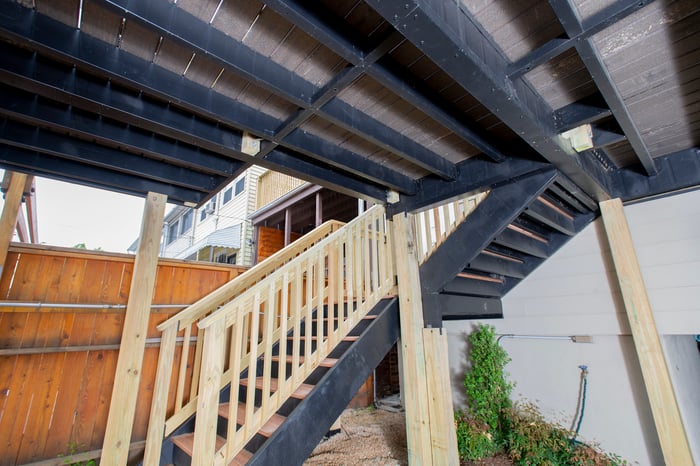 Faster Build Time
Fortress steel framing goes together faster than pressure-treated wood. This saves you on labor costs and the inconvenience of waiting for your deck to be finished.
Fewer Beams, Posts, and Piers
Steel deck framing allows for the use of fewer support posts, beams, and piers. With up to sixteen-foot spans, that means more unobstructed views. It also means fewer materials to purchase and less time and expense related to your deck install.
Compatible with All Deck Surfaces
Steel deck framing creates a highly even, level surface. This allows for the use of tile or porcelain pavers as your decking material. (This is achievable without the time-consuming and costly planing process.)
Tile and wood frames are nearly incompatible because of how difficult it is to get the surface flat and even enough. If you want choices in your decking surface, a steel substructure can offer you that flexibility.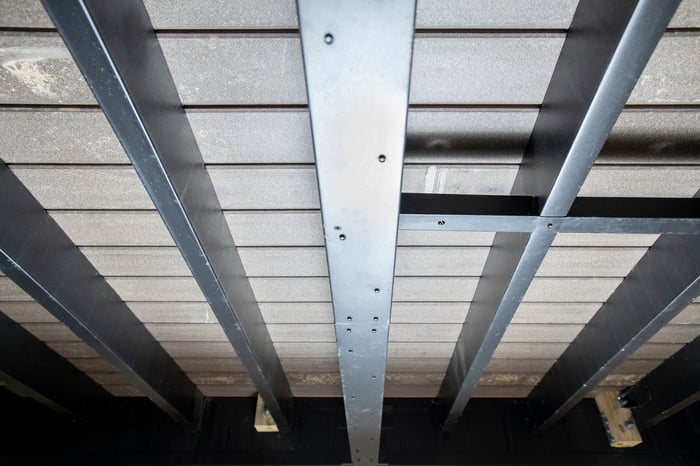 Tailored to the Custom Industry
Because you have more design freedom with a steel deck frame—both in terms of spans and compatible decking material—it is little surprise steel is the preferred material within the custom design and build industry. If you're interested in a custom deck project, you'll likely find steel is offered as a deck framing solution.
It's now standard on our decking projects throughout Maryland and Virginia, and it's built into the price of our decks in 2021. While we can't predict the future of the construction industry, we anticipate steel deck framing becoming the norm within ten years. It just makes sense!
Put Down New Decking without Issue
A steel frame is much more likely to stay level—even after years and years of use. That means you can easily put new decking boards on the same steel frame when your original boards require replacement.
Thinking about adding a deck to your VA or MD home? Request your no-obligation quote today to get a sense of what the project will cost. Have questions? Always feel free to reach out!