5 Trending Deck, Porch, and Outdoor Living Trends for 2020
Now is a great time to start thinking about how you want to increase the appeal of your outdoor living space. With that in mind, the following are some trends to watch in 2020 for your deck, porch, or other outdoor living area.

2020: Further Integrating Outdoor Spaces with the Main Home
This year is already promising to continue a trend that has been increasingly prevalent in the construction industry, and that's the desire for increased comfort and usability of outdoor spaces. While a deck used to mean a simple grill and maybe a lounger, these areas are now truly usable square footage of the home. The design accessories are as beautiful, thoughtfully chosen, and durable as anything in the main living area, and that care and attention to the style and function of outdoor areas only looks to increase with time.
I. Infratech Heaters and Your Outdoor Living Area
A simple way to extend the usability of any outdoor space is by installing heaters to combat the cold of shoulder seasons, and Infratech is a widely trusted name in outdoor heating accessories.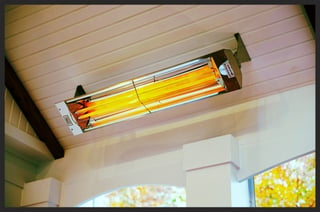 One of the biggest sellers currently for Infratech Infrared Heaters is the new Slimline product. While previous heater models tended to be bulky and a bit unattractive, the Slimline is far more visually appealing, more contemporary, and less conspicuous.
Infratech also now has the ability to powder coat these heaters to virtually any custom color. This allows you to color match to the ceiling, wall, or cabinetry in order for the heaters to blend in even more seamlessly. They also come in a variety of standard colors, including white, beige, almond, bronze, black, and biscuit. You could even forego color altogether and opt for bare stainless steel.
II. Danver Outdoor Kitchens and Cabinetry
Outdoor kitchens are one pivotal way to add versatility, entertainment value, and function to any deck or porch, and Danver Cabinets is one of the premier options. Their stainless steel kitchen cabinets (they also make painted kitchen cabinets) can be bare or powder coated to accommodate just about any outdoor kitchen idea or backyard kitchen design scheme. They also partner with Brown Jordan for a more upscale line with more customization options.
Danver stainless steel cabinets are also compatible with multiple grills and cooking implements, such as outdoor bars. This provides a large upgrade from a basic charcoal grill, especially for those who enjoy cooking and are looking to make their outdoor spaces full entertainment areas.
If you're averse to stainless steel, Danver cabinetry includes stainless steel cabinet inserts that can be used with a flagstone outdoor kitchen.
III. Minka-Aire Ceiling Fans
Just as Infratech is a sleek, modern, attractive way to mitigate cold weather in an outdoor space, Minka Aire's ceiling fans are a great way to battle the heat.
Minka Aire certainly offers a functional product, but the company is about more than temperature control. While any number of ceiling fans could effectively increase airflow and make a room more comfortable on hot summer days, Minka Aire does so with refinement and aesthetic appeal. Their products offer that desirable blend of style and functionality.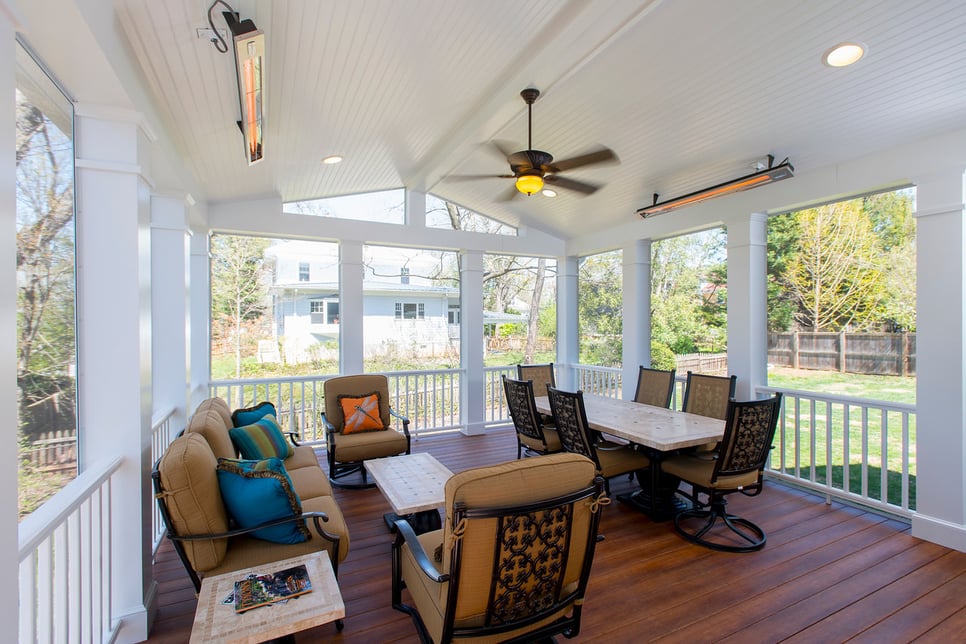 Minka-Aire ceiling fan in an elevated flagstone screened porch in Bethesda, Maryland. Full gallery here.

IV. Outdoor Lighting Packages
Two companies to watch in 2020 for their outdoor lighting options are Trex and Coastal Source.
Trex has a variety of outdoor lighting solutions that offer both aesthetics and function. They provide a wide range of lighting for both the deck itself and the surrounding landscape. These lights increase the usable hours of the space, the beauty of the area, and the safety of stairs and other hazards in low light.
Coastal Source is another brand that boasts durability, functionality, and aesthetics in their landscape lighting, architectural lighting, and waterfront lighting.
If you opt for Coastal Source, you also get the benefit of their extensive outdoor audio systems. By integrating lighting and audio into your outdoor space, you can truly convert a standard deck or porch into an entertainment area. These kinds of additions and touches expand the usability and life of the area, and because everything through Coastal Source can be easily managed in one place through an app, it's never been easier to enjoy these benefits.

V. Glass Rail
Glass Rail is now available at a reasonable price. It used to be for the high-end installs only, but with Invisirail's new product it's finally 'reasonably priced'