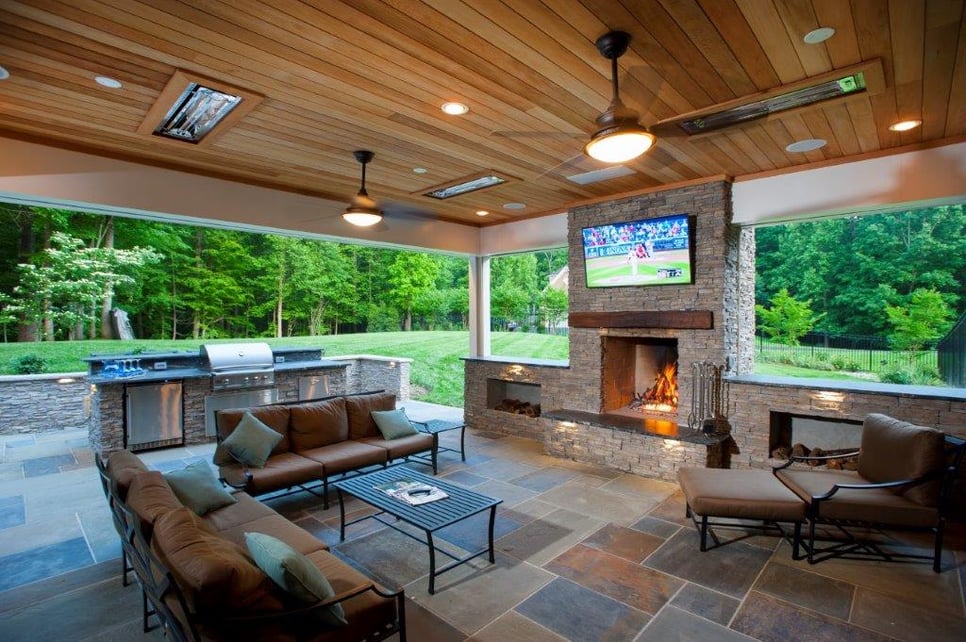 If you're in the process of developing and planning your outdoor living space for 2021, do not neglect to think through your heating options. Adding heat to a deck, screen porch, or other exterior space can help extend its life. That means you're able to enjoy the area you've spent so much time, energy, and money on for more months out of the year! It's important to note this topic is regarding new construction, not existing structures.
6 Options for Heating Decks, Screen Porches, and Outdoor Living Spaces in Maryland; Virginia; and Washington, DC
1. Electric Heat
The first major heating option is electric, and you have many options within that category. Companies such as Infratech Heaters, for example, offer a variety of electric ceiling-mounted heaters. These put out a decent amount of heat (typically about six degrees of temperature difference), and they are continuously getting slimmer, less conspicuous, and more attractive. You can even powder coat them now, which helps them blend even more seamlessly into your structure or serve as attractive design accents.
2. Biofuel Fireplaces
If slick, contemporary aesthetics are your aim, a biofuel fireplace could be the perfect solution for your outdoor heating needs. EcoSmart Fire is one option if you go this heating route. They offer fire pits as well as tabletop or floor models, so whatever style you're after, you can likely find just what you need.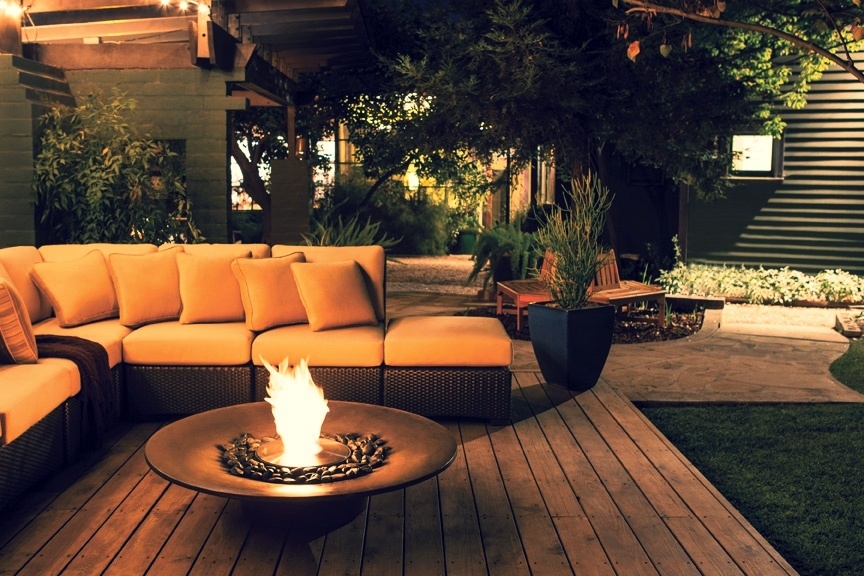 EcoSmart Fire eNRGY fireplace installation, which is an eco-friendly backyard fire feature fueled by bioethonal. Image used with permission.
People choose biofuel for a number of reasons, including the environmentally friendly nature of the fuel itself. These fire features also do not require flues, chimneys, or gas or electric hookup to operate, which makes for seamless, easy, flexible installation. Biofuel fireplaces are clean burning and don't require ventilation to operate, so they fit equally well in open or enclosed structures.
While burning biofuel does put out heat, these features are often more about the design aspect. Therefore, many people choose to double up on heating sources if biofuel is used.
3. Gas Lamps
Gas lamps are perhaps the most industrial looking of all the heating options, and they are commonly seen in the commercial sector, such as in restaurants. However, as long as you have a line for the gas or propane, these are equally compatible with residential spaces.
Unlike biofuel options, which are meant to be seen and treated as design focal points, gas lamps are often camouflaged within the structure. They do require proper ventilation to operate, so if you think gas lamps are right for you, make sure your design and build team has factored this ventilation into your plans.
4. Natural Wood-Burning Fireplace
Arguably the most traditional of the heating systems, an outdoor living space could always include a wood-burning fireplace. You will need to work closely with a design and build firm to ensure the fireplace is correctly installed according to all building codes and is also safe to operate. Note, if you desire a sleek, contemporary look with your heating option, a natural fireplace might not be the best fit, as they tend to be quite aesthetically traditional.
While nothing quite beats the ambiance of a natural fire, this can also be the most expensive option—both in terms of initial install and cost of operation.
5. Gas or Propane Fire Pits or Fireplaces
If you want a traditional setup of a fire pit or fireplace but you don't want the expense or hassle of natural wood, a gas or propane option might be right for you. You'll need to ensure the gas or propane line can safely and properly run to the fire feature, and you'll also have to do the math to figure out if the cost of operation is compatible with what you want (based on how often you'll use it).
Remember, unlike natural wood-burning fireplaces, the design options tend to be a bit more contemporary with gas or propane.
6. Radiant Heating System
This heating option is slightly different than the others on the list. Rather than increasing the ambient air temperature, this is a snow-melt solution. It can be incorporated into driveways, patio tiles, concrete, or brick. That way, when it snows, you're never stuck shoveling, and you have free and clear access to your driveways, pathways, or outdoor living spaces.
Companies such as ProLine Radiant Heat are at the forefront of this heating system.
Questions? Reach out, or drop a comment below.