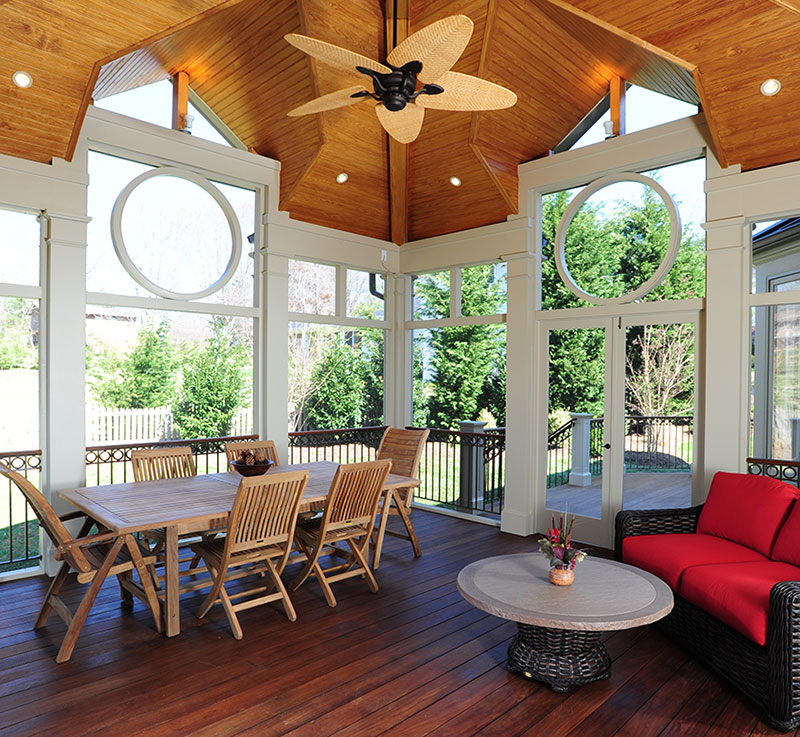 Great Deck and Screen-Porch Designs Make Wonderful Experiences for Your Guests
Football season is in full swing, and if you're a fan, you're probably either watching your favorite team play from the stadium (if you're lucky enough to have season tickets), or you're watching them on TV at home or a nearby sports bar.
This year, though, why not find the perfect middle ground by bringing the excitement of a live event to the comfort of your home? You can do this by hosting friends and family in a basement or porch space that gives everyone enough room to move around and comfortably watch the game.
Design Builders Case Study: Watching Football on The Sip

When Design Builders client Dan Diest decided that he wanted to add a porch to his home, football was one of the first things on his mind. He and his wife wanted to be able to use the porch year-round and have the ability to host a large number of friends on game days—without the space ever feeling too cramped. By collaborating with our building team, the Diests were able to create a screened porch that met all their needs.
The porch, which has been nicknamed The Sip, utilizes both indoor and outdoor space to allow Dan and his family to host 25 or more friends. There are two exits off the porch, making it easy for people to come and go without ever feeling cramped – and giving everyone enough room to cheer for their team without knocking over furniture or friends.
Dan likes that the design includes a space for a wall-mounted flat screen TV, which guests can see all the way from the backyard, thanks to the large windows incorporated into the screened porch. There's also a sitting area slightly apart from the main porch where guests can gather and talk when commercials are on or when they want to take a break from the game.
Dan describes his new game day experience as being like "indoor tailgating." He loves being able to gather such a big group of football fans together without having to deal with the crowds, noise, and ticket prices associated with going to the stadium.
Dan's not the only one who has been appreciating The Sip. The porch has become a talking piece with his neighbors, several of whom have actually come to Design Builders to see if we can help them realize their own dream designs.
Creating Your Own Sports Haven


Although football season is already underway, it's not too late to set up your own perfect space by adding a porch or remodeling your basement to follow your favorite team.
Take the time to think about (and maybe even write down) what you are looking for in the space and what concerns you may have, such as construction interfering with the main home or the usability of a porch during the winter, and then call Design Builders to talk about your construction project.
We love collaborating with clients, and we'll do everything we can to meet your design and remodeling needs and come up with creative solutions to resolve your concerns.