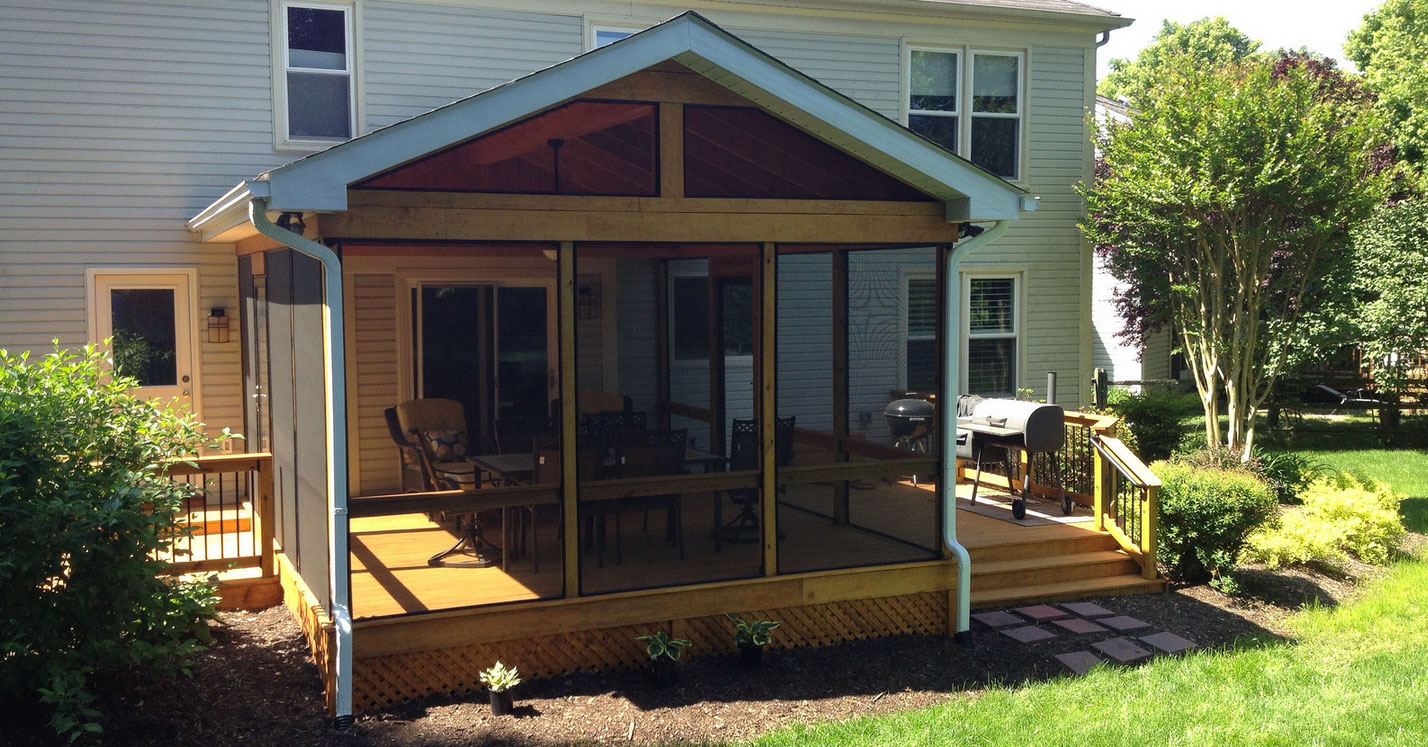 What You Need to Know When Hiring a Screened Porch Contractor
The Great Outdoors might seem a little less great if you have to constantly swat away mosquitoes, flies, wasps, and stink bugs. That's one of the main reasons many Maryland homeowners who want to add an outdoor addition to their home choose to add a screened-in porch.
A screened porch allows homeowners and their families to enjoy spending time outside without having to worry about stinging and flying pests. And the addition of lighting and ceiling fans to a screened porch can make that time outside even more comfortable.
If a screened-in porch is starting to sound pretty good to you, one of the first things you're going to need to do is find a screen porch contractor in your area. You want to ensure that your contractor is licensed and insured, and be sure to ask for proof of both before signing on that dotted line. But here are a few more things you need to look for in a screen porch contractor:
Your Contractor Should Have a Reliable Track Record
The best way to check this is to ask for references to clients who have completed a project similar to yours, and then actually pick up the phone and talk to at least two of them. Here are a few questions to ask:
How did the contractor handle any problems that came up during the process?

Did you find them easy to get a hold of? Did they answer all your questions?

Was the work area left clean and ready to use at the end of the project?

Was the project completed within budget and on time? If not, why?

Are you satisfied with the complete project?

Would you work with them again?
Your Contractor Needs to Know Roof Structures
If you go with a contractor who exclusively has experience with decks, not screened-in porches, that person may not have the knowledge of different roof and framing structures necessary to complete your project. You'll need to work with someone who knows how to properly join the porch and house roof, which can be a tricky process for someone who lacks previous experience. You should also work with someone who knows how to install screens below the existing deck in order to keep insects from getting in that way.
Your Contractor Should Work with an Electrician
There's no way around it: your screened-in porch project is going to require some electrical wiring. At the bare minimum, building codes require you to have an outlet on your deck, and you may also want to install additional lighting and ceiling fans. Your contractor doesn't necessarily need to have extensive electrical wiring experience themselves, but they should either have a qualified electrician on their staff or should have experience working with electricians as subcontractors.
Your Contractor Should Have Previous Screened Porch Projects You Can Look At
If your contractor has a website, check it to see if there is a gallery of previous screened-in porch projects. If they've done a lot of work locally, you could also contact some of their references and ask if you could check out some of the completed porches in person (or at least see pictures). Look to see if the screened porches blend seamlessly with the house, rather than standing out as an obvious addition. Ask other homeowners if they've experienced any problems with their porch since it was completed, or if they were happy with their contractor's work.
Your Contractor Should Give You a Reasonable Estimate
You should make sure that your contractor's estimate includes all aspects of the screened-in porch project, including labor, the screening system itself, doors, ceiling fans, wiring, and ceiling finish. While it is possible to leave a bare frame, your porch won't look as nice if it doesn't have a ceiling finish, so this is an important consideration.
Once you've done your research and are confident that you've found an experienced contractor with a fair estimate, you can rest easy knowing that you'll soon have a beautiful screened-in porch you can use almost year-round.