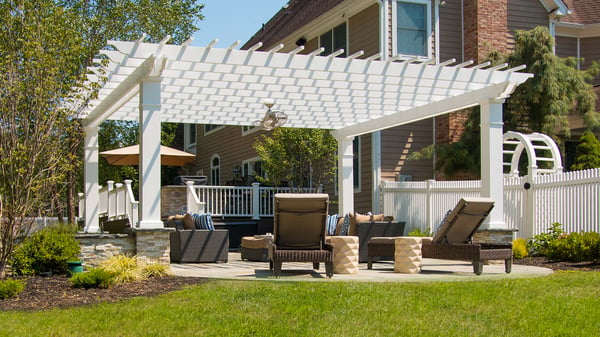 In recent years, pergolas and other shade structures have become increasingly popular in exterior living spaces. They've done particularly well in regions like Washington, DC; Virginia; and Maryland because those areas can experience extreme sun and heat in the summer. If you're considering your options for adding this kind of structure to your home, here's what you need to know about the pergola manufacturer Structureworks.
Structureworks: The Early Days
Structureworks began around 1993, but in those initial years, they weren't the company they are today. Instead, they started as an outdoor contractor working specifically with decks and playsets. It didn't take long in those arenas, though, for the company to realize it was largely installing products of inferior quality. Always driven by a need for quality workmanship and labor, they knew this model wasn't sustainable for their company.
The Move to Manufacturing
Knowing they didn't want to install or have their brand's reputation be dependent on the quality of what other companies were producing, Structureworks decided to enter the manufacturing space themselves. Moving away from actual installations, they focused their energy instead on the manufacturing process of fiberglass and vinyl pergola products.
Licensing with the Gold Standards in Outdoor Living Spaces
Around 2012, Trex became the first licensed product with Structureworks. (At Design Builders, we've seen firsthand how popular Trex pergolas and other Trex products are within the DC, VA, and MD regions.) Several years after Trex joined forces with Structureworks, Brown Jordan followed suit.
Both licensed companies were trusted names that had similar quality, aesthetic, and customer-centric ideals as Structureworks. Everything within these two lines is licensed through the respective company, but Structureworks continues to design, to test, and to manufacture the actual products under those different brands.
Manufacturer in Their Own Right
With the change in business direction, the company transformed from working in backyard America and selling many externally manufactured outdoor products to actually manufacturing their own. In this way, Structureworks is not just an online seller of other people's products. They actually do the in-house design, testing, and manufacturing. This allows them to maintain the level of quality, attention to detail, and aesthetic excellence they demand.
Products for All Sectors
Structureworks does primarily focus on the commercial and multi-family space, but don't fear. If you're a private residence, individual homes do make up a significant percentage of their product sales as well. If you love what they offer, check out their suite of pergolas and shade structures. It includes aluminum, cellular PVC, fiberglass, and vinyl options to suit almost every budget. Not sure if now is the right time to redo your outdoor living space? Check out this article. It covers why 2020 might just be the perfect time to invest.
Design Builders is a design and build firm that primarily works in the Washington, DC; Virginia; and Maryland regions. We're big fans of the Structureworks products and consistently install them for our customers in their outdoor living spaces. If you're interested in talking pergolas or shade structures, don't hesitate to reach out!