The Washington, DC; Maryland; and Virginia region is known for having four distinct seasons, but it's equally well known for having unpredictable weather. Because your exterior living space in this part of the world is going to be exposed to a variety of weather types—sun, wind, rain, snow—you need products that can withstand and accommodate the entire weather gauntlet.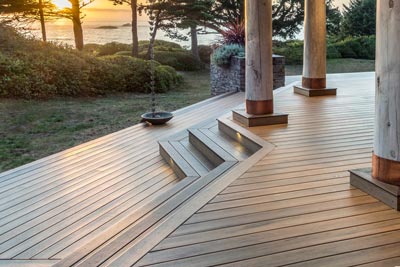 This intermittent exposure to extreme heat, intense sun, freezing temperatures, and wintry conditions makes Trex a consistently popular product throughout the Virginia, Maryland, and District of Columbia regions. Here are just a handful of Trex products that work particularly well in the backyards of this geographic region.
Composite Decking Boards: Enhance Basics (Good), Select and Enhance Naturals (Better), and Transcend (Best)
Trex's signature product is their composite decking board, and it's currently available in four versions. The "Good" line is Trex Enhance Basics (available in three colors with a scalloped profile and the lowest level of scratch resistance). The "Better" lines are Trex Enhance Naturals (the same as Enhance Basics but available in five colors) and Trex Select (available in five colors with a solid profile and midrange scratch resistance). Lastly, the "Best" line is Transcend (available in ten colors with a solid profile and the highest level of scratch resistance).
Because of the makeup of Trex composite boards, any of these lines will be able to withstand the DMV's weather-related conditions without warping, splintering, fading, or staining.
Elevations Steel Deck Framing
Many homeowners in the DMV who invest in Trex decking boards are inclined to pair that product with Trex's Elevations steel deck framing. This under-deck support system uses triple-coated steel, making for a stable, flat, durable substructure. Because the variability of weather wreaks havoc on the support system just as much as the visible boards themselves, this steel framing helps ensure your entire deck lasts as long as possible—even after years and years of intense summers and blustery winters.
RainEscape Drainage System
The DMV experiences quite a bit of rain—even more so than usual in recent years—and that can cause a lot of logistical issues with outdoor living spaces. Especially if you have an elevated deck, the area underneath that can quickly become unusable space if it's consistently drenched with water. This is one reason the RainEscape drainage system from Trex is so popular in this part of the world.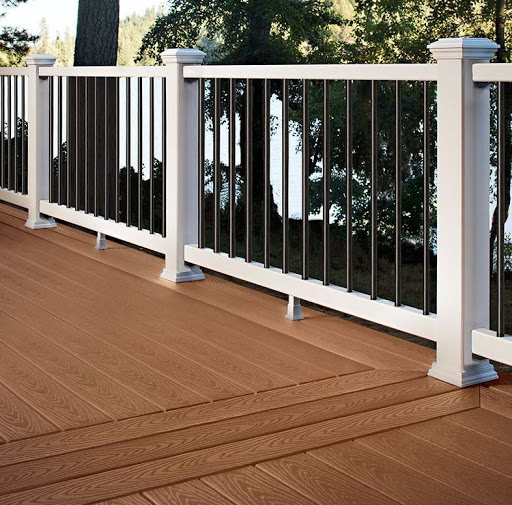 Using a network of gutters and troughs to divert rain, snowmelt, and spills, RainEscape helps ensure you don't experience any dripping through your deck boards to the area below. This frees that space up for lighting, ceiling fans, outdoor kitchens, entertainment centers, and more. With the relatively affluent demographic in the DMV (as of 2018, the median household income was over $100,000), the RainEscape system is a big hit here because it allows for those luxury additions.
Pergolas
If your outdoor living space experiences a lot of direct sunlight, one solution to that intense heat is creating a shady area with a pergola. The Trex line of pergolas are quite popular here because they blend beautiful aesthetics with functionality. Whether you're attaching a canopy for shade or heaters to extend the usability of the area into the shoulder seasons, Trex pergolas are versatile and durable additions to any exterior living space.
Trex is the world's leading brand of high-quality wood-alternative decking, and in places like the DMV, where the weather can quickly deteriorate or weaken exterior materials, it's little surprise Trex has become such a staple of outdoor living spaces.
If you live anywhere in the DMV and you're looking to create or to update your backyard living area, contact us today. We'd love to talk through your options!