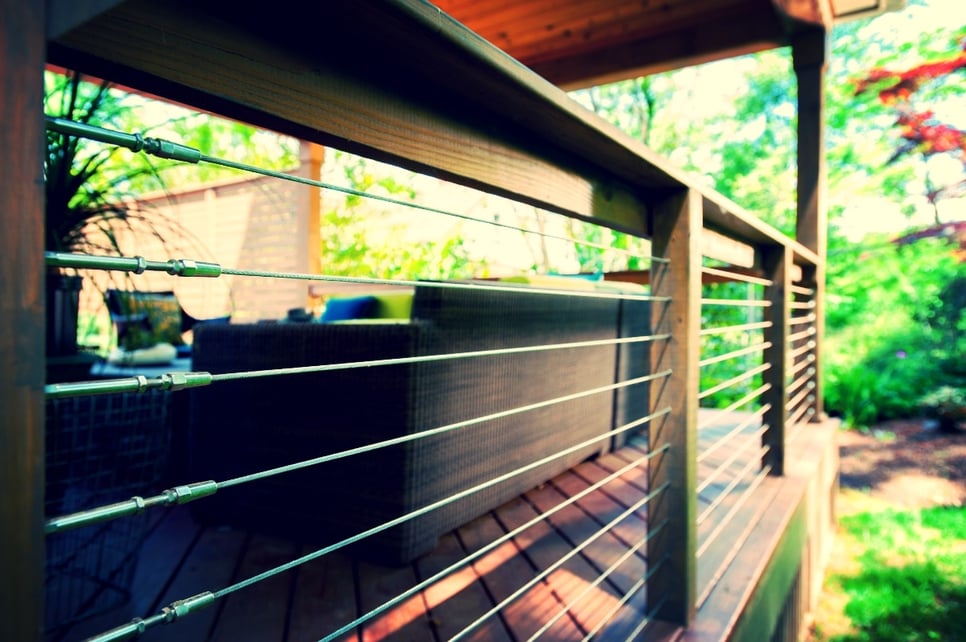 If you're in the process of designing an outdoor living space, it's likely you've been evaluating the relative pros and cons of various railing systems. One such railing system involves stainless steel cable rails. Steel cable railings are durable, contemporary deck railing options for Zuri decks in Virginia, porches in Maryland, and rooftop decks in D.C. Keep reading to learn if steel cable handrails are right for your outdoor living space.
Pros of Installing Cable Handrails for Decks, Screened Porches, and More
Cable rails for decks and porches are a common choice for regional homeowners building a deck in Virginia and elsewhere because of their desirable attributes.
Unobtrusive Views From Your Outdoor Spaces
If your deck or outdoor space looks out onto a view - that is, a beautiful landscape or cool cityscape - cable deck rails are an excellent decision. Since the rails themselves are typically less than one-quarter inch thick, they are virtually invisible. This opens up your outdoor space and allows you to enjoy whatever view you have unobstructed, whether that be of the forest, ocean, mountains, or what have you.
This is why they're great for a deck in Bethesda, Maryland with wooded views, just as much as they are for a rooftop deck in Baltimore or a screen room contractor in Virginia.
Installation Versatility and Price
Cable porch railings allow you to avoid being locked into a particular installation process or materials design scheme. That is, the rails can be attached to posts made from any number of materials, though they are most commonly fastened to vinyl, stainless steel, or wood posts (hardwood or pressure-treated wood). Each material has a different installation price point, but you have some control over the final bill without having to sacrifice your cable handrails.
Cable patio rails are going to be more affordable than other modern deck railings such as glass railings, provided those cables aren't attached to stainless steel or comparably expensive posts. However, while the installation process is also quite easy and straightforward, it's a bit time consuming.
Cable rails are generally all stainless steel, so you won't have to spend the time, money, or effort to replace them out. They will last for years without any major rusting issues or similar problems. Unlike glass, cable rails also don't require a lot of time-consuming or frequent cleaning. Every few years or so, the cable tensions may need to be adjusted, but this can be done easily by even an inexperienced homeowner.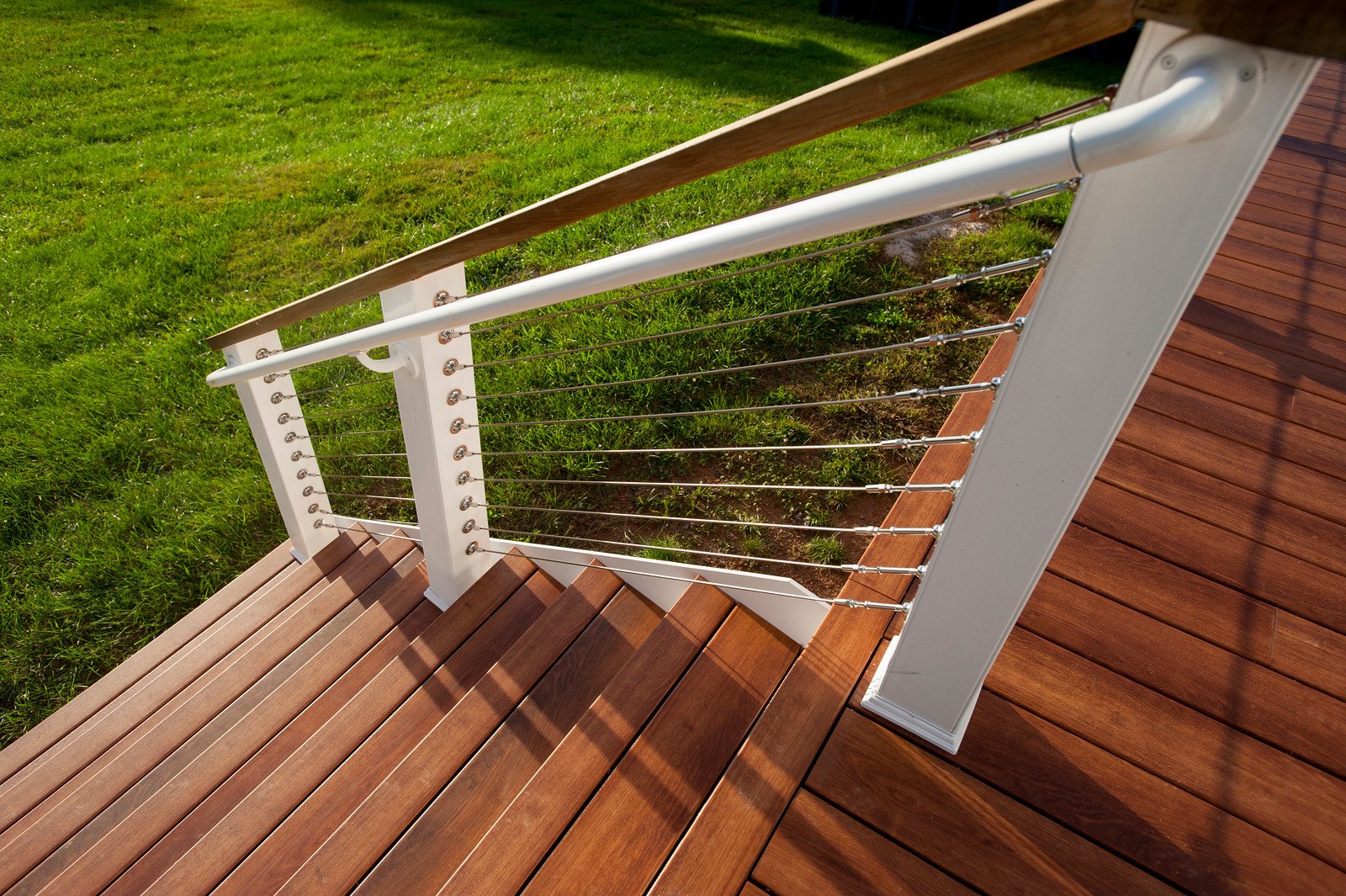 Close-up view of stainless steel cable handrails in a screened porch in Bethesda, Maryland. Installed by Design Builders, Inc.
What are the possible drawbacks of cable deck railings?
Whether steel cable deck rails are ideal deck accessories comes down to personal preference as it relates to price, aesthetics, and maintenance performance. However, as not every custom deck in Virginia has them, tensioned cable deck rails are clearly not for every homeowner. Here's a glimpse at why this is:
Committing to Contemporary
Cable rails are quite a modern design element, which may conflict with the style of prebuilt homes - stainless steel cable railings can clash with a home's existing aesthetic - or your desired theme for your outdoor living space project. If what you're building is a classic deck in Maryland, the modern twist of these wire railing systems may feel out of place.
Steel cable railings use tensioners that may periodically need to be adjusted to tighten the cables. This is, however, something a homeowner can usually handle without professional help. It involves giving the tensioners a few turns with a wrench, though the job can become tricky for screened porches and elevated decks with limited access to the cabling.
If you have kids - particularly young children who enjoy climbing - cable rails pose a potential hazard. The horizontal cables form a makeshift ladder for young, curious children to climb up and over. Depending on the height of your top rail, you can have eight or nine cables installed at less than 4" intervals. If your rails are going to be suspended from a significant height, this is something to consider.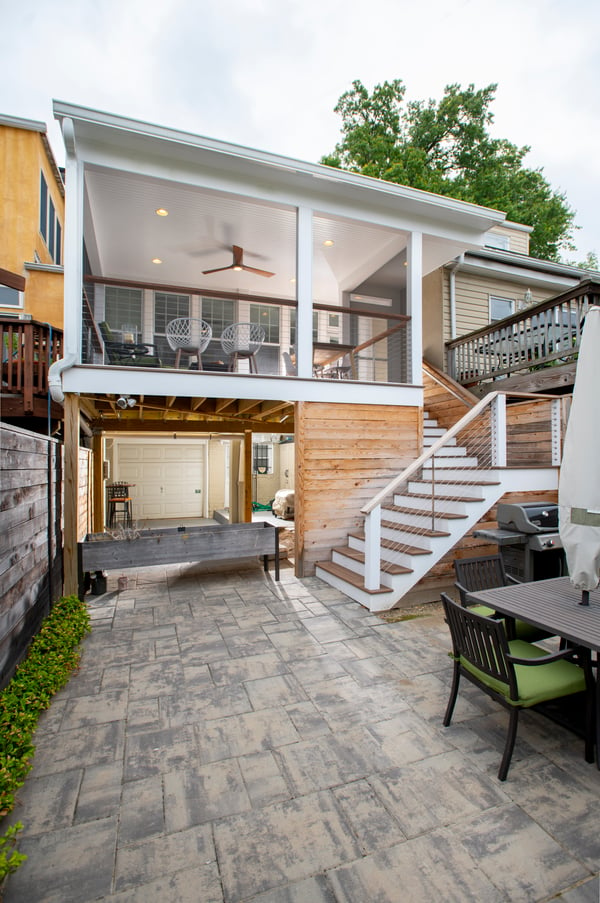 Again, the best railing option for your home depends on factors such as desired price, look, and upkeep. However, if you're struggling to decide or simply want more information about your various railing options in order to make an informed decision, reach out to a few local porch contractors for a free consultation.