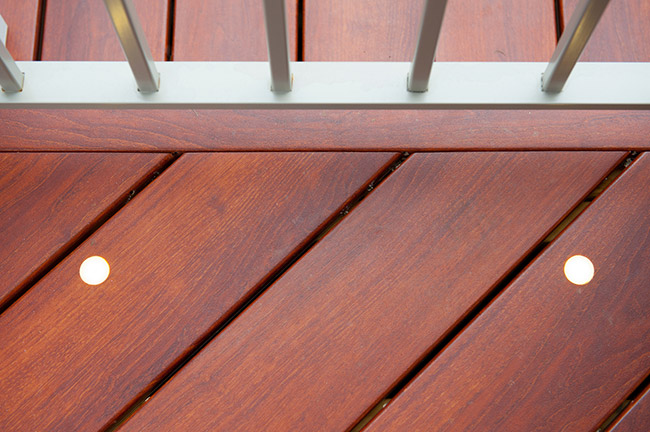 If you live in the greater Washington, D.C. metropolitan area, you know the weather isn't always kind to us. During the winter, cold rain can blanket the ground in frost. During the spring, storms stir up debris. On summer days, the hot sun beats down onto our sidewalks, and come nightfall, insects emerge in droves.
So how can you enjoy the beauty of the great outdoors while staying safe from harsh elements and pesky pests? One solution is to build a screened porch. The cost of your total project will be significantly affected by the type of decking material you choose. In this post, we'll delve a little deeper into the advantages and disadvantages of two popular types of decking material — hardwood vs. Zuri decking.
Hardwood
Hardwood is one of the most popular choices for decking materials among many builders and homeowners alike, many of them are drawn to it because it is beautiful and natural. However, hardwood does require regular upkeep and maintenance, including annual staining and coating. If you don't mind this bit of extra maintenance, hardwood could be an attractive choice for your new screen porch.
Hardwood is also a good option if your screen porch is completely covered by a roof, since the roof will act as a protective barrier from damage caused by the sun, rain, and elements. When used for a completely covered screen porch, hardwood decking material will last much longer than it typically would if it were used for a traditional, open-air deck with no roof, maintaining that natural beauty that's hard to imitate with any synthetic material.
Zuri Decking
Zuri decking is an innovative type of synthetic decking that boasts the attractiveness of natural hardwood without the maintenance requirements. Zuri decking looks like exotic timber, incorporating authentic grain textures to give it a natural feel. To replicate the appearance of natural wood, Zuri designers minimize pattern repetition in the grain to make each piece seem like a unique piece of wood. Unlike hardwood, you'll never have to stain, paint, or seal this type of decking, and it's resistant to stains, scratches, moisture, and fading.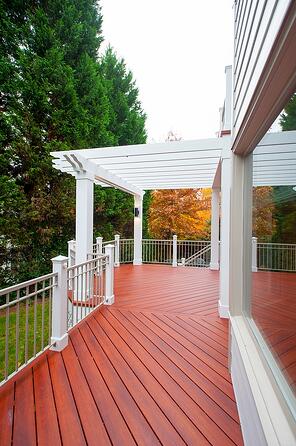 If a portion of your screened porch walks out to an exterior deck, Zuri decking may your best option. This is because the part of the deck that is uncovered will age much quicker than the part that is protected by the roof. The exterior portion of the porch will be exposed to sun, rain, and wind, making it likely to fade, decay, and stain while the interior portion keeps its color and integrity.
If you want to prevent the imbalance between your covered screened porch and exposed outdoor deck, Zuri decking is a smart choice. Because Zuri decking is resistant to fading, scratching, and staining, the portion that is exposed to the harsh elements will keep the appearance of the portion covered by the roof.
What's more, working with Zuri decking is relatively affordable, costing about the same as hardwood when combined with the cost of the hardwood installation and the initial staining it requires. And because of Zuri decking's longevity and virtually non-existent maintenance requirements, you end up saving quite a bit in the long term.
It's a good idea to use a Zuri synthetic decking material if any portion of your deck is exposed to the outdoors. Of course— this type of material would serve just as well for a completely covered porch. But since maintenance is not as big an issue for porches that are protected by a roof, you may prefer to use hardwood for these types of screened porches, if you're the type of person who gravitates towards natural, non-synthetic products.