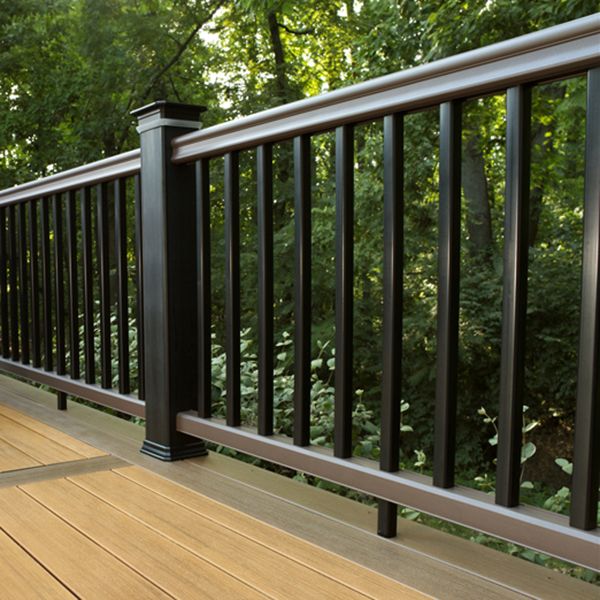 When it comes to home improvement projects, the first thing many homeowners want to know about is price, and exterior railing systems are no exception. As with many outdoor home products, though, the initial number on the price tag doesn't always tell the whole story. If you're currently debating between vinyl railings and railings from a company like TimberTech, here are a few key points to consider in terms of price.
Up-Front Cost of Vinyl versus TimberTech Railing Lines
Whether you're opting for the TimberTech composite railings or their line of metal railings, you're likely going to be putting up more money initially than if you opt for vinyl.
Note, however, that "vinyl" is a broad category, and there's a great deal of variance in quality and craftsmanship under the broad umbrella of this material. It's possible, therefore, to be spending more on vinyl than composite or metal. In general, however, homeowners can expect vinyl to be less expensive than a comparable amount of composite or metal railing from TimberTech.
Financial Benefits of TimberTech Composite Railing over Vinyl
While it's easy to focus on that initial amount you need to pay for a product, the real metric of price should be value over time. That is, how much are you going to pay for this product over its life-span? Homeowners encounter this all the time. You can spend more up front for a higher quality product knowing that the durability alone is going to mean you don't have to consistently spend money on repairs or replacements.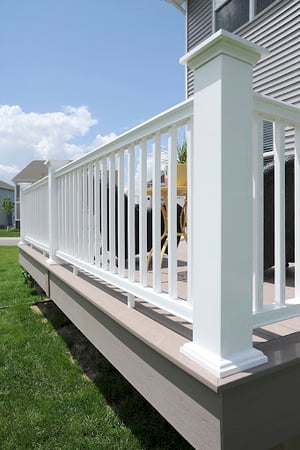 If you're in a position to make that larger up-front financial commitment, TimberTech railing offers several key financial benefits over time:
Composite railings simply look better than vinyl. Increased aesthetics can add to your home's resale value if and when it's time to move.
Increased durability of railings means you're investing less over the years in replacement pieces or repairs. This is especially beneficial in the Northeast, which experiences extreme weather across multiple seasons.
Composite is an inherently low-maintenance product. (As just one example, check out this low-maintenance deck and screened porch in Maryland.) While wood decks and railings require frequent staining, painting, or cleaning to keep looking their best, composite endures through the years without any of that investment of time or money. Vinyl can be a target for algae and mold, often making it appear green or yellow tinged without the proper cleaning.
Extreme weather conditions, including intense heat in the summer and freezing in the winter, can contribute to splitting or warping in materials like vinyl and wood. Composite is not structurally affected by these weather and temperature variations. This saves you the cost of replacing pieces of your railing over the years.
TimberTech Strives for Quality and Affordability
When making a final purchasing decision, many homeowners realize the importance of value over price. With TimberTech, though, the company makes it even easier to opt for the quality option. For those who want all the benefits of composite or metal railing from TimberTech, the upgrade from vinyl is usually relatively close (i.e., within a couple of dollars per linear foot). Especially when upgrading to their more cost-effective options, such as Impression Rail Express (metal option) or Radiance Rail Express (composite option), it usually doesn't take long to recoup the initial price difference in saved maintenance costs.
If you have any questions about what railing system would work best for your project, we're happy to talk through the details with you. We are dedicated to providing high-quality high-end outdoor living spaces to those in the Washington, DC; Virginia; and Maryland regions, and we'd love to lend our expertise to your newest project!