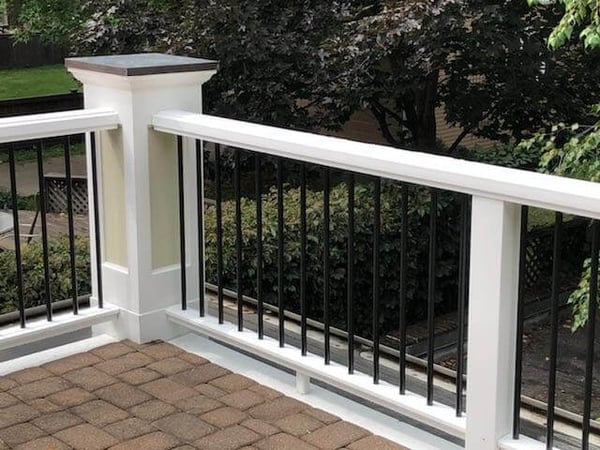 No deck is complete without the right railing system. Just like a picture frame around a great piece of art, the railing should be sleek and beautiful it its own right, as well as complementary to the main attraction. If you're interested in what TimberTech AZEK has to offer in their line of railings, here are the highlights.
3 Varieties of TimberTech AZEK Railing
TimberTech AZEK provides the following railing systems:
Traditional Composite Railing
Everything within this line is the same simple, clean railing system, but it offers four different top rail options: Premier Rail, RadianceRail, Trademark Rail, and Drink Rail. Drink Rail is the newest addition to the TimberTech AZEK railing family. It uses a deck board as the top rail, making it ideal for drink placement.
Available color options are White, Black, Kona, Brownstone, and Slate Gray. The only exception to this is Trademark Rail, which is only available in White.
This line boasts the same look as RadianceRail but features a smaller top rail. It also has prerouted baluster holes, meaning customers enjoy quicker installation times and a more accessible price point.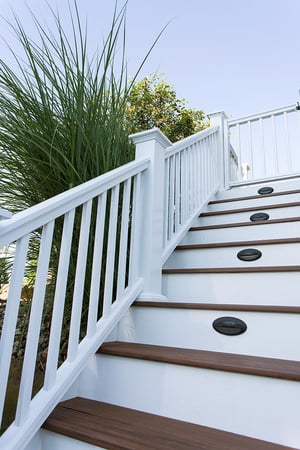 Available color options are White, Black, and Kona.
This line features an extra-wide top rail, which perfectly complements larger decks, porches, and balconies. The entire line is only available regionally. If you're interested in these railings and want to see them in person, use the Where to Buy tool to find a local retailer or dealer.
The only available color for this option is White.
Modern Composite Railing
This sleek and continuous flat-top rail is perfect for homes with a modern aesthetic. It also offers the benefit of low maintenance.
Available color options are Classic Black and Traditional Walnut.
This line is a bold and modern choice that features clean lines and a deck board as the top rail. This provides a fully cohesive look between the deck and railing system.
Available color options are Classic Black and Traditional Walnut.
Both composite lines offer superior strength and are free from rattling or squeaking. The solid construction ensures it won't lean in the wind or other adverse weather. It comes in at a higher price point than a material like vinyl, but it also approximates the look of hand-built wood. Vinyl, on the other hand, is always going to look like vinyl.
Minimalist Metal Railing
An aluminum panel rail system, Impression Rail Express comes preassembled. It features a wider top with a sleek design profile—all without compromising durability or strength.
Available color options are White, Black, and Dark Bronze.
This line is ideal for those interested in clean, minimalist design and those who want to maintain unobstructed views. Made from durable aluminum, you get the look and feel of cast iron without the price tag.
Available color options are Black and Bronze.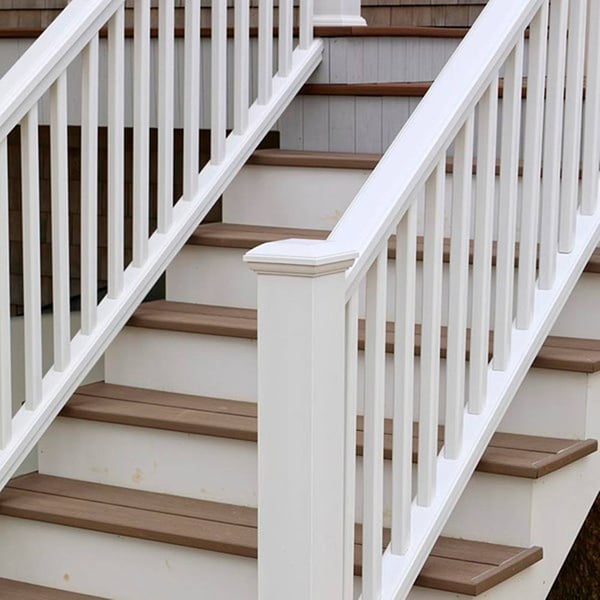 Changes to the Railing Systems
In the Classic line, there used to be three separate profiles (Premier, RadianceRail, and Trademark), and there were three different bottom rails—one associated with each of those profiles. Now, there's one universal rail that's used as the bottom rail across all three profiles. It can even be flipped and used as the top rail. This change effectively reduced the TimberTech AZEK SKUs by 36 percent, streamlining and easing the entire production and distribution of their railing systems. Top rails are now sold individually.
The other notable change is the RadianceRail Express Smart Set. The new packaging here allows for simpler ordering. Everything is packaged in one box, including an extra post, so when you order a six-foot rail, it comes all in one. This way, it's much easier for installers to determine what they have and what they need, and it's less expensive.
(Interested in discovering what else is new in 2020? Click here to learn about recent changes to TimberTech AZEK decking.)
A Note for Existing TimberTech AZEK Customers
If you already have a TimberTech AZEK railing system installed, don't worry. The old bottom rails are still available. If you run into a situation where you need to repair a railing or you need to match an older project, those materials are still at your disposal.
If you're interested in learning more about the railing systems TimberTech AZEK offers, feel free to reach out. We're a design and build firm specializing in exterior living spaces, and as a member of the TimberTech Loyalty Program, we're happy to answer any questions you have.