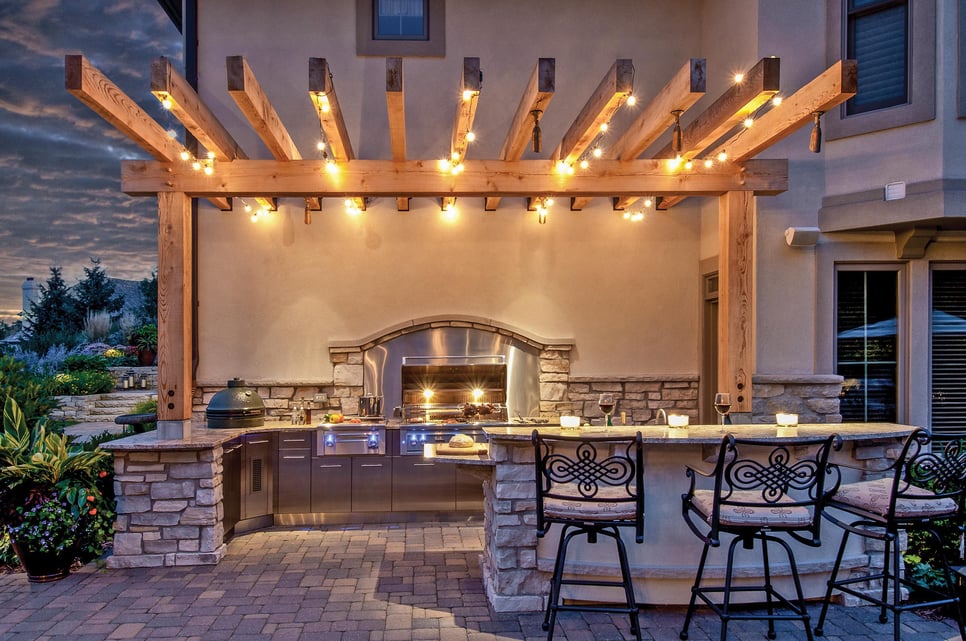 Every year, outdoor kitchens become more elaborate, stylish, comfortable, and functional. Thinking about redoing your outdoor kitchen? Starting one from scratch? Then be sure to incorporate these four elements to get the most comfort and use out of your Northern Virginia or Maryland home.

What Every Outdoor Kitchen Needs
1. Durable Cabinetry for Your Outdoor Kitchen
Cabinetry is really where an outdoor kitchen all starts. It's the foundation upon which you can build out the rest of your cooking area.
Luckily, outdoor kitchen cabinets come in a variety of styles and materials, so you're sure to find the foundation that matches your vision. If you opt for stainless steel outdoor cabinetry from Danver Cabinets or Brown Jordan, you can leave it bare or powder coat it to virtually any color.
Stone is another popular material used in upscale outdoor cabinetry. Stone layouts are usually custom kitchen designs drawn up by your outdoor kitchen contractor, which then use stainless steel inserts for the cabinets.
Kitchen cabinetry has been refined and expanded upon over the years and now offers plenty of storage. Depending on the selected unit, there are also places for any number of kitchen appliances, ensuring your outdoor kitchen is just as functional and convenient as any indoor space.
At the most basic level, a Danver stainless outdoor kitchen will have 24" of storage space, a few drawers, an 18" trash pull, and 36" of countertop space. From there, you can build out and add to this layout according to your needs and intended use of the space.
Pictured: Danver Stainless Steel Cabinets shown in Cherry Flame with Key West style doors. Thank you to Danver Kitchens for providing many pictures in this article.
---
2. Appliances for Your Outdoor Kitchen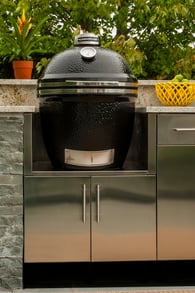 The number of appliances that are compatible with outdoor kitchens has greatly expanded over the years, but the staple of any outdoor cooking area has to be the grill.
Your options within outdoor grills are numerous:
Kamado-style grills: This Japanese-inspired grill is ceramic and uses charcoal to cook. There are upwards of ten brands that offer this, including Big Green Egg and the Saffire Grill.
Hibachi-style grills: This grill is essentially a large, flat, circular cooking surface. Perhaps the most well-known option is the Evo Grill.
Natural gas or propane grills: From Blaze to Coyote, you have many options for your outdoor cooking area.
Left: A Green Egg cooker seen in a stainless steel Danver cabinet installation. Below: a Hibachi grlll and traditional grill together
Outside of grills, other common kitchen appliances include the following: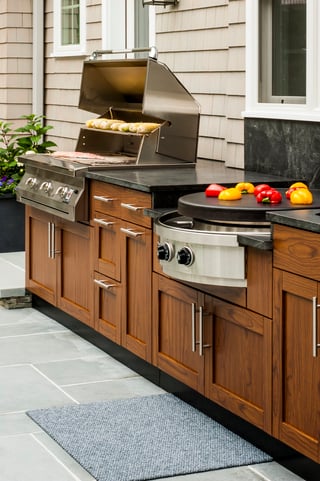 Sinks
Refrigerators
Drawer systems
Wine coolers
Ice makers
Dishwashers
Bar areas
---
3. Outdoor Waste Disposal
Integrating your waste disposal system into the cabinetry is preferable for outdoor areas. A separate freestanding trash can could attract animals and could also easily be knocked over by small children or pets. For a more secure, safe, and sanitary setup, a trash pull built straight into the cabinetry is a sensible, easy option.
---
4. Entertainment for Your Outdoor Kitchen
Outdoor living spaces offer more functionality now than ever. When handled by the right outdoor kitchen designer, they're beautiful, well-designed, and as comfortable as any interior space. It's no surprise, then, that entertainment has become a popular feature of backyard kitchens.
Most notably, people install outdoor televisions, which are hooked up to cable and outdoor audio systems. With the capability to watch television and to listen to music, this creates a hybrid kitchen and family area. Backyard cooking spaces are no longer just a place to cook; they're areas to eat, to entertain, and to relax.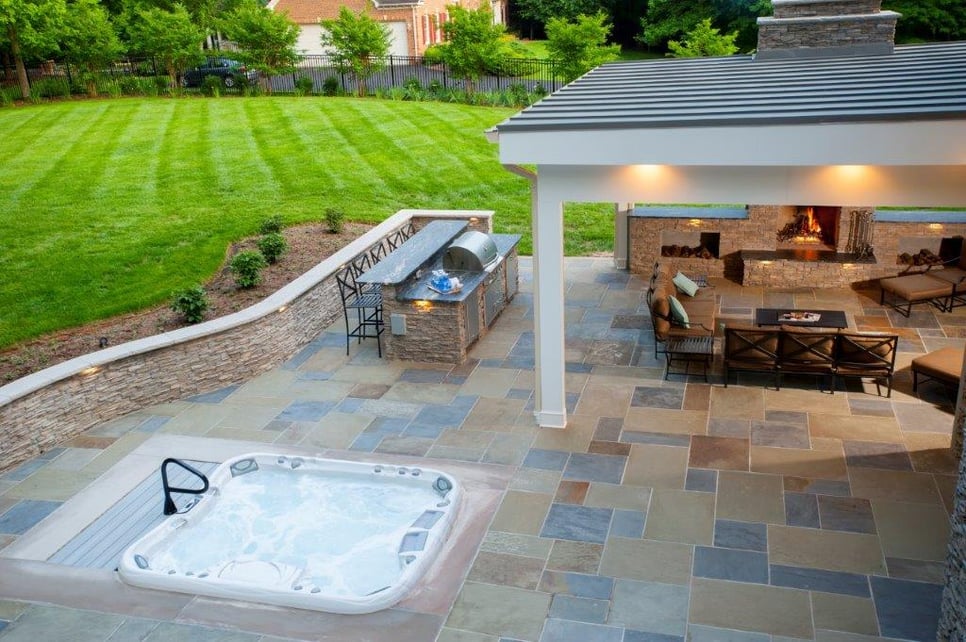 Original outdoor kitchen design by Design Builders, Inc. constructed in Clifton, Virginia. To read more about this project, click here.
Questions about Outdoor Kitchens?
For more information about what outdoor kitchen appliances to choose, what kitchen design considerations to bear in mind, and what materials to use for your outdoor kitchen (including cabinets), give us a shout today!
We're Design Builders, and we offer custom high-end outdoor living spaces in Northern Virginia and Maryland. We're always happy to answer your questions or to lend our expertise!