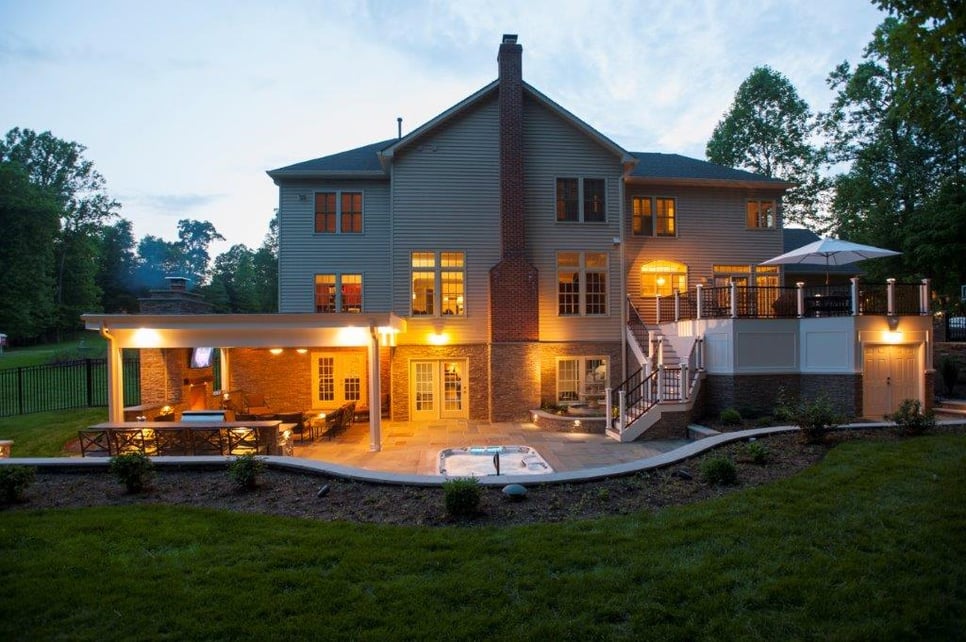 Witnessing the Future of Deck Building in Our Own Backyard
If you didn't already know - and if you didn't, you need to get into the Houzz more - outdoor living spaces are a burgeoning frontier for luxuries and amenities historically reserved for indoor spaces and upscale home remodels. Neighborhoods large and small in Virginia and neighboring Maryland and Northwest Washington, D.C. have become a hotbed for design innovation, luxury, and upscale entertaining.
This is an in-depth look at one such design out of our own backyard, erected in Clifton, Virginia and completed in 2016. It was developed closely with the homeowners, who were unsatisfied with the ailing state of their existing deck and patio. The ultimate project consisted of several parts: a chic round portico, an illuminating Trex lighting network, and even a technology-laden pavilion complete with motorized retractable porch screens. Let's dive in!

I. Portico
Key-Link aluminum rails sit prominently atop the curved, custom-designed round portico at the front of this beautiful Clifton, Virginia home.
The clear cedar tongue-and-groove ceiling was sanded to perfection with simple sandpaper by two carpenters.
Azek PVC trim and moldings seal the pressure-treated wood support columns and other structural materials to provide a clean, crisp aesthetic that matches the trim of the windows and accents around the exterior of the home.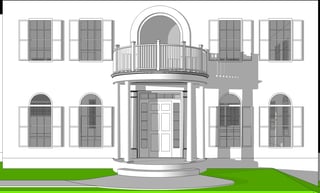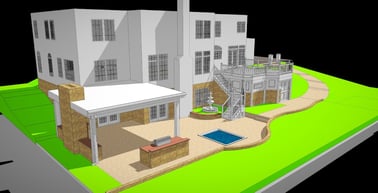 II. Pavilion with Fireplace and Television
Firestone standing seam metal roof sits above a clear cedar ceiling, which in turn is supported by Azek PVC trim and moldings dressing up the structural supports and corners/edges of where the roof and ceiling meet. Random PA flagstone serves as the base for the covered patio pavilion.
The ceiling is teaming with technology: x4 Infratech infrared heaters , two outdoor Minka-Aire ceiling fans, x5 motorized Phantom retractable screens, and Trex low-voltage ceiling lights. Meanwhile, an extensive outdoor speaker system ensures that the big game or your favorite music can be heard clearly throughout the backyard.
A wonderfully crafted stone outdoor fireplace - a hybrid gas-wood burning fireplace – sports El Dorado Nantucket stacked stone veneer that spans the back of the home, including the pavilion. Two integrated cubbies for storing firewood flank the fireplace on either side, seamlessly integrated into the design. The fireplace also sports a reclaimed wood mantle with Trex lights and a thermal cap hearth. Four Trex post cap lights were mounted beneath the granite countertops to add style and visibility.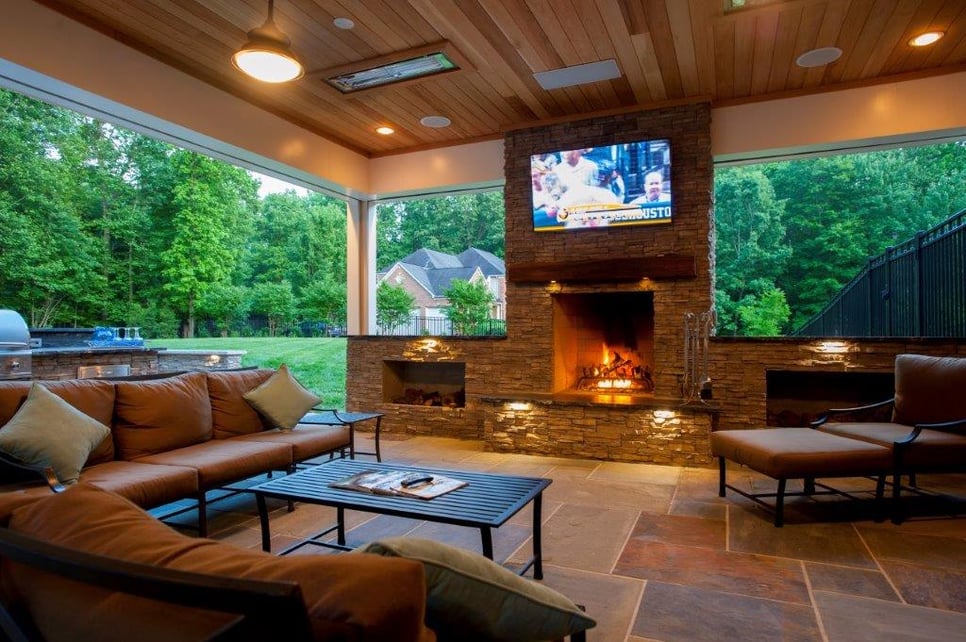 III. Flagstone
Random Pennsylvania flagstone installed in irregular patterns using 4 different stone sizes. The stone was installed on a concrete base with thermal caps used as trim and wall caps.
The PA flagstone offers a mixture of blue-grey, green, beige, brown, and earth color tones for an intriguing, naturally achieved aesthetic.
IV. Hot Tub
Recessed hot tub design deliberately sunken into the massive flagstone patio. Situated in such a way that its occupants are concealed by foliage or a retaining wall and the outdoor kitchen counters, it promotes leisure and privacy and is an ideal porch accessory for entertaining.
A trap door gives access to the hot tub, which was installed using nothing more than some technique and brute force in the hands of some talented individuals.
Make/model: http://www.sundancespas.com/880Series/aspen/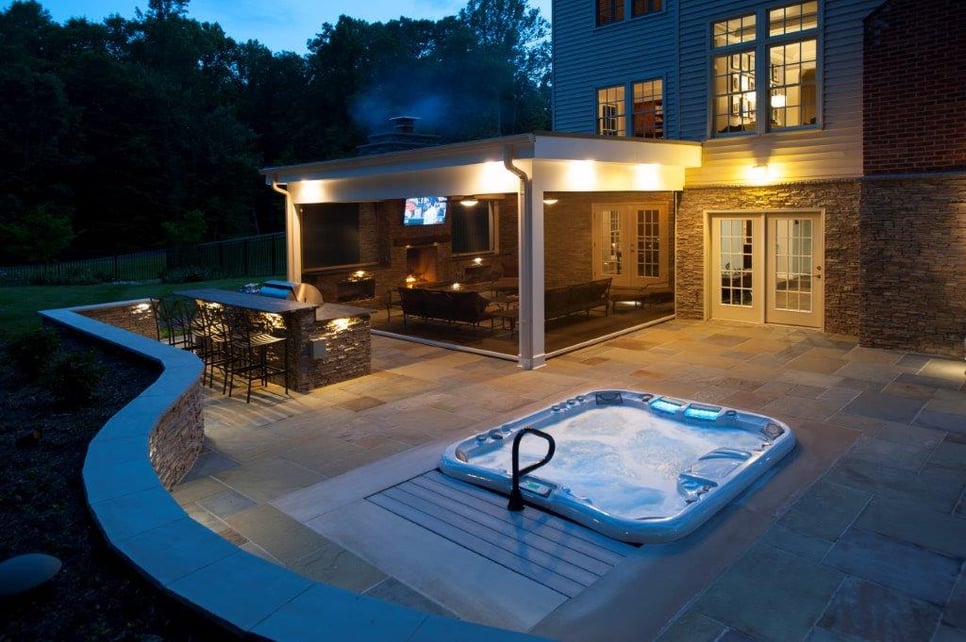 V. Infratech Infrared Heater
Four Infratech infrared heaters ensure this pavilion remains a warm, comfortable seating, eating, cooking, and television-viewing outdoor space in all but the coldest winter months.
Operational via a dual-climate analog controller that offers temperature controls as well as a timer, set in
Product Info
o Controls: 30-4046 2 Zone Analog Controller Solid State Control Package
o Heaters: WD Series Infratech Heaters
VI. Outdoor Lighting Package
Contains a 12-piece Trex deck outdoor lighting package that definitely includes the post cap light, deck rail light, and stair riser light components as detailed on said page. This 12-piece assembly illuminates the deck up high and down low to the benefit of increased safety and a more deliberate ambiance, while using 75% less power due to its LED lighting when compared to incandescent outdoor lights. Some of these lights, notably the post cap lights, are also seen in the pavilion space and outdoor kitchen.
A 5-year-warranty protects the Trex landscape lighting package surrounding the outer walkways of the home, from the front portico to the backyard fireplace and all of the shamelessly curvy flagstone pathways. The various lights are spaced out so as to contribute to the overall identity of the home once the sun begins to set. The entire Trex landscape package is operated on a timer and comes on automatically in strategically grouped phases.
25 Trex outdoor lights used overall
VII. Phantom Screens
Five motorized retractable patio screens from Phantom Screens lend their services at the press of a button. In a moment, this enormous flagstone patio with a pavilion transforms into a cozy, high-end, infrared-heated outdoor bug shelter. Keep the bugs at bay while you enjoy your outside stay.
Retractable screens retain the versatility of both a screen room and a deck or patio similarly to how convertible roofs make automobiles more versatile. And fun.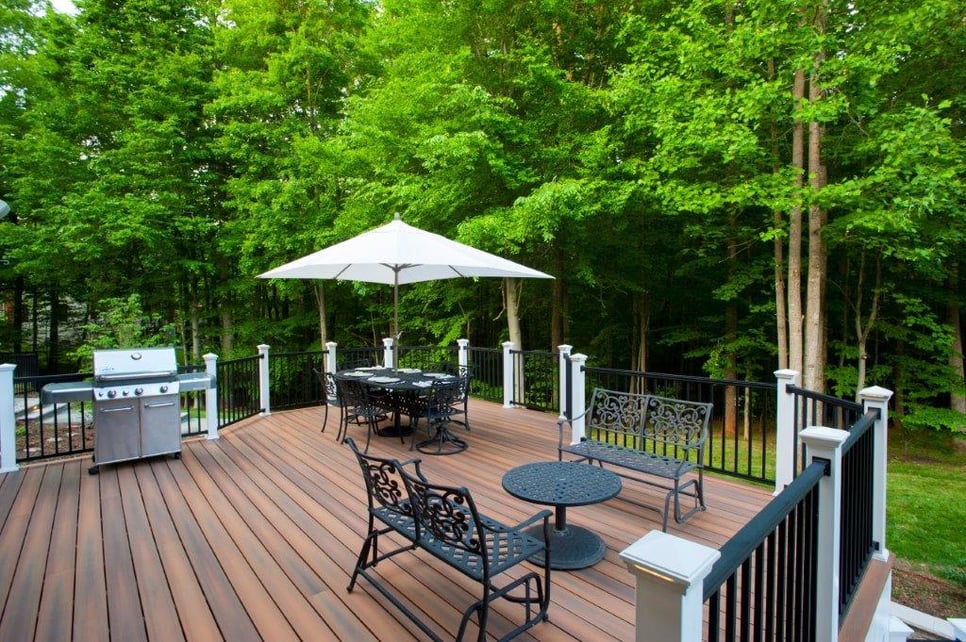 VIII. Retaining Walls & Facades
An El Dorado stone façade spans the rear of the home, and brings the flagstone patio together with the home's design. It's also used in the pavilion and the outdoor kitchen, where it matches well with the dark granite countertops, as well as with the gated two-column stone entryway.
The outdoor kitchen, which consists of a grill, fridge, access doors, and trash pull all made by Blaze, sports dark granite countertops that extend out behind the grill to create a bar area large enough to accommodate five adults comfortably.
Flowing, curvy design of the pathways carries from the portico and front pathway around to the backyard path and curved retaining wall. Outdoor speakers are set behind the retaining wall in the plantbed.
IX. Storage
Under-deck dryspace with room for everything from water hoses and brooms to leaf blowers and scaled replicas of antique automobiles.
EPDM 6 mil rubber installed on plywood sheathing. The floor was then "concrete floor broom finished".
Sleepers installed over the rubber to keep the deck screws from penetrating it, and an aluminum cap installed around perimeter. Flashing (description here) also installed around perimeter and posts.
X. Low-Maintenance Deck
Fiberon decking installed with hidden fasteners, so no screws are visible to the eye
Large sitting and dining area
Black Deckorators Balusters
Integrated drainage system built into the dryspace ceiling/beneath the deck boards ensures water successfully drains/is diverted/rerouted to another point of the property.
Angled staircase (with platform) includes Trex stair riser lights for visibility and appearance.