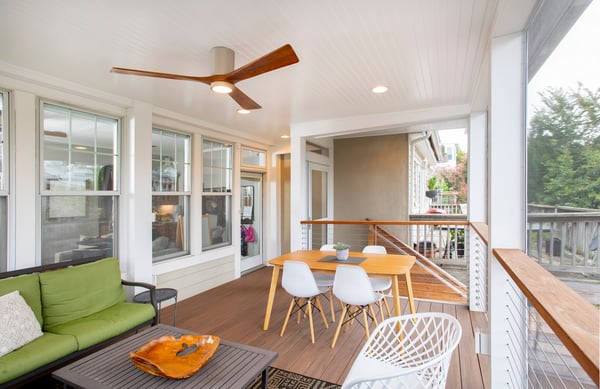 Screened porches blend the pros of outdoor living with the comfort of the indoors, allowing you to enjoy spring breezes and fresh air without the presence of pesky insects, unrelenting sunlight, and blustery rainstorms. When designed correctly, screened porches can be used throughout the year as a place where your family can relax, read, and entertain friends.
If you're interested in building a screened porch in Virginia, Maryland, or the District, your first step is to create a screen porch design.

Who Should I Hire to Design My Screen Porch?
Designing a screen porch for your home that is both beautiful, functional, and up to building codes isn't the simplest task, especially if you don't have any construction experience.

So who is the best person to hire to help you design a screen porch? Many people believe only an architect has the skills, knowledge, and qualifications needed to design their porch. But in most cases, hiring an architect is not the best choice for this type of project. Instead, it's highly advisable to go through the contractor you are planning to hire to handle the actual construction. Here's why:

Using your contractor saves you money. Most contractors will incorporate the cost of the design into the overall cost of the project. Contractors treat the amount you pay for the design plans as part of the down payment for the construction project, so you'll be able to cut costs by using the same company for both design and construction.

Using your contractor improves continuity. If your porch is built and designed by two different people or companies, odds are, there's going to be some things that are lost in translation. It may not always be easy to interpret all the details and intentions of another's design, and if issues are encountered during construction, it won't always be clear who's at fault for the problem – the designer or the contractor. However, if your contractor is charged with both design and construction, they will be in the best position to bring the screen porch to life the way it was meant to be.

Contractors have building experience. Unlike architects, contractors have experience in the actual construction process of building a screen porch. They are often much better able to anticipate problems and understand best practices for screen porch design.
So How Much Will the Screen Porch Design Cost?
Now you have an idea of who you want to hire for the job. But how much will the process of designing a screen porch actually cost you? There are two different types of plans, both with different average price points.
Preliminary plan. A simple design rendering will typically cost around $250 to $500, depending on the complexity of the project. Factors that may affect the overall cost of a basic plan include the size of the porch, the complexity of the electrical plan, whether there is an exterior deck included, and if there are any alternations that need to be performed on the house.
Permit-ready plan. However, if you want a full set of architectural plans that are ready to be presented to local jurisdiction for a permit, the price is a bit steeper. A permit-ready architectural plan for a design porch can cost anywhere from $2,000 to $3,000, depending on the complexity of the project. These types of plans include layouts for each individual design component of the plan, including a foundation page, framing page, deck layout page, railing layout page, and roof framing plan.
Before you can start building your screened porch, you'll generally need to produce this type of plan, and have it approved by the city to make sure it complies with local building codes.