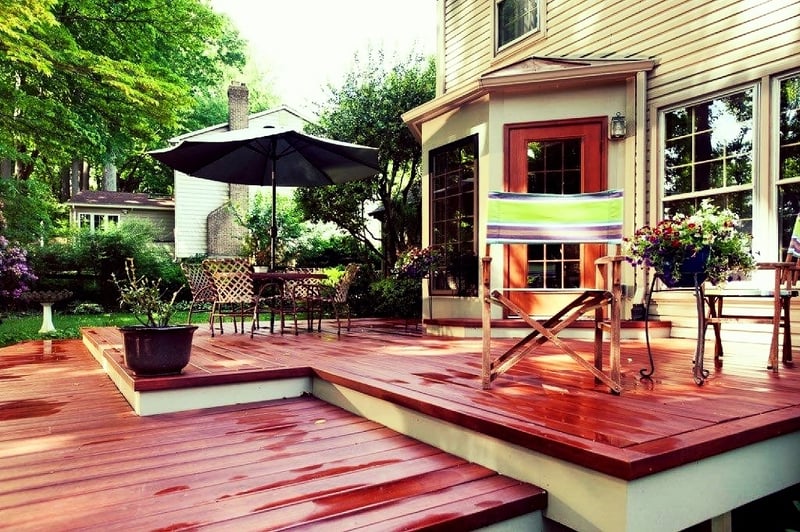 Choosing the right decking material for your Northern Virginia Virginia or Maryland home can be overwhelming. From Trex to TimberTech AZEK to Zuri, there is no shortage of available decking brands. Here's a quick breakdown of how to determine if Zuri premium decking is the right choice for your home.
3 Considerations before Installing a Zuri Deck in Your DC, MD, or VA Home
Zuri Is a Premium Decking Product
Zuri isn't for every home or every homeowner. As a luxury, premium product, the price point will be higher than other decking options. (Check out this more in-depth look at how much Zuri costs.) While the price of Zuri doesn't directly compete with the Trex or Fiberon products of the world, the company is quick to point out that their product is for people who are looking for something different than a standard composite deck.
For that higher price point, you can also expect a lot of benefits. This includes the lack of maintenance requirements, twenty-five-year warranty, and resistance to scratching and fading. Over the life of the product, these benefits can significantly defray the initial price point.
Zuri Has Lower Lead Times
it's no surprise the construction industry in general (and the decking industry specifically) underwent a lot of changes. The overarching takeaway here is that the home improvement sector saw huge growth—and it just continues to boom.
With all the other circumstances, this had led to serious material shortages or, at the very least, much more significant lead times than homeowners are used to. While Zuri has seen increased demand that has somewhat slowed production, the company is built in a vertically integrated system.
All elements that work together to create Zuri—down to the resin used in their decking boards—are committed to being aligned, communicative, and integrated. This means they are able to get insight about potential problems or sticking points anywhere in the manufacturing process. They can then make the necessary changes to stay on track.
What does this mean today? If you're on any kind of deadline and you're looking to build now, Zuri could be your answer to getting decking material in hand faster than if you went with a competitor.
Zuri's Price Is More Competitive Than Ever
With its emphasis on realistically mimicking the look of natural wood, Zuri considers its main competitor just that: natural hardwood. If, for example, you're considering an option like ipe or mahogany for your outdoor living space, Zuri can provide that level of beauty but without the maintenance considerations or deforestation concerns.
With the circumstances of the pandemic, the price of lumber has skyrocketed, and it doesn't look to slow down any time soon. This means Zuri and natural wood have never been more financially comparable, but by installing Zuri, you still get to benefit from all the advantages of that product.
Interested in hearing more about Zuri decking? For those who want to learn as much as they can about this product, feel free to download our free Zuri premium decking e-book. If you live in the DMV and want to see what Design Builders can do for you, reach out to us. We would love to begin a conversation!