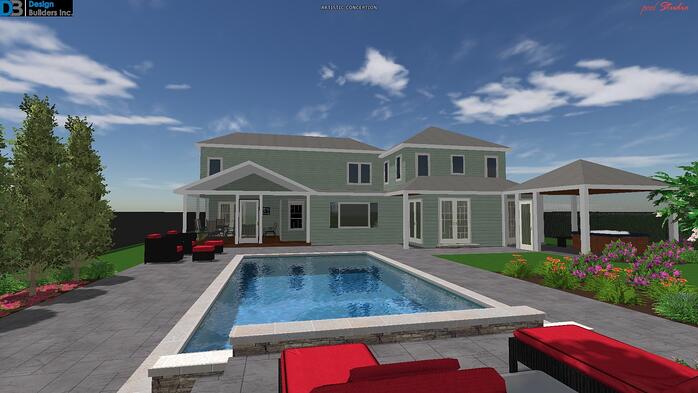 A crumbling pool deck made out of concrete; a decrepit swimming pool unused by her, her husband, or their grown family; a five-year-old screened porch too small to serve any function, tacked onto her house as more of an afterthought during an otherwise stellar kitchen renovation. One Bethesda homeowner decided her backyard was in need of a rejuvenation, and we were more than happy to help.
The new outdoor living area's design incorporated an enlarged footprint of the existing screen porch as well as a roof extension. The extension in turn functioned as a portico to the new porch (now with a hot tub), the Techno Bloc pavers surrounding the pool, and the to-be refurbished pool with its own set of nifty features, detailed below. The design also took into account the large plot of land the clients' home sat on, so there was plenty of space for new hardscape in addition to garden areas and landscape lighting to be integrated post-construction.
The client said she wanted a cool water feature when she was brainstorming for this project. Why, we asked, when she already had one of the coolest ones around: a pool. While not a fan of its current state, it was approached with the following solution: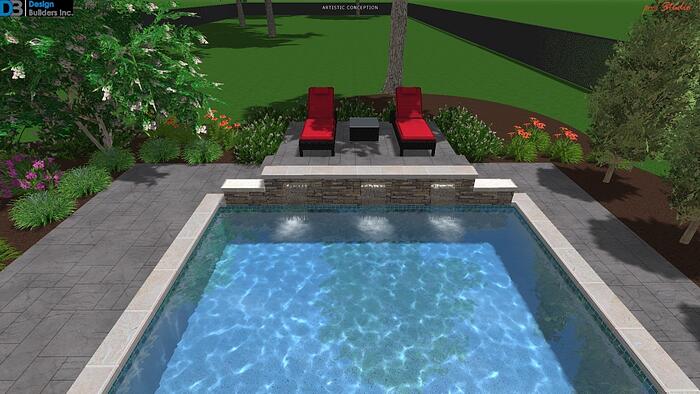 To improve the aesthetics of the pool, its overhaul would be highlighted by a rear raised beam with water descents, stone coping, and a Pebble Tec interior finish. The rear beam is multifunctional addition, providing the opportunity to use attractive veneer stones as well as serving as a mount for the sheer descents. The miniature waterfalls create tranquil, creek-like running water sounds that would be as relaxing to listen to as they would be for our client's (future) grandchildren to swim under. The view from its raised lounging area would be great too (see above).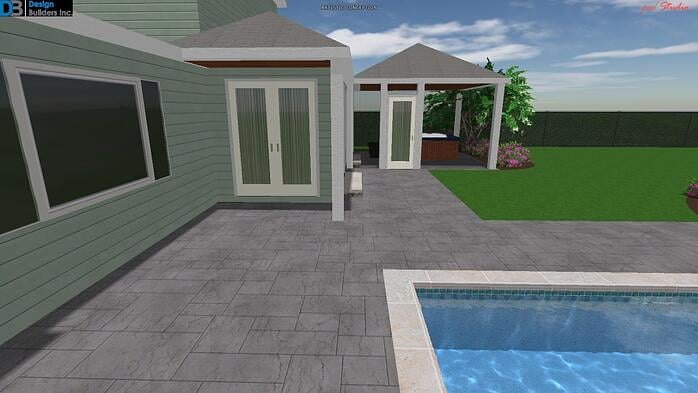 Another feature of this design is the secondary screen porch, which would allow for the new hot tub area to be offset for privacy. It would also sport large exterior doors on the home's far side to allow access to the area from its interior as well. The existing porch's area would be repurposed as another lounge area, complete with a table for eating, playing cards, and watching television (yes, an outdoor television is an optional focal point for your entertainment).
As this exercise demonstrates, you can never completely disregard the potential for your existing outdoor living space to contribute to your new vision. What you see as, for example, an old unused pool can be transformed into a key element of your new dual screen porch.