Before the winter comes, you want to ensure your deck is protected from the elements, especially the moisture that comes with increased rain and snow. That being said, under no circumstance should you ever seal a pressure-treated deck when the temperature gets below 50 degrees.
So, if you're just thinking about sealing your deck now, or if you had a deck added in September of this year or later, sealing it isn't an option until we get through the winter and back into the warmer months of spring. Generally speaking, that means waiting until at least March or April.
How to Properly Seal a Deck

1. Wait.
Decks need to be dry before sealing. In order for a seal to be effective, pressure-treated decks need time to dry out completely. If you have your deck built in the heat of the summer, it typically only takes two weeks or so to dry out. Springtime installations might take three or four weeks.
However, it takes a long time for these kinds of decks to dry out when it's cold, and if you attempt to seal your deck before it's completely dry, the water will come out of the wood along with the sealant itself. The general rule of thumb is that, if a deck is installed after August, you wait to seal it until the spring.
You'll know when your deck is completely dry because it will actually change in color from a greenish hue to one that is closer to beige, and the boards will have more space between them. If your deck wasn't recently built, you can be nearly certain it dried out long ago, but you should still wait to seal until it's warmer, which we get into below.
2. Don't seal a deck below 50 degrees.
You don't want to begin the sealing process until you can safely guarantee the temperature will remain above 50 degrees for at least 48 hours. It's fairly common in late fall and early spring to see temperatures above 50 degrees, but the problem is the numbers can fluctuate wildly, particularly in our part of the world (Maryland; Virginia; and Washington, DC). A 65 degree day might easily become a 40 degree night, and your seal will be ruined. The warmth helps it to dry out faster and seal more effectively.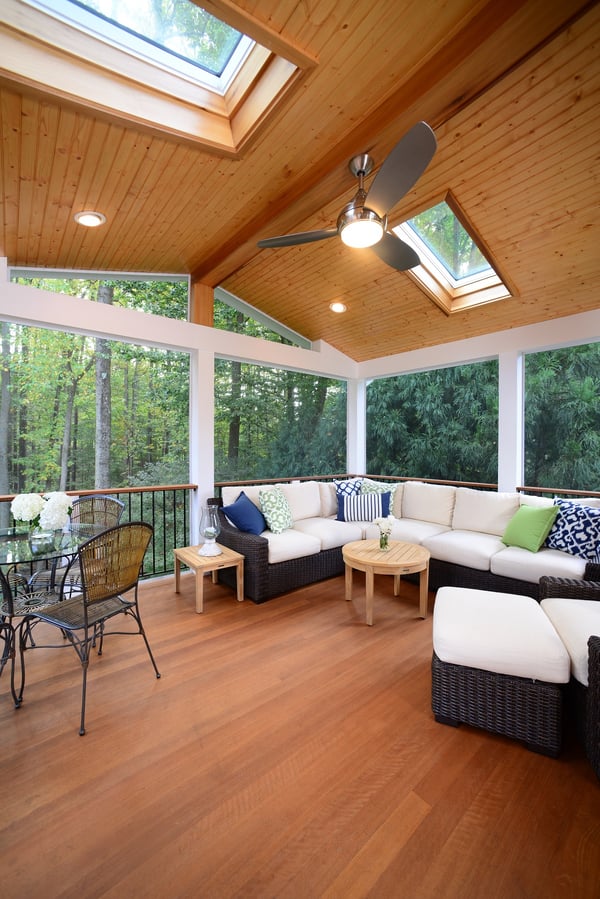 3. Make sure the weather complies.
Beyond making sure the temperature is on the warmer side, you also don't want to attempt to seal your deck if there is any threat of rain, sleet, or snow in the forecast. At least 24 hours of clear weather yields the best results.
4. Seal your deck every year.
If you want to protect your deck and have it look brand new – or as close to it as possible – you should reseal it once a year. Some people skimp and only do this every other year. This practice will give your deck a decent amount of protection and keep it looking fairly good, but the difference will become more and more noticeable as the years pass. And you might even end up paying for it in extra maintenance costs over the long run.
5. Go for a deck sealant with UV protection.
Most people think water is the worst enemy of a deck, but actually decks suffer far more damage from sitting out in the sun all day. There is no way to completely prevent UV rays from causing your wood to fade over time, but you can slow this process by choosing a sealant that specifically provides UV protection.
If you really want to ensure your deck has the most protection through the winter months, the best thing to do is have it built – and the sealant applied – when the temperatures are still soaring. Unfortunately, that window has already passed you by this year, but now that you know how the sealing process works, you can ensure your deck is protected going forward.
Questions? Feel free to contact us, or leave a comment below, and we'll get back to you!