Why Install Transparent Screens On Your Screen Porch
Don't like the idea of a screen obstructing the view from your screen porch? Good news: it doesn't have to. In addition to glass handrails for decks and stainless steel cable railings, transparent fiberglass screens or otherwise black screens can minimize the distraction incurred by porch screens on the view of your outdoor living space.
Screened porches are the most effective way to enjoy your backyard during the hot summer months without being plagues by mosquitos, gnats, bees, wasps, and other bugs. There are other options for dealing with your bug problem, such as installing a mosquito misting system or hiring a bug control service, but most of these solutions can still allow some bugs into your outdoor space. But screen porches, when built correctly, provide a physical barrier too small for insects to enter, making it a completely bug-free area.
So why are some people still reluctant to invest in one? Many worry that screens will also serve as a barrier to their view of a nearby lake, ocean, stream, countryside, mountain, or just their beautiful garden.In the past, screen options could be somewhat obstructive, a little like looking through sunglasses. But today's there are many transparent screen options that are virtually invisible, providing you with an open, airy space that's also safe from insects.
See the View, Not the Screen
It's hard to tell that these screens are there at all, whether you are inside or outside the home. Phifer offers several options that focus on achieving the best possible view.


UltraVue
This screen offers the best view possible while still providing complete protection from bugs. It also boasts airflow that's 25% better than standard fiberglass or aluminum screens.
The screen also has a protective vinyl screen coating, which ensure that its color and flexibility are long-lasting, and it has Microban antimicrobial product protection, enabling it to stay clean longer.
UltraVue achieves this improved view through thinner yarns of fabric. It is designed to be strong, but it is less durable than the standard fiberglass screen.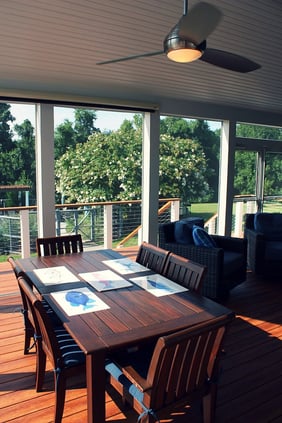 BetterVue
This screen also delivers a better view than the standard fiberglass screen, and it also provides 10% more insect protection and a 20% improvement in airflow when compared to standard fiberglass or aluminum screens.
BetterVue also uses thinner yarns of fiber to achieve its improved view. But more yarns are woven per square inch to offset the loss of strength from the smaller yarns, so it is similar in durability to standard fiberglass screens.

Still Unsure about the Screen? Consider Retractable.
For those who are still reluctant about the screen's effect on the view, but who still want to enjoy the complete protection from pests, retractable screens can be a great compromise. These screens roll discretely away for the times of year when they are not in use.
In additional to the standard color and style choices, there are two main options you have for installation of your retractable screen.


Manual Retractable Screens for Screened Porches
To pull them down, you hook the rod to the bottom of the screen and pull down. When it's time to put them up again, you use the same rod to easily push it back into place. You can see a video of how it works here.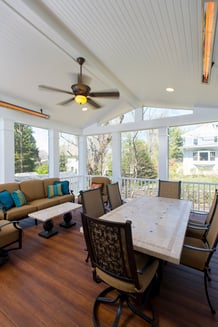 Motorized Retractable Screens for Screened Rooms
These screens retract at the push of a button. This can be done from a remote control device or a switch installed in a wall, similar to a light switch. More advanced options include connecting your screen to sun and wind sensors and home automation devices, which allow the screens to be programmed to automatically respond to environmental conditions that you set.
Whatever option you choose, you'll continue to see that beautiful view you've always had, but you'll be able to better enjoy it – without having to swat away those pesky mosquitos!